Turn Back Time
Restored Signs:

Honoring history and embracing innovation aren't mutually exclusive.

"ANYTIME THAT YOU work on a sign that has been around for a very long time, it's like working on an old classic car," says Matt Baker, co-owner and operator, Bakers' Signs (Conroe, TX). "You don't want to try and fix something that isn't broke …" Preserving past charms and respecting a rich history in a way that meets today's standards of durability and energy efficiency present no easy feat. But, according to Baker, "… when navigated correctly, [a sign restoration] can be that '69 Camaro that was remodeled by a master!"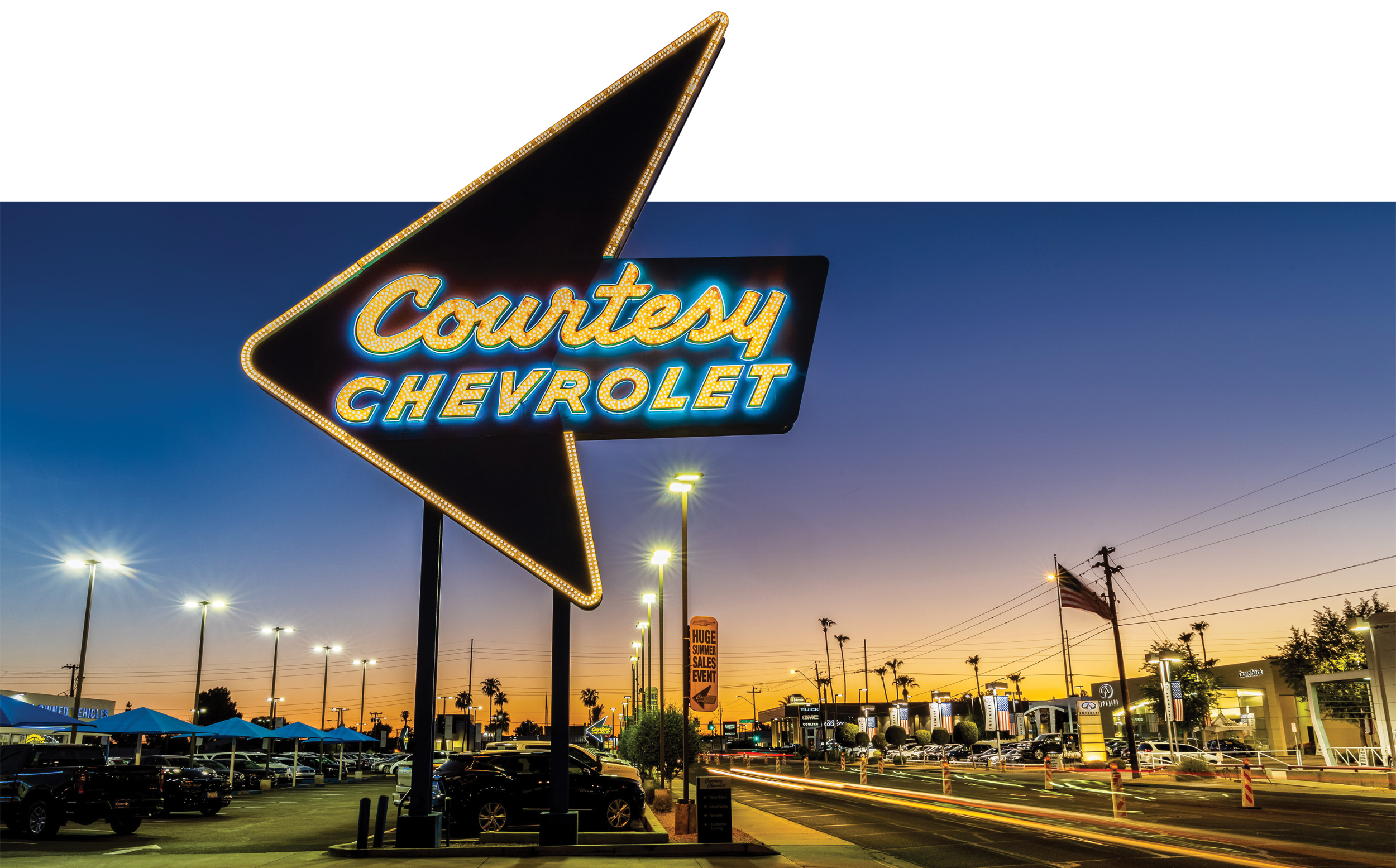 Greased Lightin'
First built in 1957, the previously refurbished Phoenix-landmark Courtesy Chevrolet sign structure and design elements remain intact. "Our main tasks included repainting the entire sign, retrofitting all of the 3,000 incandescent lightbulbs with new LEDs and replacing/repairing any missing or damaged neon," says Corey Shano, vice president, Associated Sign Co. (Phoenix). The shop restored the blue neon tubing around the letters and repainted the sign, working out of the company's 85-ft. Elliott crane truck and timing the job to avoid the summer heat.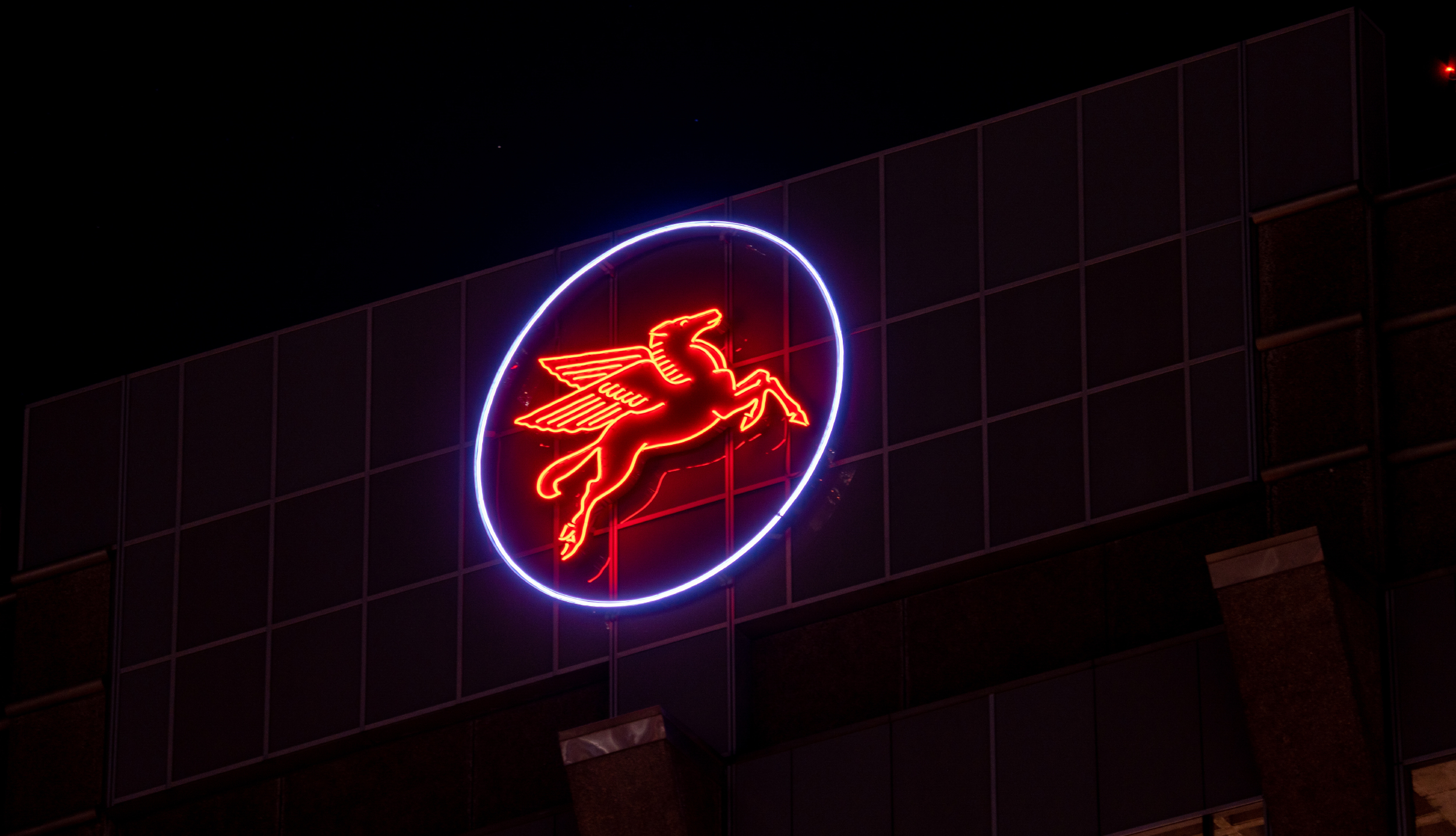 Hello Horses
Opting to replace real neon with LEDs on an 85-year-old Dallas legend was a controversial move, but energy efficiency is a must-have for biotech labs, nonprofits and commercial innovators. FSGS (Lewisville, TX) retrofitted the two 19-ft. stainless steel Pegasus signs — which were originally made for Magnolia Oil Co. in 1934 — with programmable LED lighting that can be adjusted to a range of colors. Flying high atop the campus's 18-story office tower, an LED ring rounds out the look while recalling the signs' former neon glory.
Advertisement
Sock-et to Me
As part of a 12-year restoration of the 1926 Hollywood Theater in Gowanda, NY, Signs Unlimited (Eden, NY) refurbished the double-sided marquee, incorporating 8-mm LED displays from Watchfire Signs. "We needed around 500 [special lighting] sockets," Mark Burr, president of the theater's board, told a local paper. "The factory making those parts in China was repurposed to make PPE so they quit making those parts," he continued. "We scraped every shelf for everything we thought might work."
Right the First Time
Before Bi Rite Auto Sales (Seaford, DE) relocated, the owner asked Phillips Signs to take down the 5 x 30-ft. piece they completed in the late 1990's to refurbish for the business's new home. "He loved neon so we put most of the emphasis on that," says Ben Phillips, the company's owner, who tapped neon bender Craig Dengler for the restoration. The signshop replaced the aluminum faces, tops and bottoms and painted new graphics using AkzoNobel products, but skipped the clearcoat, which failed on the original. They also added new glass housings and GTO wiring. "Unbelievably all the original transformers (Transco) were still working but one," recalls Phillips.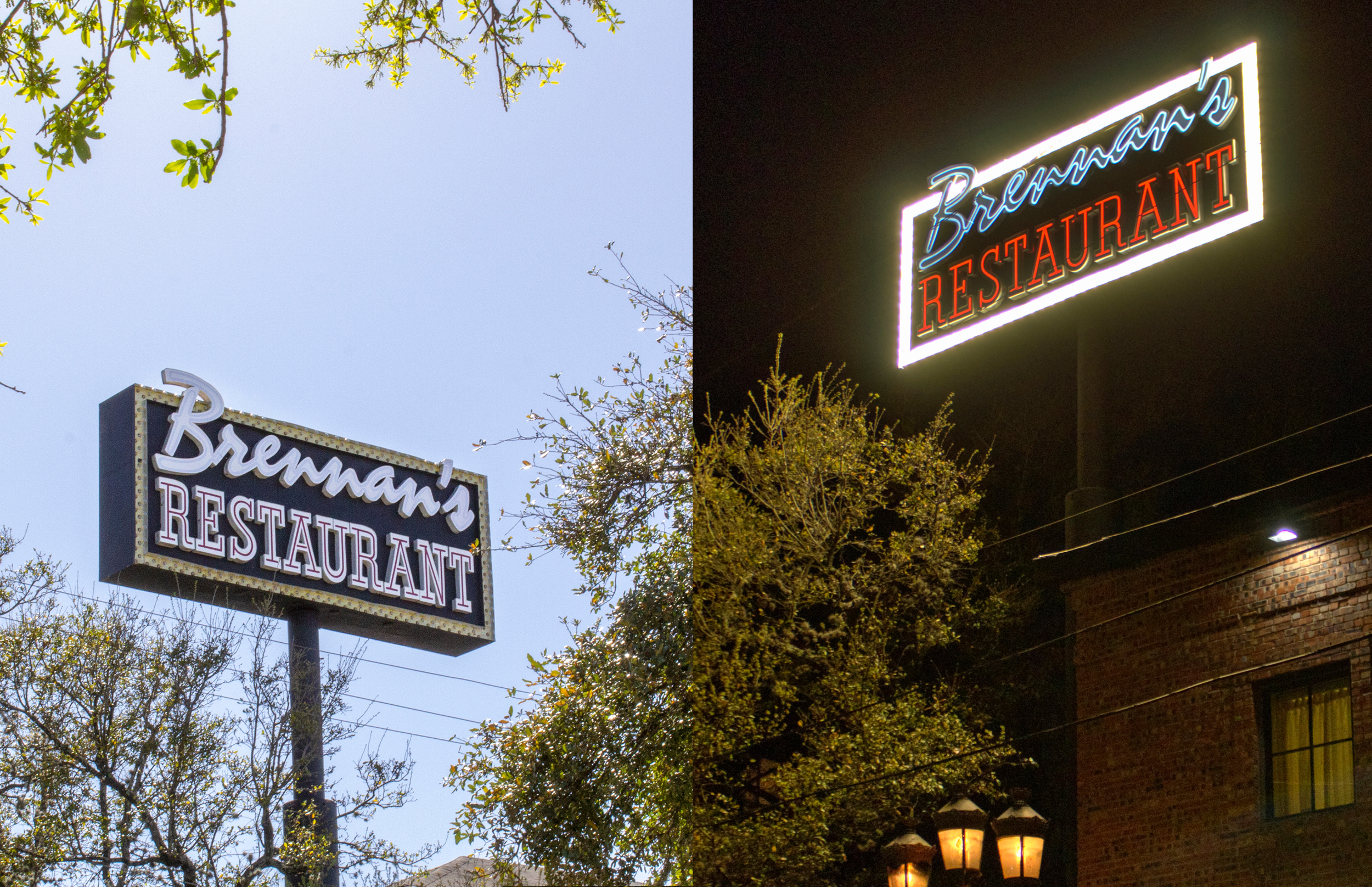 Lightbulb Moment
When it came to revitalizing the decade-old sign at restaurant Brennan's of Houston, the main cabinet and base structure were still in good shape, but the lighting needed a revamp. Bakers' Signs performed a retrofit of the existing neon, converting to a Principal LED 12V system utilizing Qwik Mod 2's at a 7100K temperature. "We also changed out the perimeter exposed bulbs with a more efficient LED exposed filament bulb" to maintain the vintage look, recalls Baker. Dual-layered 3M translucent vinyl overlays on clear faces add a faux neon appearance within the letters.
News Flash
Signs Plus (Bellingham, WA) owner Jim Sutterfield and local client Daylight Properties discussed restoring the icon atop the city's Herald Building for years. Made in 1925 and retrofitted with red single-stroke neon circa the mid-1950's, the 40 x 40-ft. steel structure was able to be preserved with primer and paint. Signs Plus constructed two new sets of replica 10-ft., ¼-in.-tall open-face channel letters from .125-in. aluminum, illuminated with Allanson International Skyline RGB LED Border Tube controlled via an app. "[It's] the most photographed sign in Washington State," says Sutterfield.
PHOTO GALLERY
(36 IMAGES)
Advertisement
SPONSORED VIDEO
Find it here! ISA Sign Expo 2023
Whether you're looking to grow your business or advance your career, ISA International Sign Expo® 2023 is the only place to find everything you need to be successful in the sign, graphics, print and visual communications industry.