We've Got Spirit
Three cheers for larger-than-life sports signage.
SPORTS VENUE SIGNAGE gets more innovative and interactive by the day — and for good reason: the fan experience. Whether wrapped around a 12.4-acre stadium or serving as a memorable photo opp, these six projects aim to reel in the fans and hype up the athletes for an unforgettable game-day experience.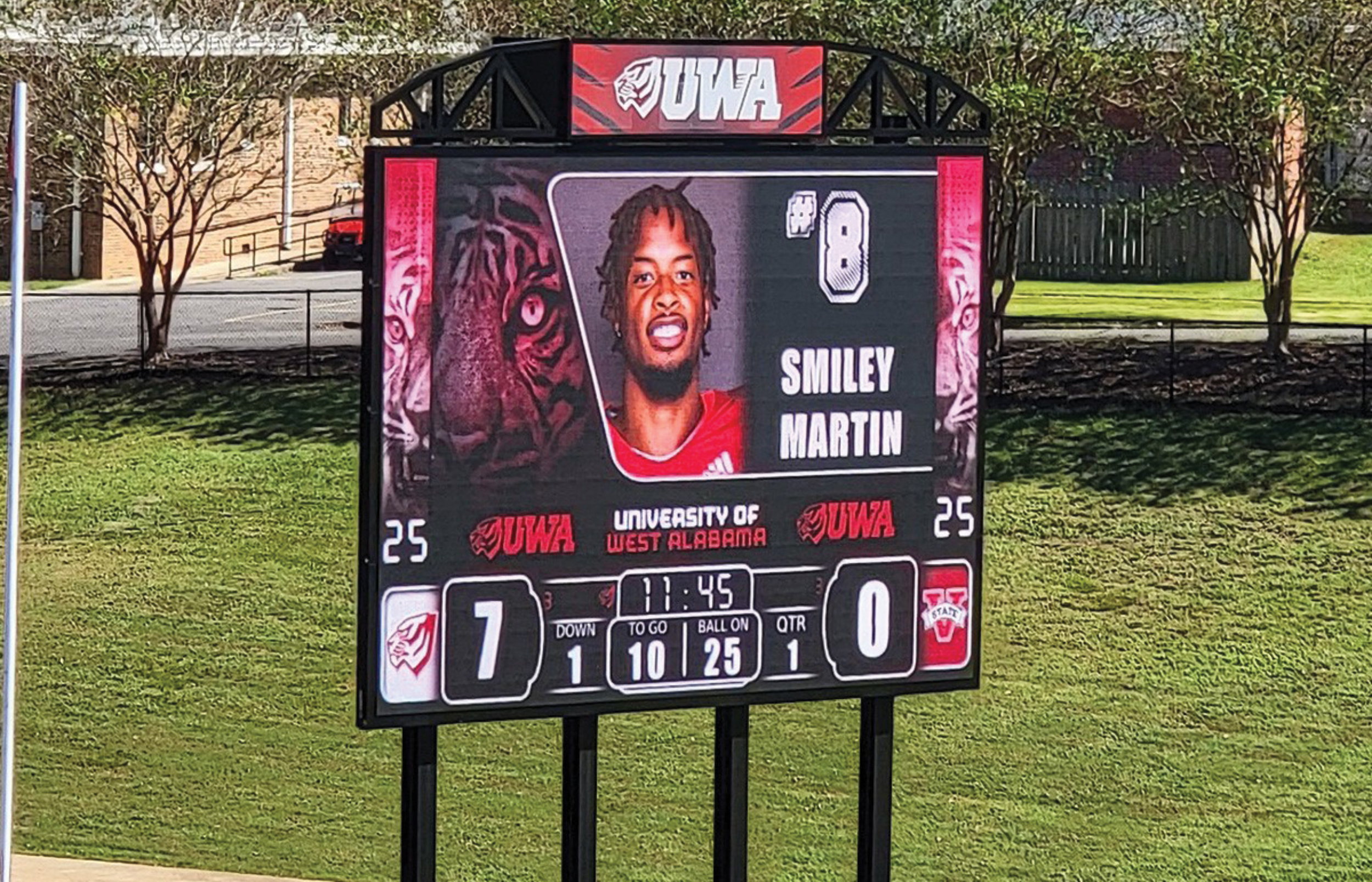 Keepin' Score
When the University of West Alabama (Livingston, AL) decided to get new video scoreboards for both their Tiger Stadium and Pruitt Hall Gymnasium, they called Mitchell Signs (Meridian, MS). Mitchell installed three new Watchfire Signs videoboards into their venues. "UWA wanted to do this right, and we really trust the quality and reliability of Watchfire Signs," says Kyle Edmonds, vice president of sales at Mitchell. The new video boards showcase player profiles and videos, live-action, replays and timing, and scores and stats.
Puckin' Awesome
To make this behemoth Milwaukee Admirals helmet, Sign Effectz (Milwaukee) designed the mask with 3D CAD modeling and then sliced the model into 2-ft. cross-section profiles that were machined on a Gerber Sabre 408 router, explains Adam Brown, president, Sign Effectz. The helmet then went through a process, from making a plywood, skeleton-type base, to shipping it to be airbrushed by artist Chuck Wenzel of Wenzel Designs (Milwaukee), then back for interior painting and benches for fans to sit inside for photos.
Golden Opportunity
Fun fact: Legendary golfer Jack Nicklaus not only graduated from but also borrowed his moniker "The Golden Bear" from Upper Arlington (OH) high school's mascot. With a connection like that, the signage had to be good. Enter Atchley Graphics (Columbus, OH), who created the signage and wall wraps with EFI and HP wide-format digital printing, Trident CNC and Trotec laser-cut acrylic, and 3M media materials for dye sublimation digital printing to tie together the school's new branding, explains company CEO/owner Derek Atchley.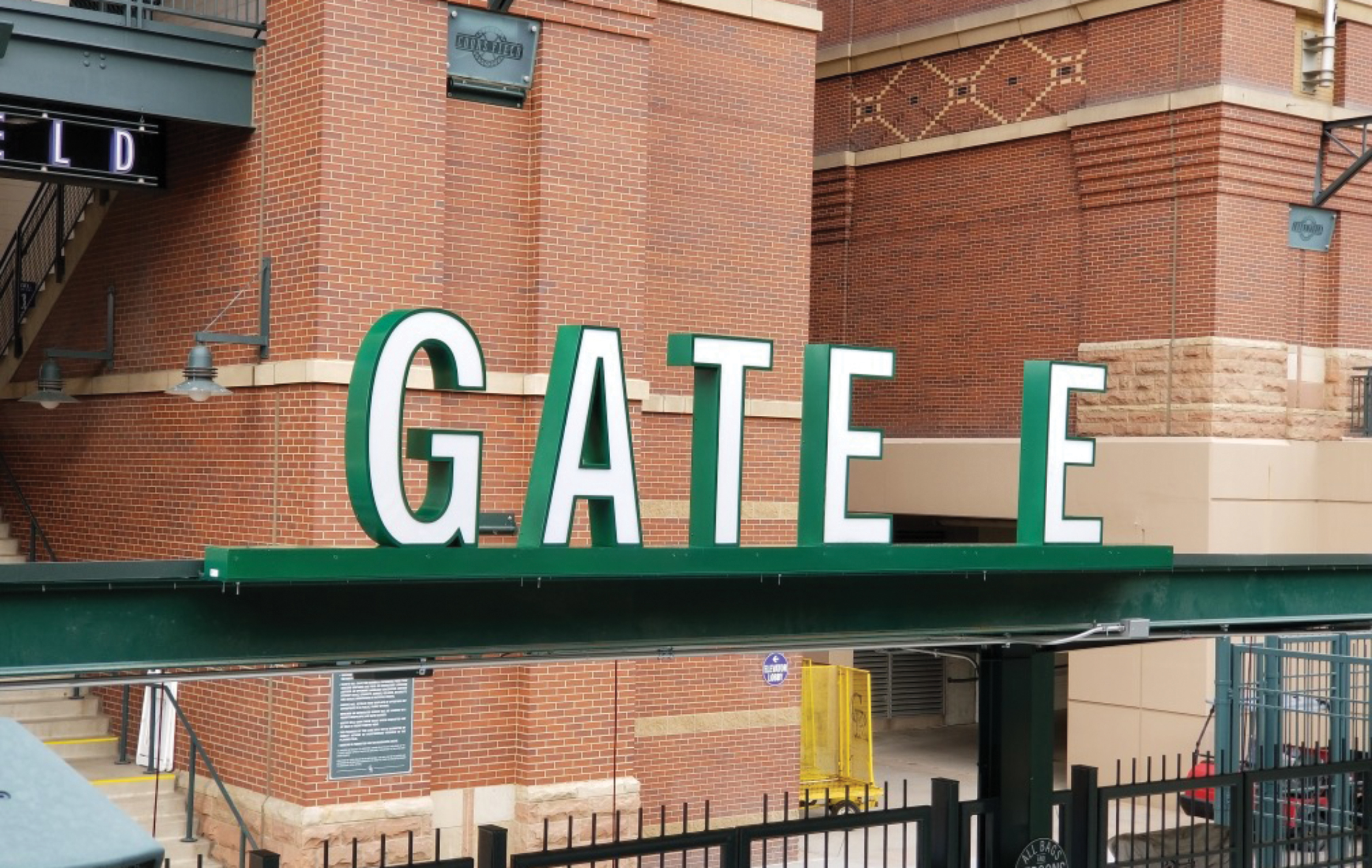 A Whole New Ball Gate
After working on other projects at Coors Field in Denver, RiNo Sign Works (Lakewood, CO) leapt at the chance to create their new Gate E sign. RiNo Partner Willis Wood says they had to first fabricate the wireway where the illuminated, 28-in.-tall channel letters would attach — and where all the wiring and power supplies would be stored — using a MultiCam CNC router and SDS Automation return bender. The wireway and letters were welded then painted using AkzoNobel products.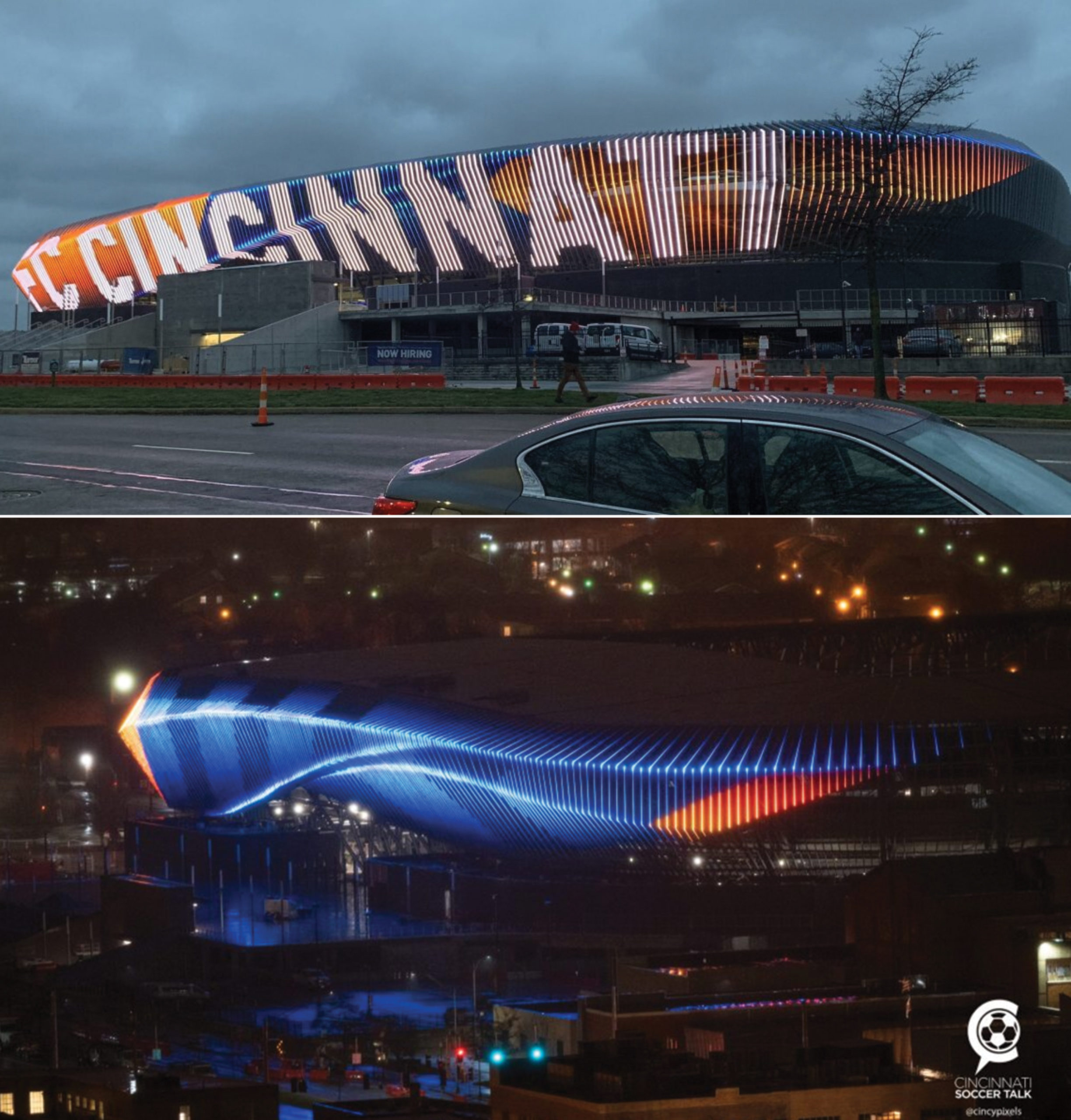 A Fin Facade
Major League Soccer FC Cincinnati's TQL Stadium (Cincinnati) is large enough to house 26,000 fans inside and sturdy enough to hold 385 fins outside. Jones Sign (De Pere, WI) — tasked with fabricating the vertical fin facade, its steel substructure and its pixel-point, SACO-programmable lighting — worked with global design firm Populous and New York-based Turner Construction along the way, says Laura Myers, director of marketing, Jones. The 40-ft. fins were pre-fabricated in Jones' Green Bay manufacturing plant and installed in large sections, saving time and space, explains Myers.
Royal Blue
When Bethel University (Arden Hills, MN) Royals' stadium underwent a multi-million dollar renovation last year, Franz Graphics (Minneapolis) was ready, having spent the past nine years providing graphics for the program. For the new signage, General Manager Chad Nannenga says they used 18-oz. exterior grade scrim and Ultraflex UltraMesh Supreme banner materials with HP latex print technology. They also custom built a framing system for the graphics to allow for an easy change of materials off the bleacher structure, and it doesn't rub and wear in windy weather.
PHOTO GALLERY
(19 IMAGES)
Advertisement
SPONSORED VIDEO
Find it here! ISA Sign Expo 2023
Whether you're looking to grow your business or advance your career, ISA International Sign Expo® 2023 is the only place to find everything you need to be successful in the sign, graphics, print and visual communications industry.