Sudden Impact
Your client has sheer seconds to capture shoppers' attention. Here's how to draw them in.
BUYER BE AWARE. From brick-and-mortar boutiques to online platforms, first impressions are everything when it comes to attracting customers and driving sales for your sign company's retail clients. The following six projects show how new age technology and timeless techniques can create eye-catching branding that can't be ignored.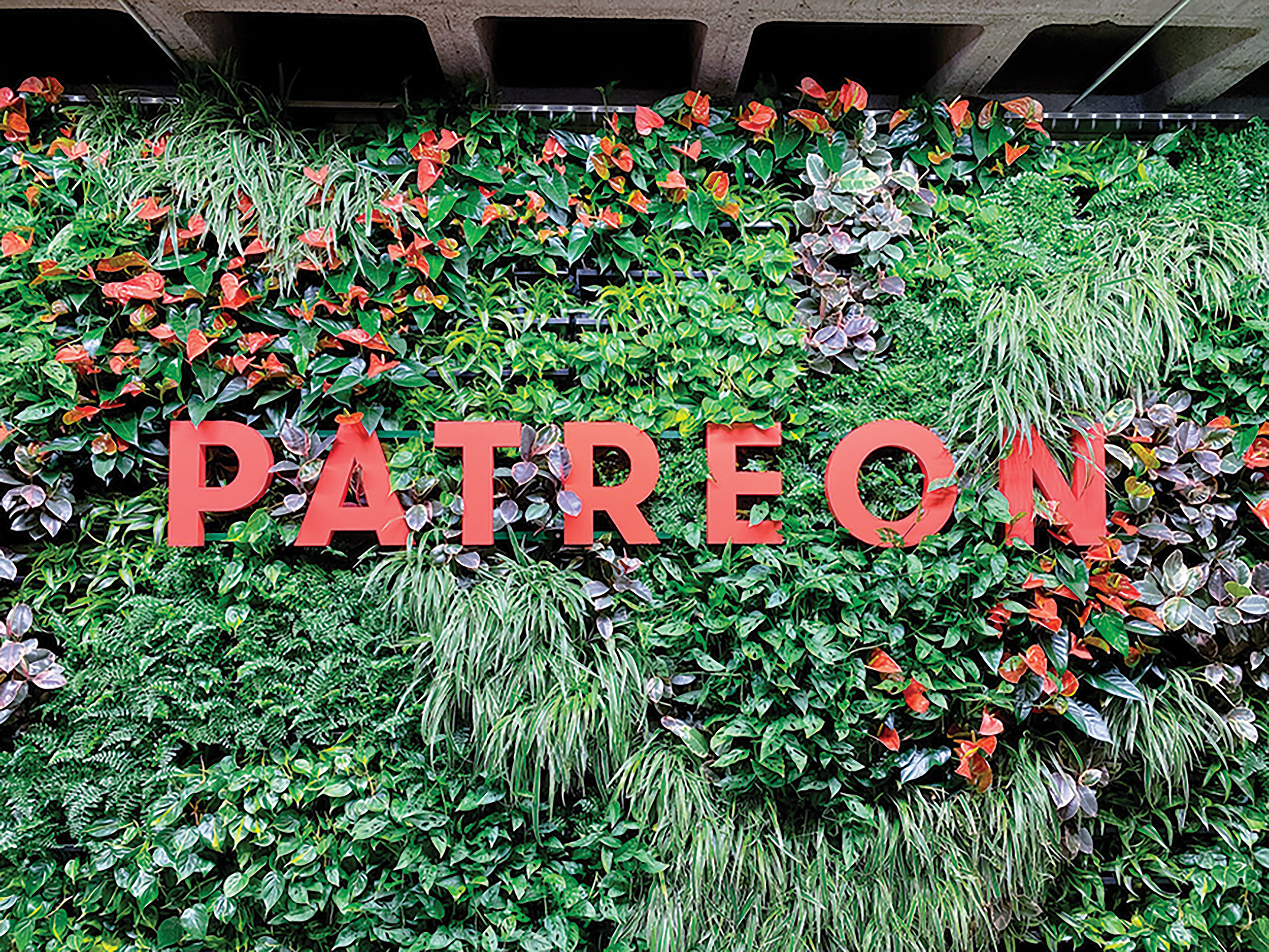 Living It Up
For Patreon's San Francisco headquarters, living wall designer Habitat Horticulture tapped local signage company Tinkering Monkey (Berkeley, CA) to bring Patreon's brand to life with a coral-orange dimensional logo on a botanical wall. The team chose 100% aluminum fabricated channel letters to avoid rusting (from watering), with solid backs attached via L brackets inside the sign. "We placed the letters face down in a laser-cut template and used self-tapping screws to attach a matte green painted aluminum angle bar subframe," says Mike Cheung, co-founder, Tinkering Monkey.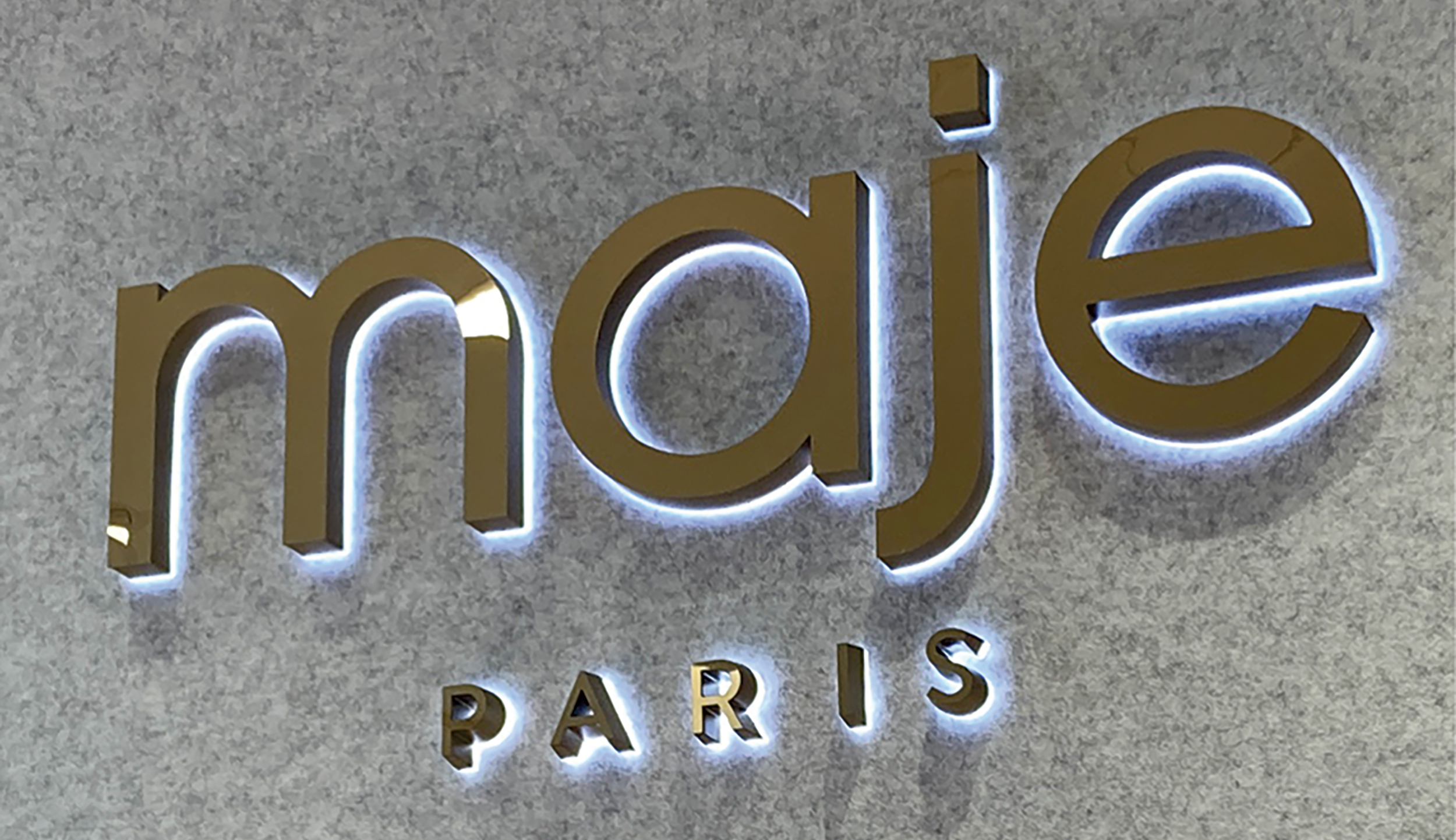 Petit Paris
"Luxury brands are always asking for smaller and thinner signage," says Jack Fovell, CEO/founder, Southwest Sign Co. (Corona, CA). That's why his company developed a new outdoor-friendly 3D printed lettering product, Little LED Letters, such as the wedge-shaped, 1.75-in.-tall, all-cap Paris letters below the lowercase "maje" moniker at the fashion retailer's store in Los Angeles. "[The] face stroke is only ¼ in., so to fit lighting inside we 3D designed the flared wedge shape that fits the LED in the back portion of the letter," says Fovell.
Disco Not a Drill
Ortwein Sign Co. (Chattanooga, TN) rolled into a funky project when existing client Fidelity Trust connected them with one of their local retail tenants: a dance-themed skate shop. "Moonlight Roller's vibe is fun, disco inspired and bright, so we used an RGB LED lighting system for the purple LED to [illuminate the sign]," says Michael Miller, marketing coordinator, Ortwein Sign. The company installed the reverse-lit channel letters keeping in mind city codes (and the landlord's request) not to drill into the building.
Advertisement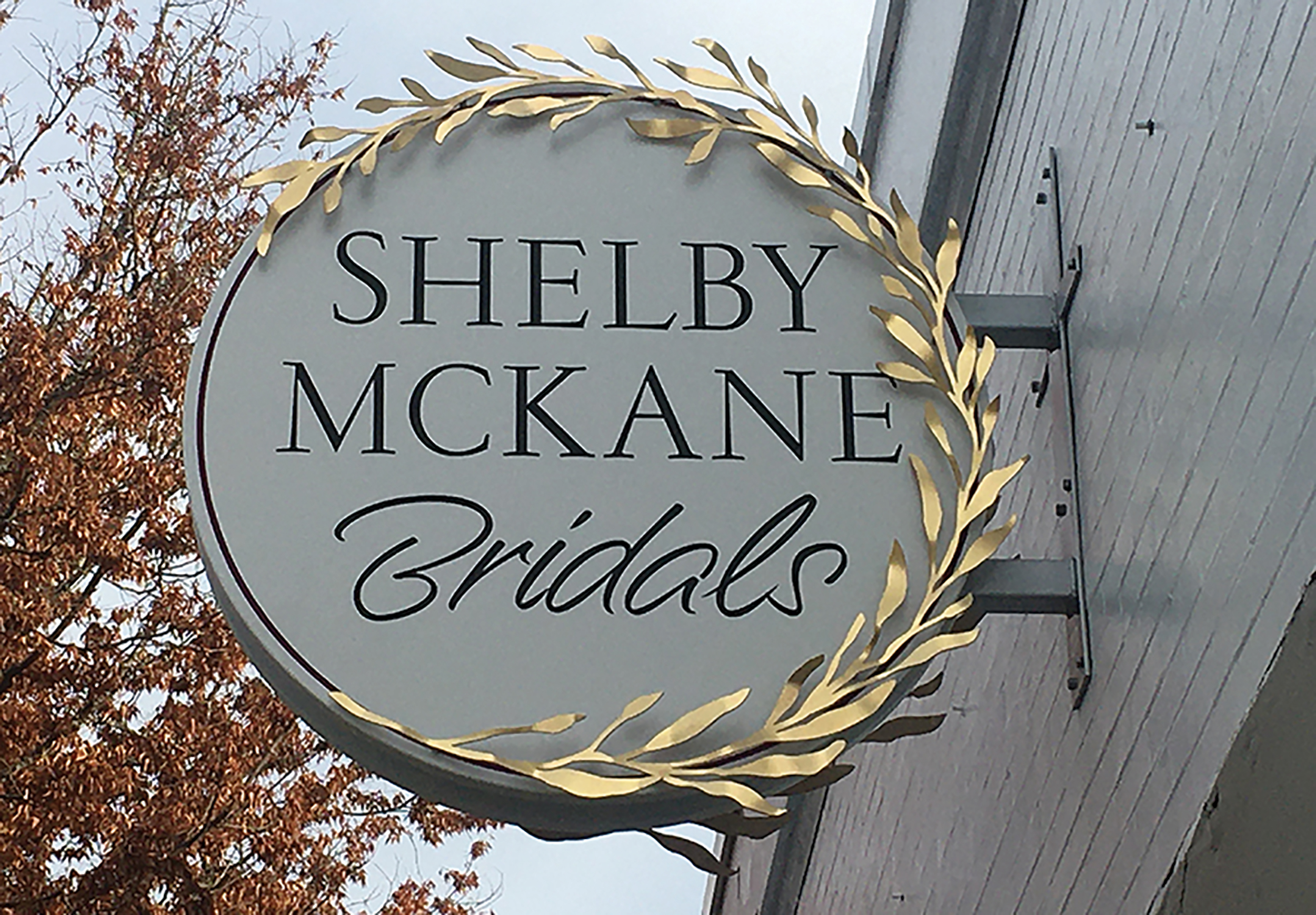 Bridalzilla
For wedding boutique Shelby McKane Bridals' (Keene, NH) sign, Peter Poanessa, owner of Keene Signworx (Swanzey, NH) used 18-lb., 1-in.-thick Signfoam HDU for the two panels, which are finished with Benjamin Moore water-based acrylic enamel and mounted to a crafted steel bracket. Poanessa carved the lettering on his ShopSabre CNC router, while the ⅛-in. mild steel vines were waterjet cut, hand shaped, painted and gilded with 23k gold leaf. He felt the ⅛-in. was best, recalls Poanessa. "But when it came time to shape [the vines], it made the task a lot harder."
Lasting Impression
For First Nation Flower Co. (Coarsegold, CA), Signs by Van (Salinas, CA) built a durable monument sign that combines aluminum, HDU and acrylic. All of the aluminum was water jetted or CNC routed. The letters were crafted from routed HDU, and the illuminated ones were fitted with CNC-routed translucent acrylic, says Jeremy VanderKraats, owner, Signs by Van. "This was also Woody's last major project with us before he moved upstairs. [See page 8.] This sign should last 50-plus years with proper maintenance, one we can be proud of for decades to come."
Retro Revival
When custom car builder Steve Cook Creations (Oklahoma City, OK) asked local shop Insignia Signs Inc. to replace their hand-painted sign, the look had to be "like one from 20 years ago," says Bret Van Tuyle, operations manager, Insignia. So the company chose classic neon. The 42.5 x 605.25-in. sign consists of around 10 FranceFormer ServiceMaster 10.5 to 15K transformers; horizon blue, triple stroke open-face neon letters (with snow white 6500 centers for the Steve Cook lettering); and ruby red glass for the accents.
PHOTO GALLERY
(56 IMAGES)
Advertisement
SPONSORED VIDEO
Find it here! ISA Sign Expo 2023
Whether you're looking to grow your business or advance your career, ISA International Sign Expo® 2023 is the only place to find everything you need to be successful in the sign, graphics, print and visual communications industry.