To Service and Install
Sign companies show some heavy-duty love for their heavy-duty equipment.
HAVING A WIDE range of trucks for needs ranging from installation to service allows SSI (see above) to meet the demand of their customers to take on any project, according to Louis DeSantis. It's hardly a surprise then, that DeSantis and our other Brain Squad members with service and installation equipment were proud to show theirs off here.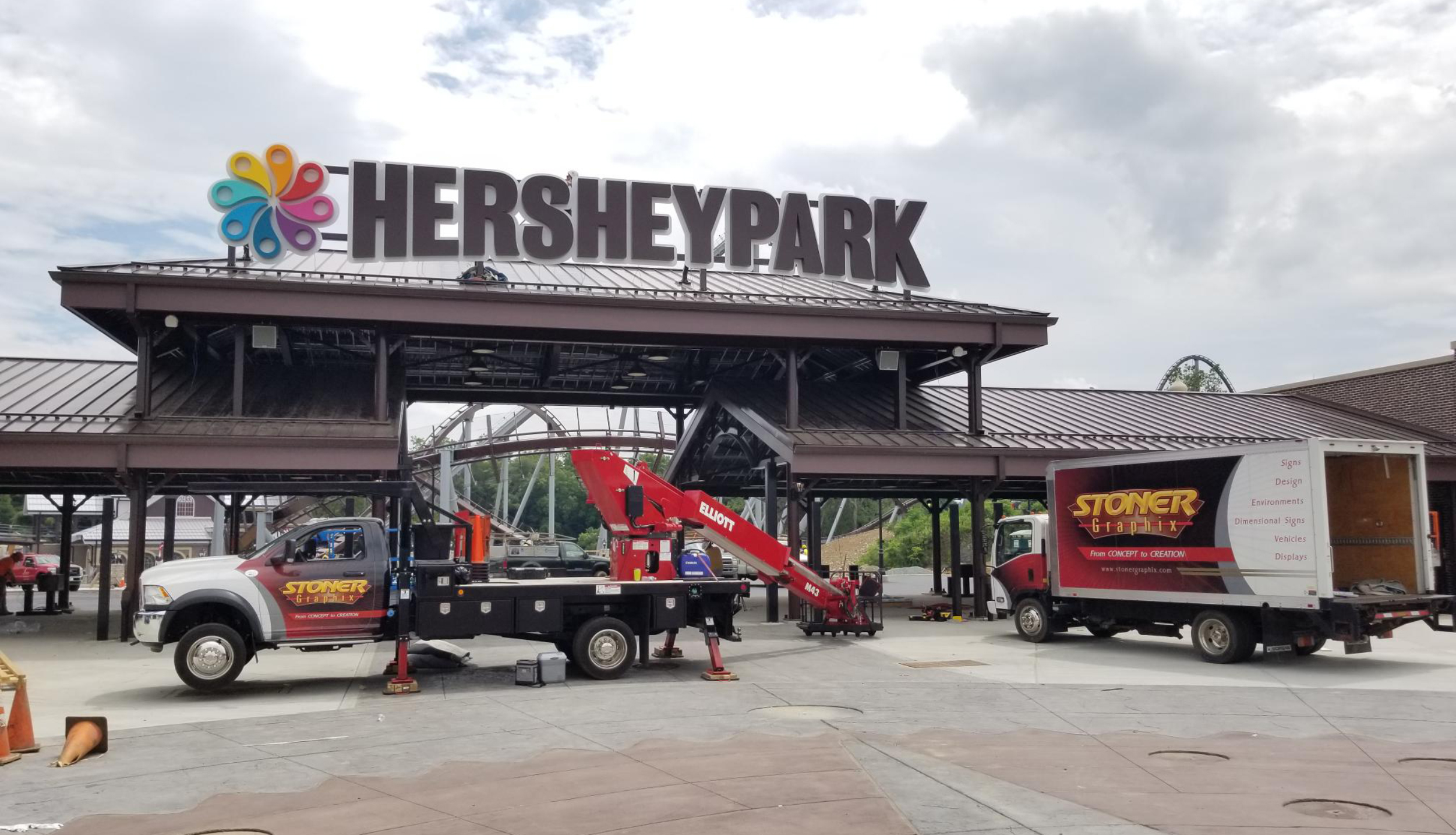 Stable Workhorse
With a working height of 48 ft., a side reach of 38 ft., a platform capacity of 500 lbs. and a jib-winch capacity of 500 lbs., one can understand why Kurt Stoner of Stoner Graphix (Hummelstown, PA) relies on his shop's Elliott M43 HiReach. The boom, which offers a two-person capacity, is "incredibly stable," Stoner says. "This truck has given us amazing capability and is heavily relied upon in our day-to-day business."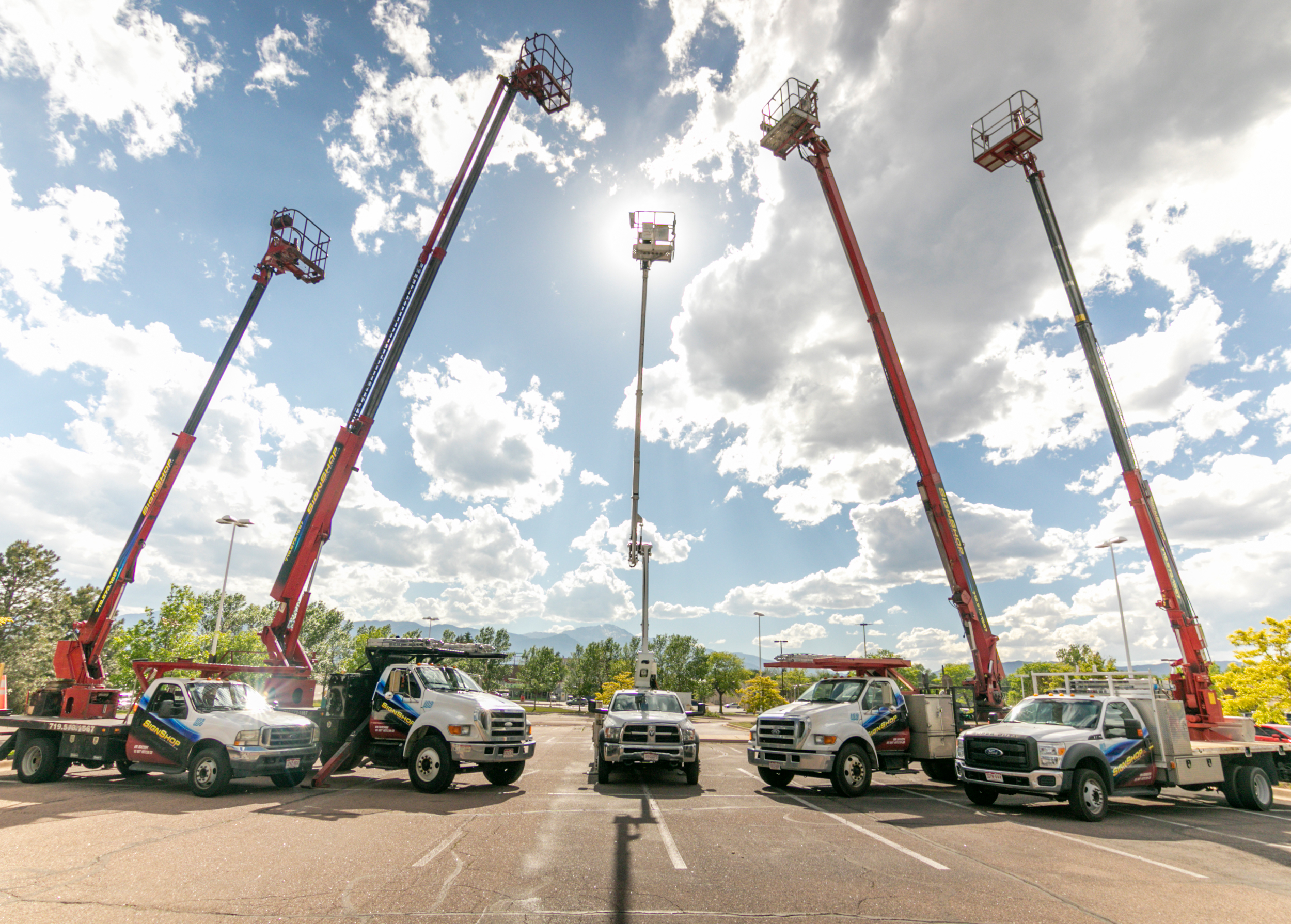 One of Everything
"The lifting capacity has allowed us to handle numerous large-scale jobs, and the durability of [our boom and crane trucks] to stay on the road for so many years allows us to continue to grow our fleet," says Louis DeSantis from Sign Shop Illuminated (SSI; Colorado Springs, CO) of his company's Elliott LI35, Elliott L60, Altec 50-ft. Bucket Truck, Manitex SC62 and Wilkie 52XLR (shown above, left to right). The fully outfitted, Colorado-based fleet will soon be joined by an Altec LS60, DeSantis adds.
Advertisement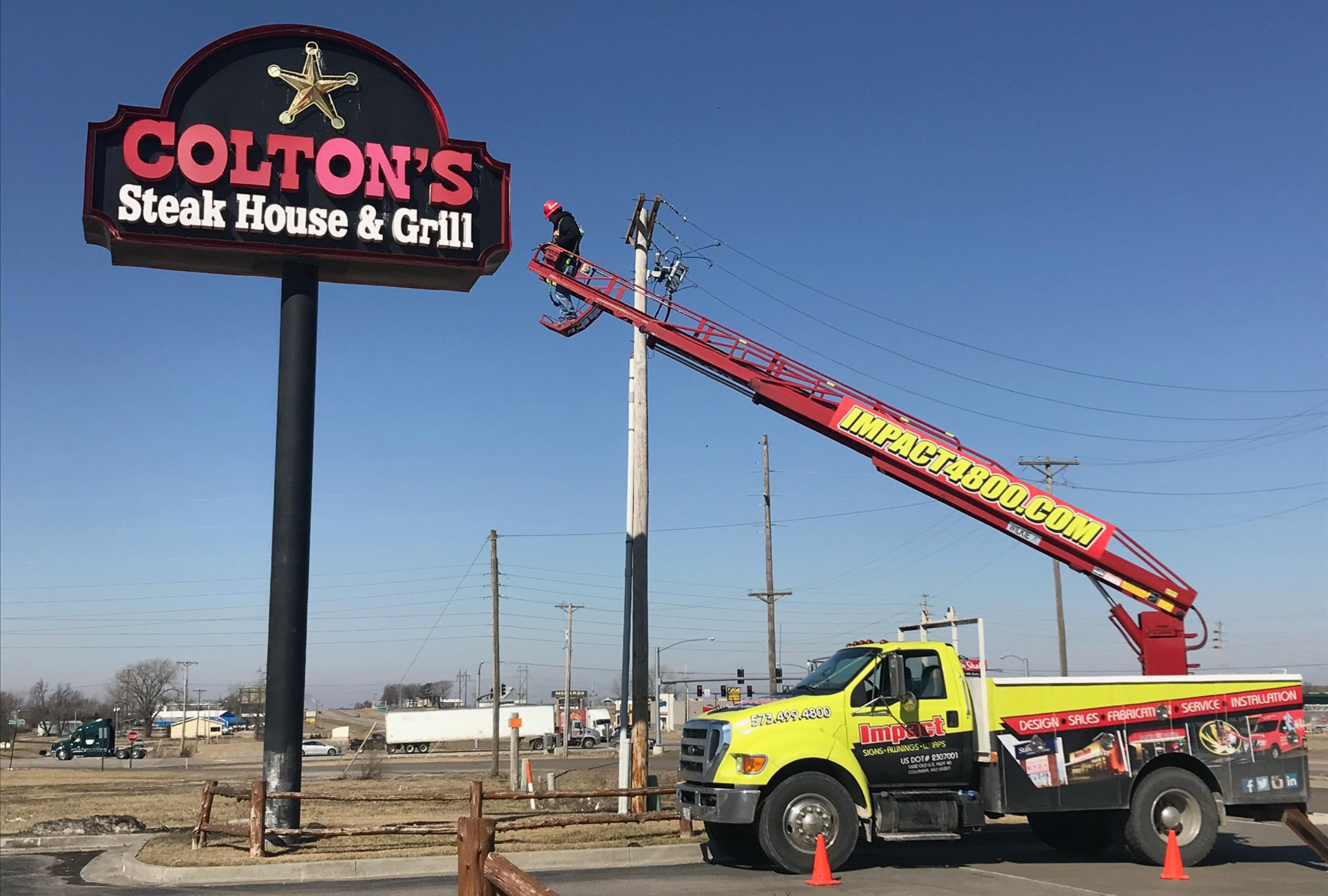 Ladder-All Move
David Goodson, Impact Signs (Sedalia, MO), really likes his Wilkie Model 60 Ladder. "It has a short wheelbase and maneuvers very well in tight areas," he says, adding, "It's extremely quick to set up." The boxes provide excellent storage for lamps, power supplies, ballast and other parts needed to provide good sign maintenance. "It has been very reliable and we feel that the service ladder is the best way to service signs," he says.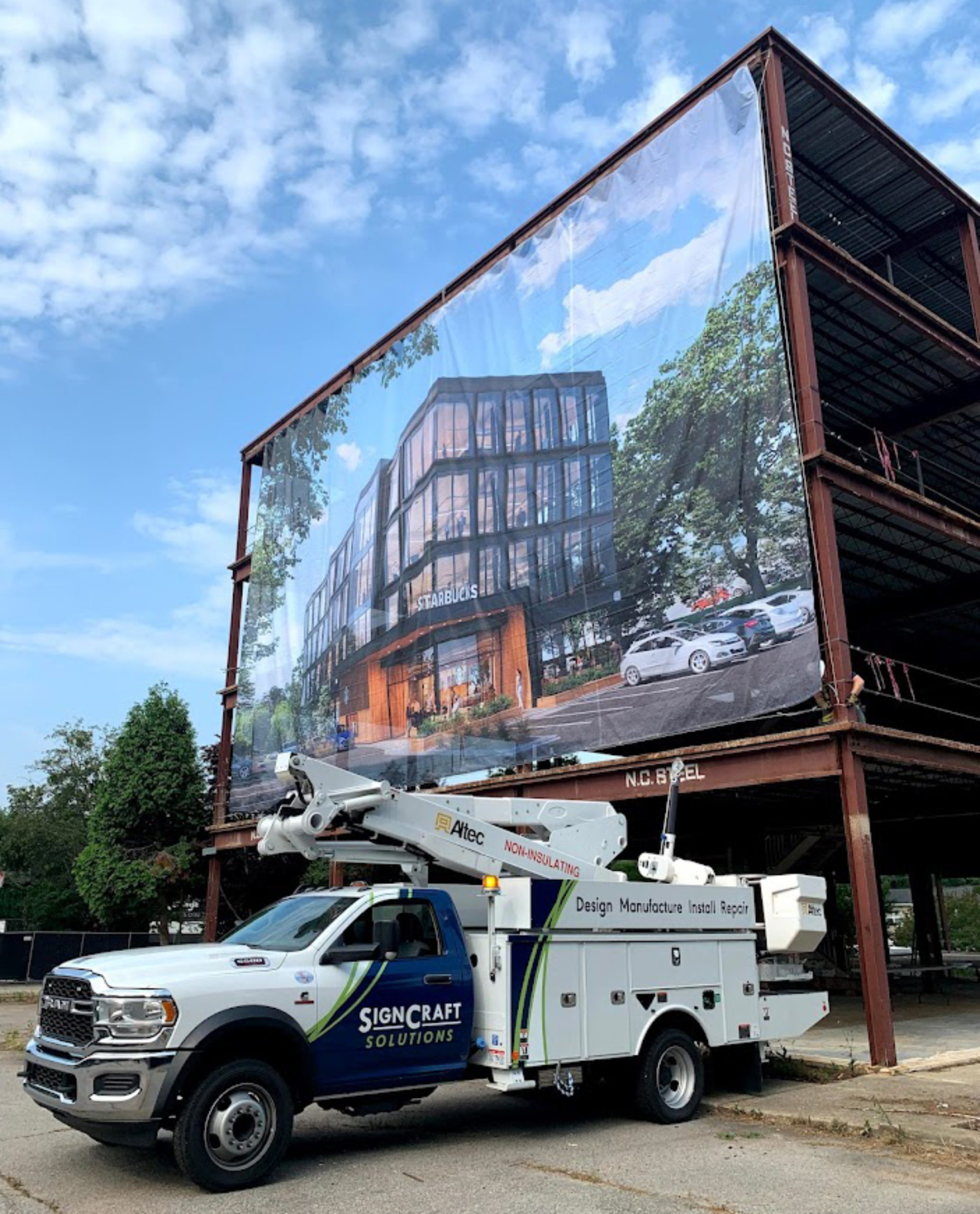 Keys to Freedom
Having a boom truck of their own provides Bob McEwen and SignCraft Solutions (Wake Forest, NC) the peace of mind to schedule and complete jobs themselves, instead of relying on others. SignCraft Solutions' Altec AT48S offers a max height reach straight up of 52 ft., a side reach of about 30 ft. and a weight capacity of 500 lbs. "We like the fact that this truck has a good reach to accomplish installations fairly easily on a two- to three-story building," McEwen says.
Autobots, Roll Out!
"Our trucks, a fleet of well over 30, are painted identically (yellow cabs/blue booms/black beds/red outriggers) and have been that way since 1990," says Harold Pedley, Sign Engineering (Guaynabo, PR). "A few years ago, Carlos Ramirez, our architectural designer, came up with the idea to turn the Kenworth into 'Optimus' [from the Transformers movie series] since the truck had the basic look, and everyone loved it! 'Bumble Bee' was a natural progression since the cab was already yellow and we just had to add the black lines." Both are Manitex 22101 cranes — Optimus a Kenworth and Bumble Bee a Sterling.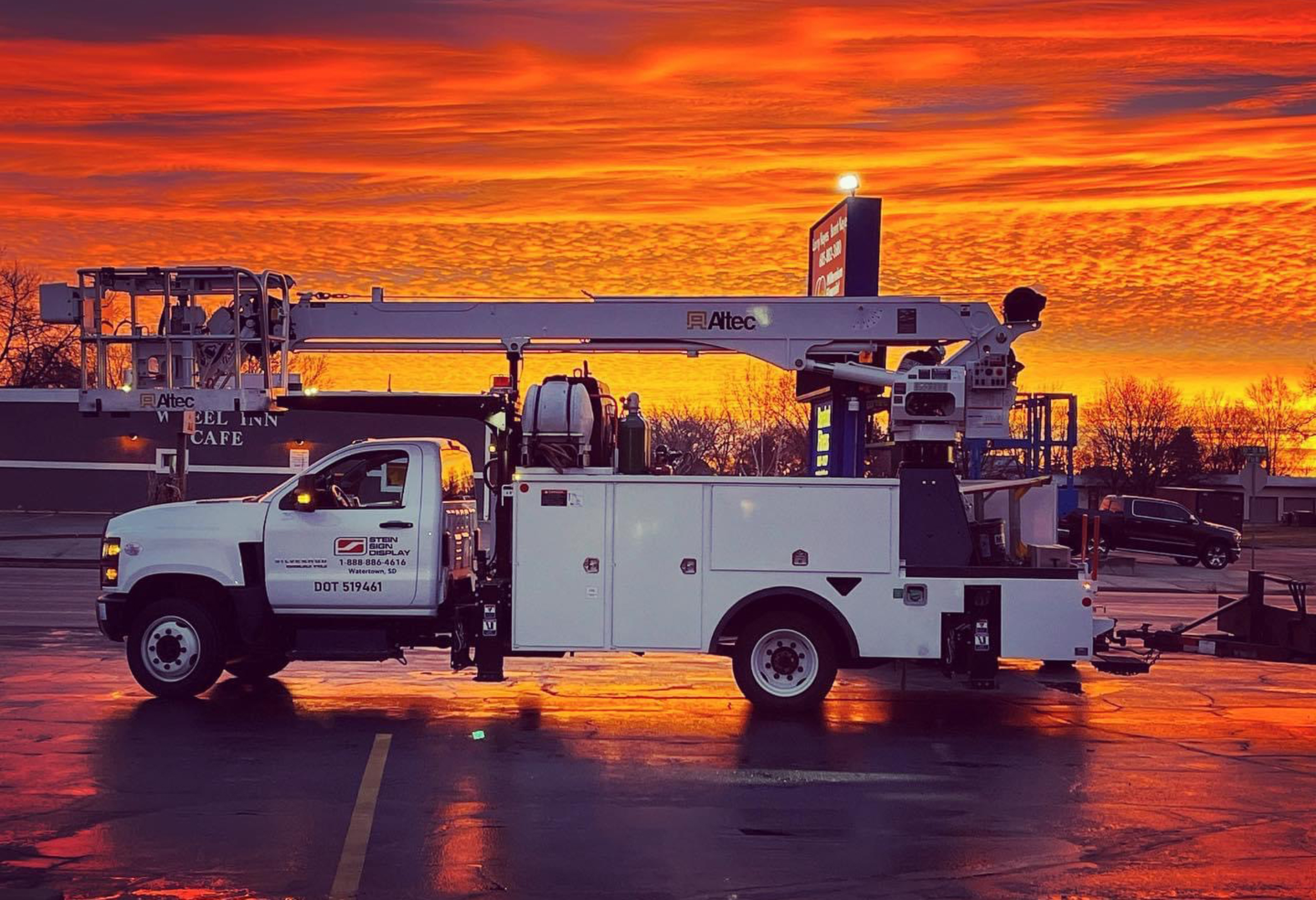 Serenity Now
"We really like the comfort and capability of this truck," reports Sam Mooney, Stein Sign Display (Watertown, SD), of his company's Altec LS49, shown here admiring the sunset. "It's a smooth, quiet ride down the road. The cameras are a really nice safety feature as well." The boom has a maximum reach of 50 ft. and a maximum capacity of 2,000 lbs. Smooth controls and the remote capability are two other features Mooney values. He says, "Being able to control the boom with a remote is incredibly convenient."
Advertisement
SPONSORED VIDEO
Find it here! ISA Sign Expo 2023
Whether you're looking to grow your business or advance your career, ISA International Sign Expo® 2023 is the only place to find everything you need to be successful in the sign, graphics, print and visual communications industry.