Neon vs. LED – Which Is Better Where?
New sign projects illustrate the advantages of each.
WHEN IT COMES TO choosing between LED or neon, a signmaker's decision comes down to considerations of setting, safety and aesthetics. Here are four shops that, when told to "slug it out," went with LED or neon in recent projects — and why.
NEON FOR NOW: The photo shows the neon Crockett Hotel sign. The neon will be replaced this spring with LEDs
Photo courtesy of the Crockett Hotel
LED FOR NEON RETROFIT
When tasked with refurbishing the iconic Crockett Hotel sign in San Antonio, the team at local Comet Signs made a bold choice to replace its decades-old neon with LED lights.
"When clients come to us [wanting a lighted sign], nearly 100 percent of the time, we're going to offer them LED, unless the client specifically requests neon," says Tim Edmonds, Comet Signs' general manager of estimating. That's because LED is typically easier to install and can be easier to repair and service than neon, says Kaelyn Sanders, Comet's marketing and communications manager. Plus, LED offers clients an increasing array of color options and programmable color effects, she adds.
The team assured their hotel client — and the local historical society — that the "faux neon" look achieved by their use of Street Wrap Flex LEDs from Principal Industries would not significantly alter the historic aesthetic of the property's 36-in. green letters.
"It's going to keep the same iconic, bright green look that we're all used to. In fact, most onlookers may not even notice a difference, visually," Sanders says. "But the switch from neon to LED will save [the client] energy and service time."
Comet Signs expects to complete the hotel sign refurbishing project by early spring 2023. The project — which also includes repainting the sign's existing metal cabinet — was made particularly challenging by the location of the letters just five feet from the roof's edge.
Advertisement
The team feels confident their LED install, once complete, will successfully weather whatever comes its way. "Exposed LED will withstand most storms, most heavy rains, and even some pretty good-sized hail," says Edmonds. "LED is encased in a rubbery plastic and then covered with a plastic covering, so it's set up to work really well."
GETTING AHEAD: As a popular attraction, Meow Wolf is better suited to LED options.
LED FOR SAFETY AND COST
The RiNo Sign Works (Denver) team completed roughly 90 signs for the Meow Wolf Convergence Station project, an immersive art and entertainment venue that opened in Denver in September 2021. Two of the 90 signs were neon, while the rest incorporated LED lighting — perhaps none more intricately than the elaborate Gaper Head sign created for the fourth-floor, C Street portion of the exhibit.
"The client came to us wanting a lot of neon, but from experience, we know that neon is very fragile," says RiNo Sign Works partner Willis Wood. "With this pretty much being an amusement park with people constantly walking through, we told the client we were really concerned about the glass getting broken. And then if it was broken and someone grabbed it, they could get electrocuted. So, using neon in certain places in this setting was a liability risk."
"For about a tenth of that cost, we were able to achieve their desired look."
To give the client the bright and engaging look of neon they sought — without the safety risk — RiNo devised a faux neon approach for Gaper Head. Specifically, Wood's team used rope LED lights set inside rounded acrylic plates backed with translucent vinyl, to allow a unique, push-through effect.
Advertisement
The RiNo team used SloanLED products, AkzoNobel paint, three different thicknesses of aluminum sheeting, and ½-in. thick acrylic to create the sign, which was manufactured using a MultiCam CNC router, HP Latex 360 printer, SDS Automation channel letter bender and various Milwaukee power tools.
OPEN WIDE: The sign cabinet for Meow Wolf's Gaper Head sign achieved the client's look without costly 3D printing.
The design included a custom return with hash mark cutouts as a way to illuminate the edging and increase the sign's overall light output. "The project went through an incredible amount of design, revision and tweaking from what their original vision was to the reality of execution," says RiNo Signs partner Brian Dudzinski.
Originally, the client had envisioned creating a 6 x 2-ft., 3D-printed plastic head. But the cost to 3D-print a sign of that size was beyond their budget. Additionally, given the public setting, all materials used in the signage for the Meow Wolf project had to be Class A-fire rated, which would have added to the cost to create the form in plastic, Dudzinski says.
"For about a tenth of that cost, we were able to achieve their desired look using a more traditional, dimensional sign cabinet using [fire-safe] aluminum and acrylic," he adds. "We were still able to achieve their design goal, which was to create an architectural piece that was very intricate and layered."
IN KIND: This neon nightclub sign fits the aesthetic of its New York neighborhood.
Advertisement
NEON FOR AESTHETICS AND CLIMATE
When it comes to capturing the look of vintage New York signage, nothing can replicate real neon, according to David Barnett and Mac Pohanka, founders of Noble Signs in Brooklyn.
The team opted for neon over LED when designing a new exterior sign for NYC nightclub Kind Regards. The client wanted "the warmth of neon, which kind of draws people in," says Barnett, who designed the sign using standard, block white letters. Two smaller, red cursive initials were added on each side to "show the beauty of script tubing," he says.
"We wanted to capture the look and feel of the neighborhood, which is older and has a lot of neon signage in place already," adds Pohanka, who fabricated the sign with help from glass bender Leo Lee.
The team felt confident using neon from a safety perspective, given that the 24 in. x 17-ft. sign was well off the ground — far too high for passersby to accidentally bump into. Further, it was installed in a spot without tree limbs or other obstructions that could damage the glass in a storm.
Advertisement
Noble Signs also designed the handpainted, welded-aluminum frame on which the neon letters sit. In designing the overall look, the team intentionally used letter relief as a way to capture the eyes of pedestrians going by. To create the look, Pohanka and Barnett used 10mm red and white neon tubing paired with France neon transformers.
"We like that neon signs feel pretty dynamic, both during the day and at night," Pohanka says. "Neon has a life to it. The look changes a little bit with the weather."
Nevertheless, the pair admit that neon sign installation can be a challenging process, requiring planning for appropriate power supply, among other considerations. Per city ordinance, a certified electrician installed the sign.
And while Barnett and Pohanka agree they've seen some convincing and clever use of faux neon signage, they feel most entry-level LED products are better suited to interior installations. "In our opinion, there is not an exterior LED application that can work as well as glass," Pohanka says. "New York winters can be unkind to rope LEDs, in particular. Water can sometimes get in the wire connections during thaws and fry them out, in our experience."
In many ways, the Kind Regards project exemplifies Noble Signs' goal of recreating the magic of vintage New York signage. "There are not a lot of other shops operating today that will do a neon case and also hand paint the lettering, and then work with the glass on it as well," says Barnett. "This project really speaks to what we're trying to do as a sign company."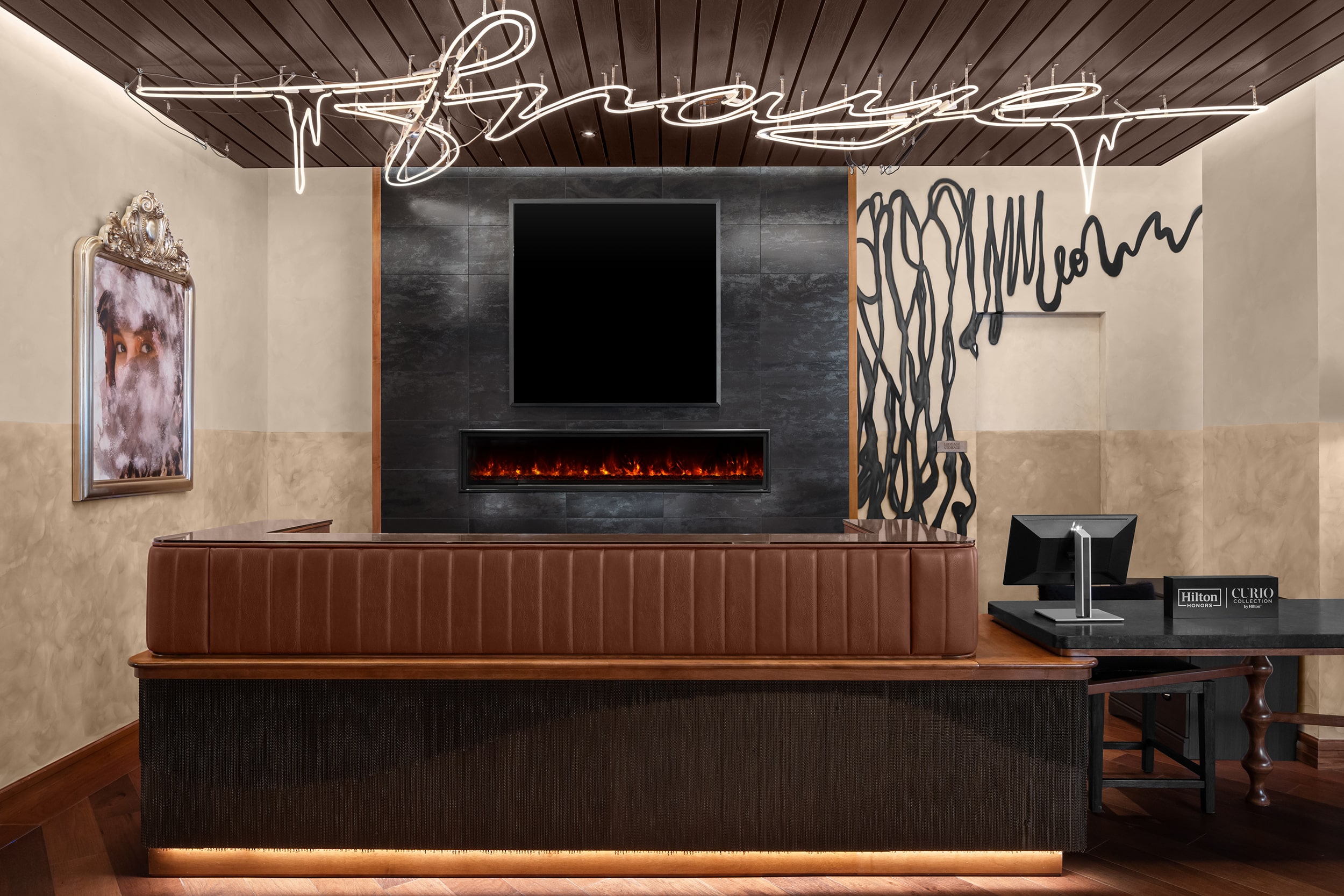 SCRIPTED : Accommodating tight bends is one of neon's advantages over LEDs.
NEON FOR CAPABILITY AND CRAFT
Neon was the go-to medium for the desk sign at Hotel Fraye in Nashville for one key reason: necessity.
"The client originally came to us wanting faux [neon] LED, but the shapes they were wanting just weren't conducive to LED," says Bob Burke, owner of Burke Enterprise (Oakdale, CT). "Their design looked great on paper, but there were too many tight bends — and too many different directions — to use LED."
Instead, Burke turned to his go-to neon signmakers, Kody Shafer and Nick McKnight, to create the client's desired look using bent glass. The large-scale project required 16 units of Voltarc glass — more than 130 ft. in all, says Shafer, who also operates his own business, Neon Spectacular (Norwalk, CT).
The Hotel Fraye sign measures roughly 12 ft. long and 18 in. wide, thanks to the "drip" effects of the letters. As illustrated in the sign's ornate design, there's an art to neon glass that can't easily be replicated by other media, the team feels. "The little crazy stuff you can do with glass is so great," Burke says.
Still, the team concedes that installation can be a challenge when it comes to neon signmaking. Typically, only a qualified neon manufacturer or an electrician familiar with neon signage is equipped to install one. "Most electricians today, when you tell them it's a series circuit, they don't know what that is," Burke says. "They are ready to run it up in parallel, and if you do that, you might get one unit out of the 16 to light."
Burke's team sometimes does neon installation themselves, as they did recently for a large, crown-shaped neon sign for the DraftKings outlet at Foxwoods Resort Casino in Ledyard, CT — "a straightforward wall-mount, but we did run into some issues that required multitap transformers in order to keep it running," Burke says.
Burke feels passionately about working with younger artisans like Shafer and McNight as a way of fostering a new generation of neon signmakers. "There's always something more in the sign industry that can be done with neon," Burke says.
McKnight agrees. He recently helped launch a Neon Makers Guild to "help bridge the gap between older vendors and younger vendors who are trying to learn," he says. "People tried to tell me 'neon is dead,' but there's still demand for it. I don't think that demand is ever going away."
PHOTO GALLERY
(23 IMAGES)


📷: Crockett Hotel
SPONSORED VIDEO
Find it here! ISA Sign Expo 2023
Whether you're looking to grow your business or advance your career, ISA International Sign Expo® 2023 is the only place to find everything you need to be successful in the sign, graphics, print and visual communications industry.