Retro Grade A Graphics for Vintage Vehicles
Five signmakers transform beloved classic cars and trucks.
VINTAGE VEHICLES DON'T have to stay old. Wraps, decals or simply new lettering can rejuvenate decades-old rides, restore their style and give them a new lease — with affordable terms — on life.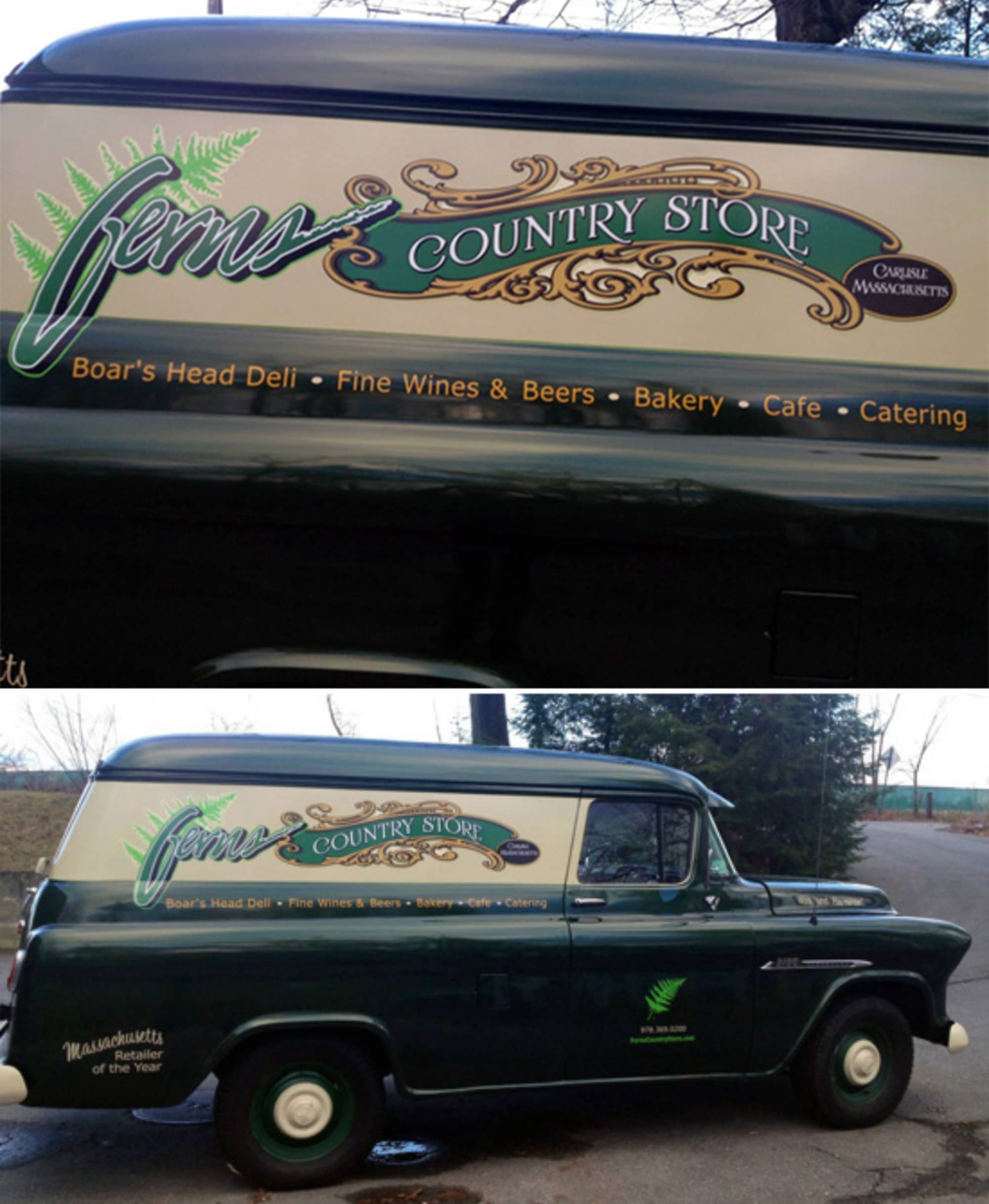 A Truck Named Bella
"Bella," a 1955 ½ 3100 Chevy panel truck wrapped by Lexington Signs & Graphics Inc. (Burlington, MA), served Ferns Country Store for six years. Lex Signs owner Raychel O'Donoghue loved the truck so much that she spent more time designing the wrap than she knew she'd be paid for, using Adobe Illustrator and CADlink SignLab, then printed using a Roland on 3M vinyl and gloss laminate. O'Donoghue and project manager Rachel Svenson installed the vinyl after ensuring the client's satisfaction with an old-fashioned design.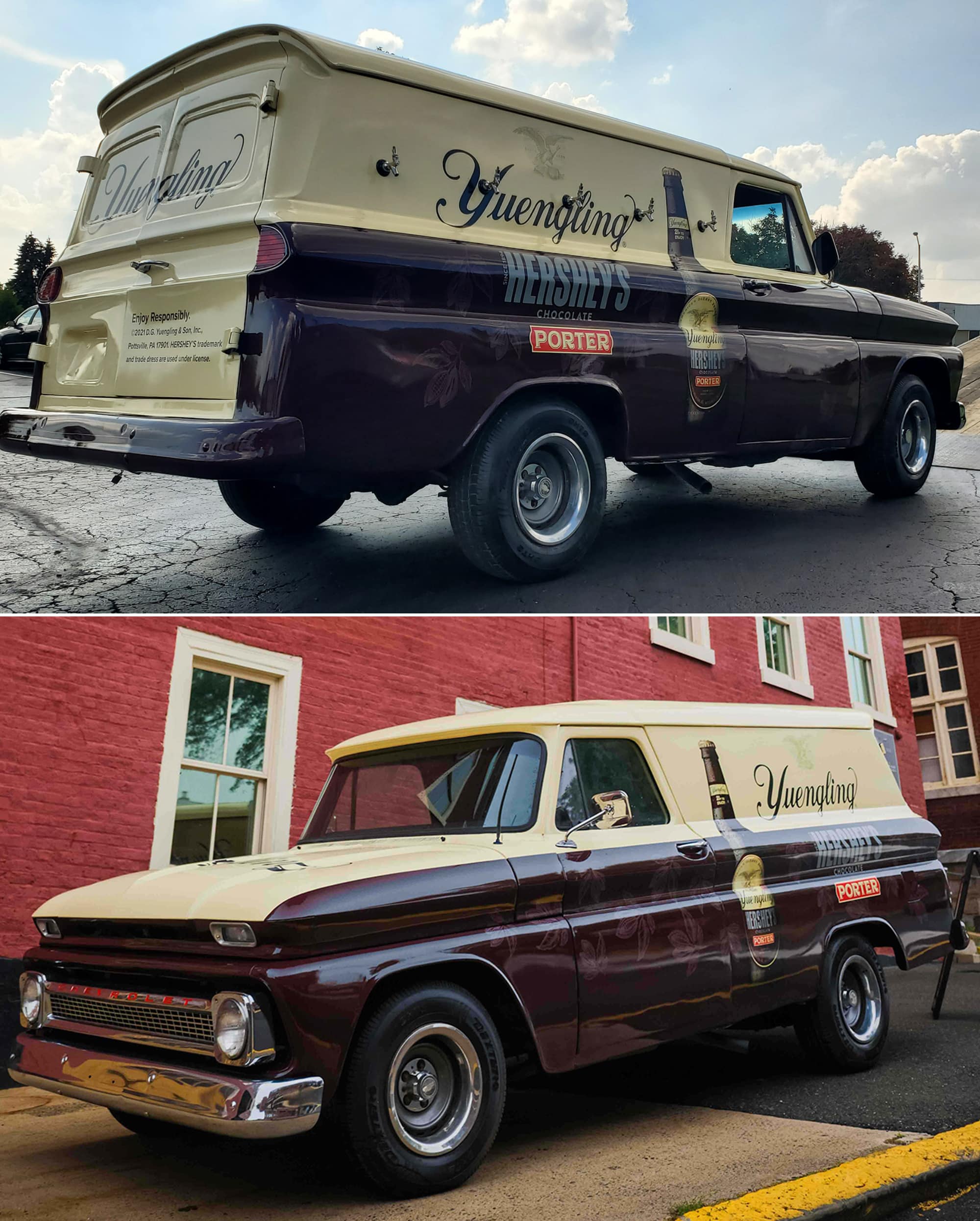 Beer With Me
Atchley Graphics (Columbus, OH) retrofitted a vintage 1960 Chevy panel truck via marketing agency RedPeg for their client Yuengling, the oldest brewing company in the US. RedPeg provided the conceptual design, which the signshop produced on their HP Latex 570 series printer, laminated on their GBC 1264 Arctic Titan and finished on the shop's Summa F1832 Digital Cutter. With no suitable outline templates, Atchley scoured the internet to determine the dimensions. "We were bummed that the beer tap system wasn't fully functioning when the vehicle arrived!" says CEO/owner Derek Atchley.
Advertisement
One-Man Station
A station wagon wrap job was no trouble for Kevin Mead of Kolor Werx Creative Services (Portland, OR), who designed the wrap and took a day to install on a 1967 International Harvester Travelall for client Peter Noyse. Mead used 3M Wrap Film Series 1080-M54 Matte Orange for the wrap material and 3M Controltac 180C with 3M Scotchcal Matte Overlaminate 8520 for the floor panel print. The trickiest parts, Mead says, were the brake lights on the vehicle's corners.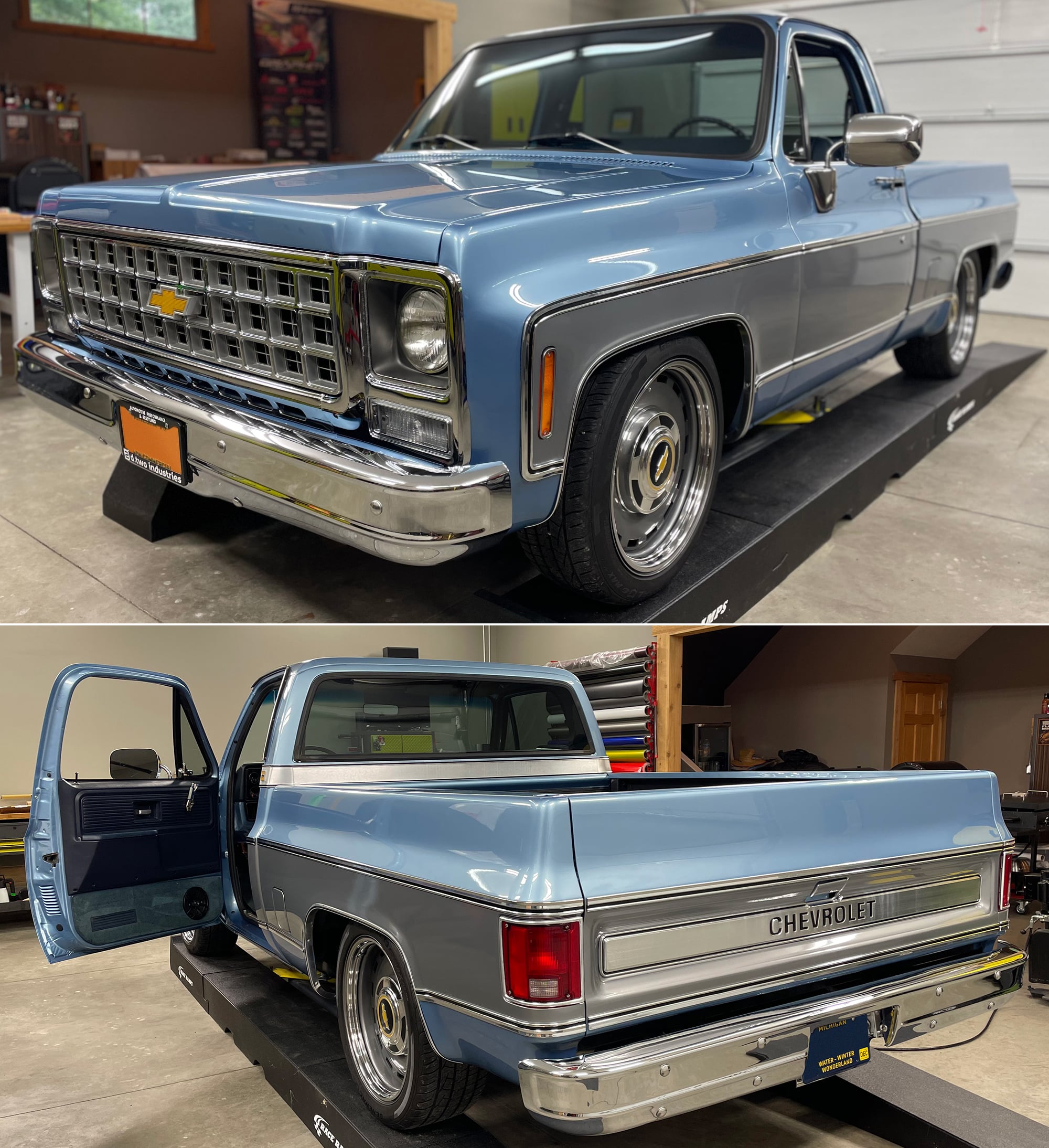 Old-School Cool
When a 1980 Chevrolet C10 pickup truck rolled into his shop in Fenton, MO, John Duever and the team at Vinyl Images found the ideal vehicle graphics in Avery Dennison Supreme Wrapping Film Gloss Metallic Silver. The film matched the vehicle's new gloss blue and silver-painted wheels, allowing the shop to achieve the old-school two-tone stripe down the sides and tailgate to enhance the chrome accents, just as the client wanted.
Mobile History
The vehicle that Jeffrey Cross of Cross Signs (Seminole, FL) hand lettered has seen its share of history: The 1929 Model A two-door sedan was turned into a hunting buggy in the '40s-'50s, then converted to a pickup in the mid-'60s and eventually donated to Heritage Village park in Pinellas County. Despite the client's desired casual look, "I'm sure that I made a pounce pattern," Cross says. He used two coats of 1 Shot Lettering Enamel and spent less than a day on the job.
PHOTO GALLERY
(13 IMAGES)
Advertisement
SPONSORED VIDEO
Find it here! ISA Sign Expo 2023
Whether you're looking to grow your business or advance your career, ISA International Sign Expo® 2023 is the only place to find everything you need to be successful in the sign, graphics, print and visual communications industry.