2023 Sign Contest Runners-Up
Six projects proudly represent "the best of the rest."
THESE AMAZING SIGNS came up just a few votes short of securing top spots in our sign contest (see St, September 2023), but are noteworthy enough to deserve to be seen as "the best of the rest."
Enter the Dragon
Category:

Best Outside-Designed, Signshop-Fabricated Sign, Internally Illuminated

Is there anything cooler than dragons? How about two 12-ft.-high, 2-in.-thick CNC- and hand-carved dragons with vertical copy? All elements for the Golden Dragon restaurant entry at the Foxwoods Resort Casino were halo lit with Everylite Panoramic 1D LED modules, while the carvings were hand-finished to add detail. The foam and copy were primed and base-coated in the bronze color specified by the architects, and then airbrushed to bring out a gold-like finish and to add detail and visual depth, according to Burke Enterprise (Oakdale, CT) owner Bob Burke.
Campus Director
Category:

Best Signshop-Designed and Fabricated Sign, Internally Illuminated

The Campus at Foothills Farm (North Colorado Springs, CO), a commercial development located within "The Farm" (a 445-acre mixed-use community), needed stand-out signage to guide employers and visitors. Enter the town's very own Sign Shop Illuminated (SSI; Colorado Springs, CO), hired by LaPlata Communities Inc. to create a series of signage throughout the campus, which consisted of routed-out aluminum faces with push-through and clear acrylic printed on concrete bases. Although complicated to create, the blue, wood grain "mohawk" print created a unique look that set itself apart from surrounding signage, SSI owner Louis DeSantis said.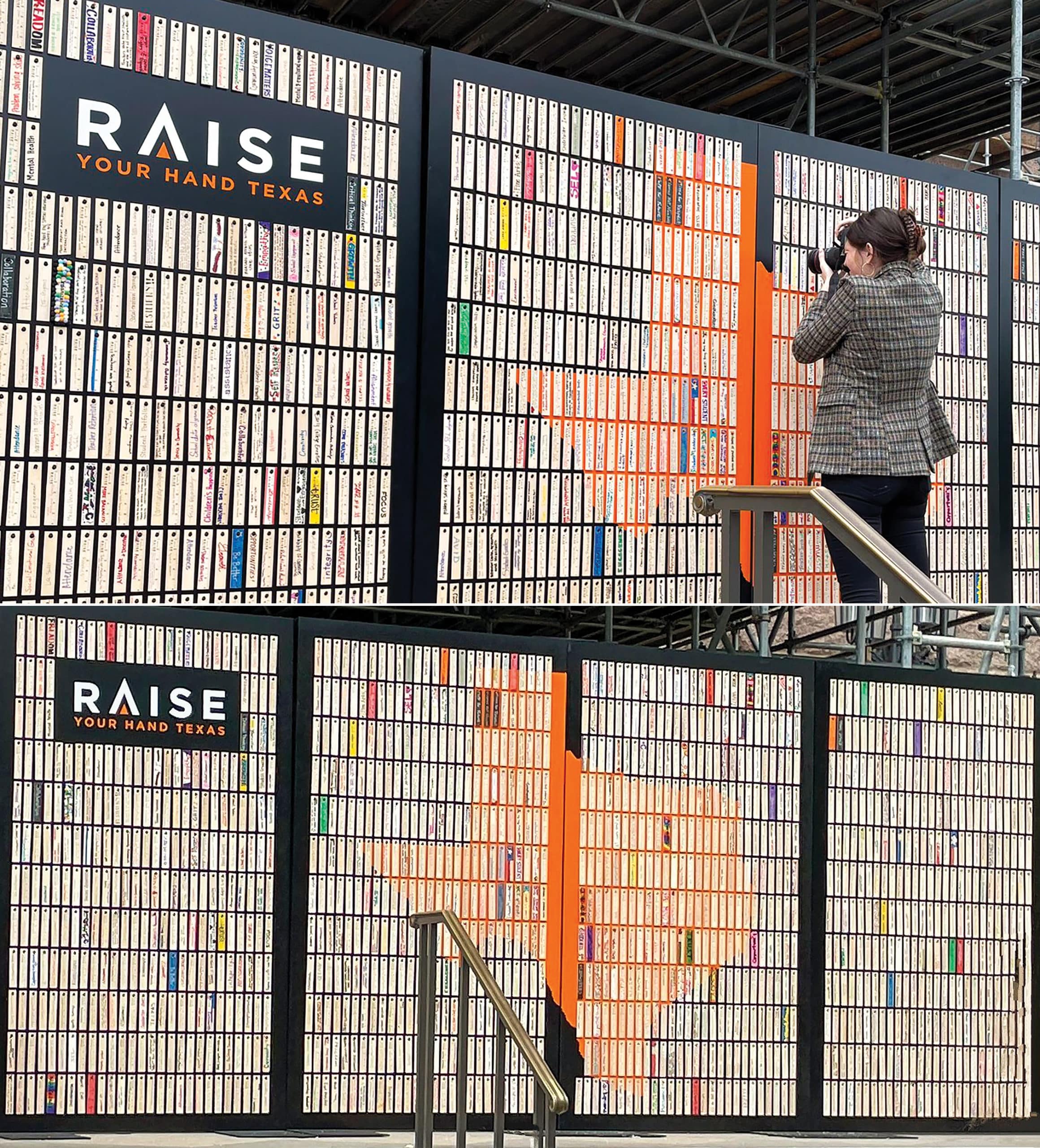 Show of Hands
Category:

Best Signshop-Designed and Fabricated Sign, not Internally Illuminated

Education advocacy group Raise Your Hand Texas' "Measure What Matters" campaign needed a way to showcase 2,500 words and phrases written on 6-in. rulers that spoke to the way Texans felt about education. Enter Studio Dzo's (Austin, TX) Partner | Creative Director Russell Toynes, who says he "knew we needed to develop a display that would look great and hold up to unexpected winds [and] also be moveable and modular for future events." They designed a display using four double-sided sets of aluminum square tubing frames skinned with painted, black aluminum panels.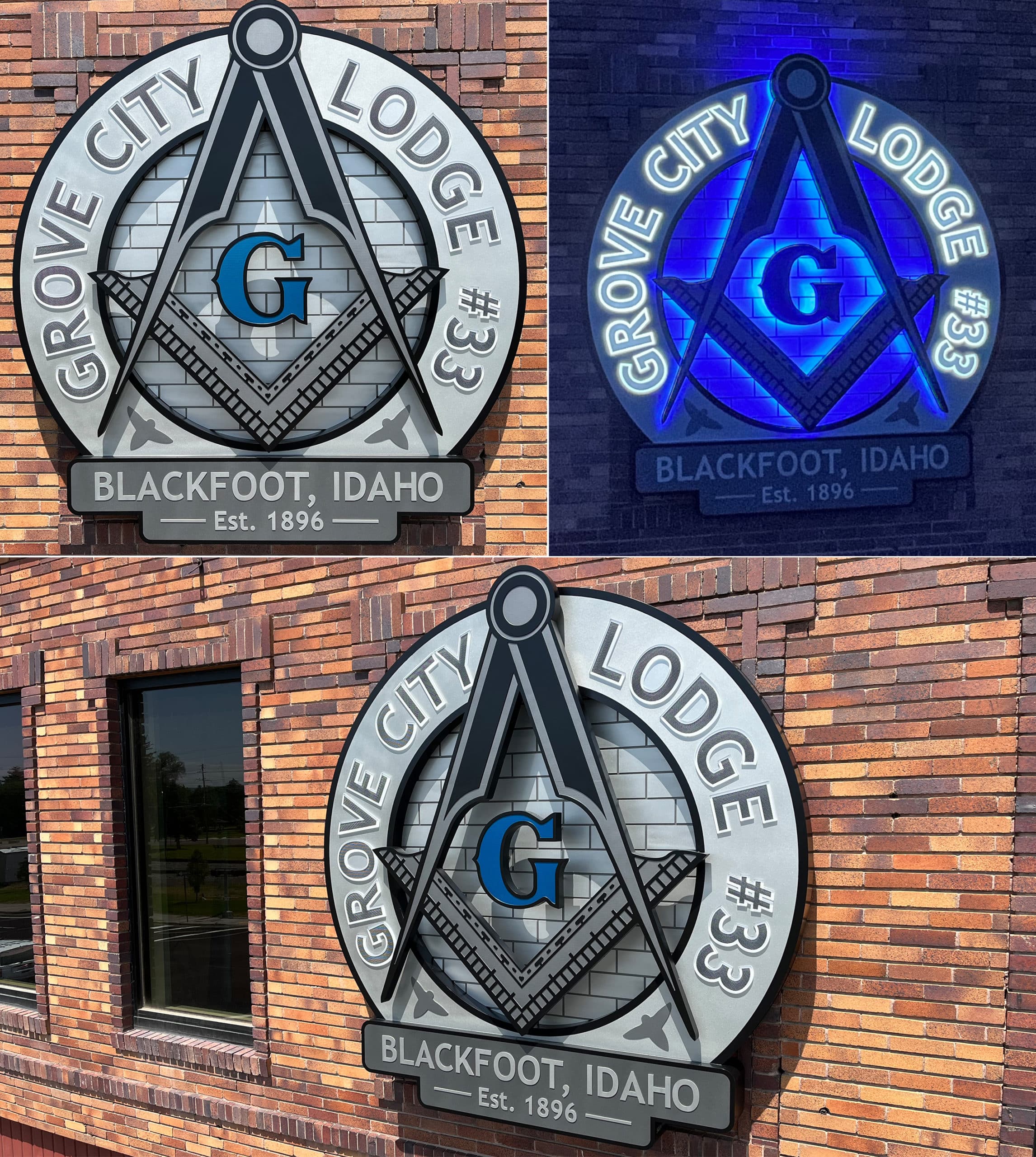 Right Angles
Category:

Best Signshop-Designed and Fabricated Sign, Internally Illuminated

Ample budget. Artistic freedom. Easy approval. These are qualities every signmaker wishes for and what Sign Pro (Idaho Falls, ID) happily received when working on this eye-catching sign for the Masonic Temple–Grove City Lodge #33 (Blackfoot, ID) according to Sign Pro President David Whitehead. They created the dimensional, illuminated sign using a CNC router to mill down ¼-in. thick aluminum for detail in the square and compass, and built it as a reverse channel letter for dimension as well as to house the blue LEDs, creating a halo effect.
Re: Cycling Effort
Category:

Best Signshop-Designed and Fabricated or Outside-Designed, Signshop-Fabricated Vehicle Wrap

Local bike shop Blue Ridge Cyclery purchased a transport van that needed some spiffing up. Performance Signs (Ruckersville, VA) designed a wrap from the ground up — literally — as the topographic background was based on their local Blue Ridge Mountains area, Project Manager Brianna Beere said. The wrap was printed on an HP 365 Latex Printer, then laminated with an AGL Encore laminator and installed using Geek Wraps squeegees, heat guns, YelloTools BodyGuard knife, and both 3M Knifeless and Green Automotive tapes.
Drive for Show
Category:

Best Outside-Designed, Signshop-Fabricated Sign, not Internally Illuminated

When it came time to design stairwells and other spaces at various locations throughout the country, Topgolf USA and their architect decided to wrap the interior and exterior locations with city-specific graphics, asking Cima Network Inc. (Chalfont, PA) to help bring their concept to life. Using a cutting-edge HP Latex printer, the team printed the graphics directly onto Hardie board panels and then shipped them off to Topgolf sites. "This project is a great example of how innovation and hands-on solutions can come together to create impactful outcomes," Cima's Print Layout & Production Specialist Mark Watkins said.
PHOTO GALLERY
(30 IMAGES)
Advertisement
SPONSORED VIDEO
Find it here! ISA Sign Expo 2023
Whether you're looking to grow your business or advance your career, ISA International Sign Expo® 2023 is the only place to find everything you need to be successful in the sign, graphics, print and visual communications industry.