Signs Going "New School"
School Signs:

Six widely varying educational institution projects earn high marks.

JUST AS WE STUDY a wide range of subjects in school, so do sign pros produce an array of signage for educational buildings and properties. From prints to channel letters, we bring you a half dozen projects that passed with flying colors.
Sunday School
Hill House Graphics (Bristol, RI) often donates small decals to the Tiverton, RI Volunteer Fire Department for fundraising, so when a signage project came up for Tiverton High School, a deputy fire chief, who doubles as the school's maintenance director, referred the job. Printed in panels on 18-oz. vinyl banner using an Epson SureColor S-Series printer, this sign was attached to the building with concrete fasteners. "The greatest challenge with this project was scheduling at a time [when] there were no students on campus," says Hill House Graphic's Ian McLellan, "so we ended up installing on a Sunday."
Two Schools, One Job
Great American Sign (Basking Ridge, NJ) completed a project for nearby Harding Township Elementary and Middle Schools, both new customers. Great American specified 1-in.-thick Kömacel PVC, which was V-carved on a MultiCam 3000 router. 23K Manetti goldleaf and 3M vinyl applied to a standard Peachtree City Foamcraft monument completed the fabrication. "I was impressed with Peachtree City Foamcraft because they asked me to send a photo of the brick school building so that their painting of the bricks could match," says shop owner Gary Johnson. "Nice attention to detail!"
Advertisement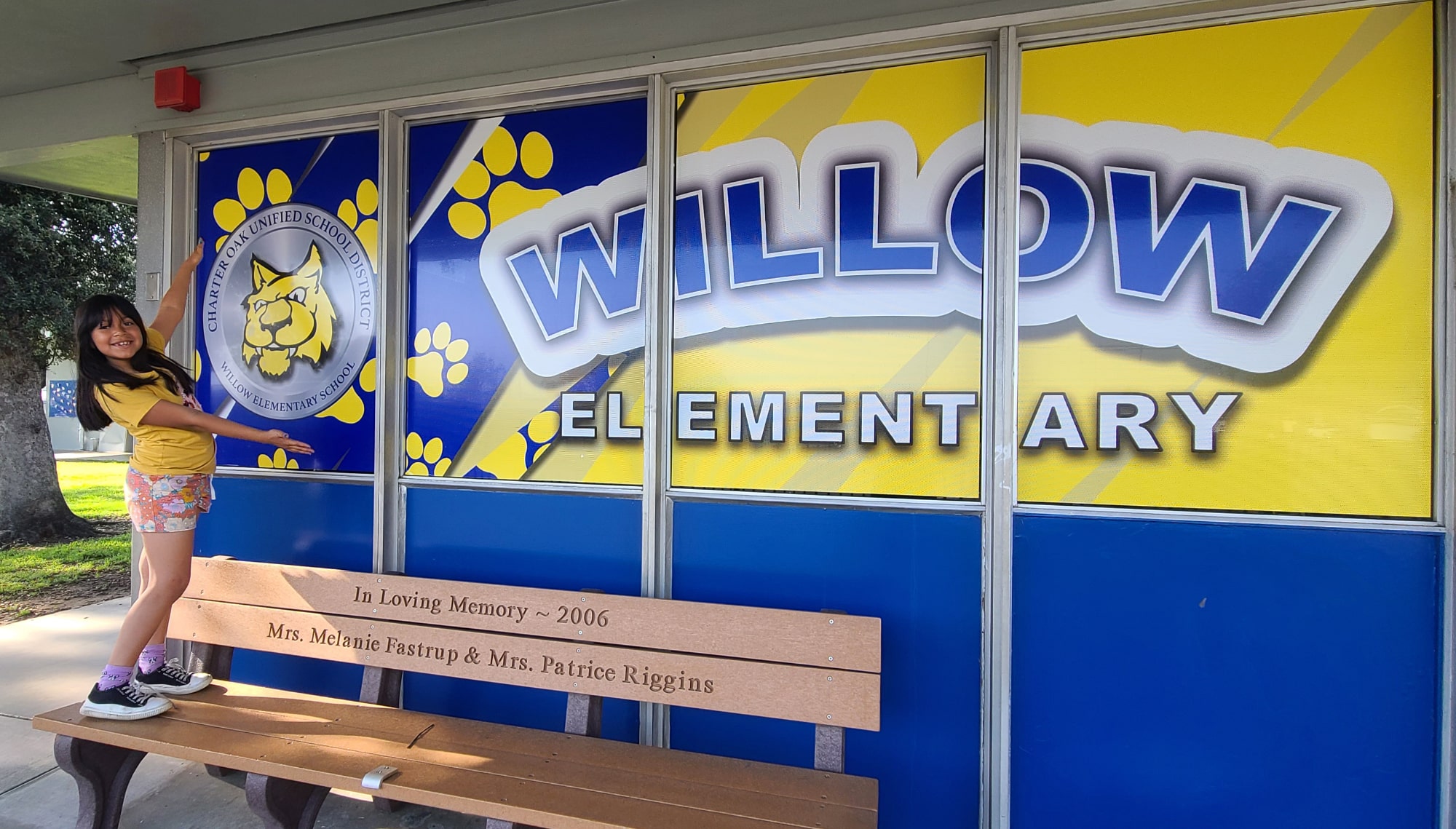 Window Work in Cali
Local Signarama-Covina did such good work for individual schools in Covina and Glendora, CA's Charter Oak Unified School District, the shop was selected for a district-wide window project. Seven schools required graphics for 9-25 windows each. The key for all the measurements was a master chart for each school and handling them like separate projects. Signarama-Covina used 80/20 perf printed on their Roland VG2-540 and 640. "Our production team and designer also have children attending three of these schools," says shop owner Ted DeWitt. "So it was a kick for them to know their parents had a hand in it."
1 + 1 = 2
A matching sign project for elementary schools in both Glenville and Collins, GA was recently awarded to nearby Henry Graphics Inc. (Buford, GA). The signs called for reverse channel letters cut on their MultiCam router, affixed to a mounting plate with Miller welders. Telescoping supports greatly aided installation, taking three workers three to four hours. "From start to finish, the project went as smoothly as one could hope for," says Michael Johnson, senior graphic designer. "If only all our projects could happen like this."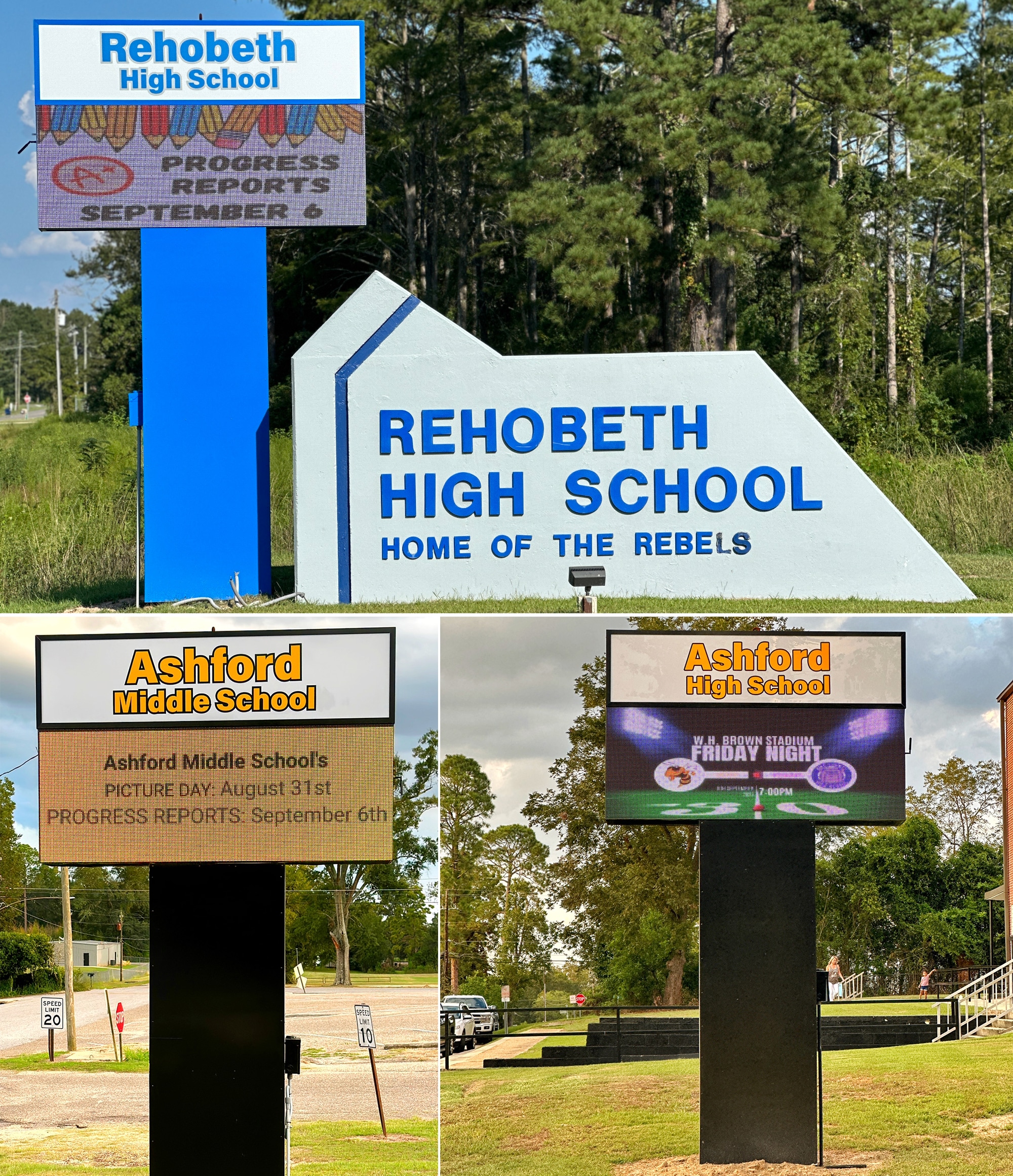 Houston, We Have a Solution
A project for Dothan, AL's Houston County Board of Education recently went up for bid and nearby Coastal Signs & Graphics (Slocumb, AL) was awarded the $500,000 job. The only catch was that the 13-sign project — each a 10,000-nit, 3 x 8-ft. EMC with a smaller 2 x 8-ft. all-aluminum cabinet — had to be installed within 100 days. Coastal fabricated the cabinets in-house in six weeks. They partnered with Trident Displays for the EMCs and Browning Sign Erectors (Dothan, AL) for installation. Together they finished the job on day 88. Great and precise specifications helped, says Coastal's Todd Sallas.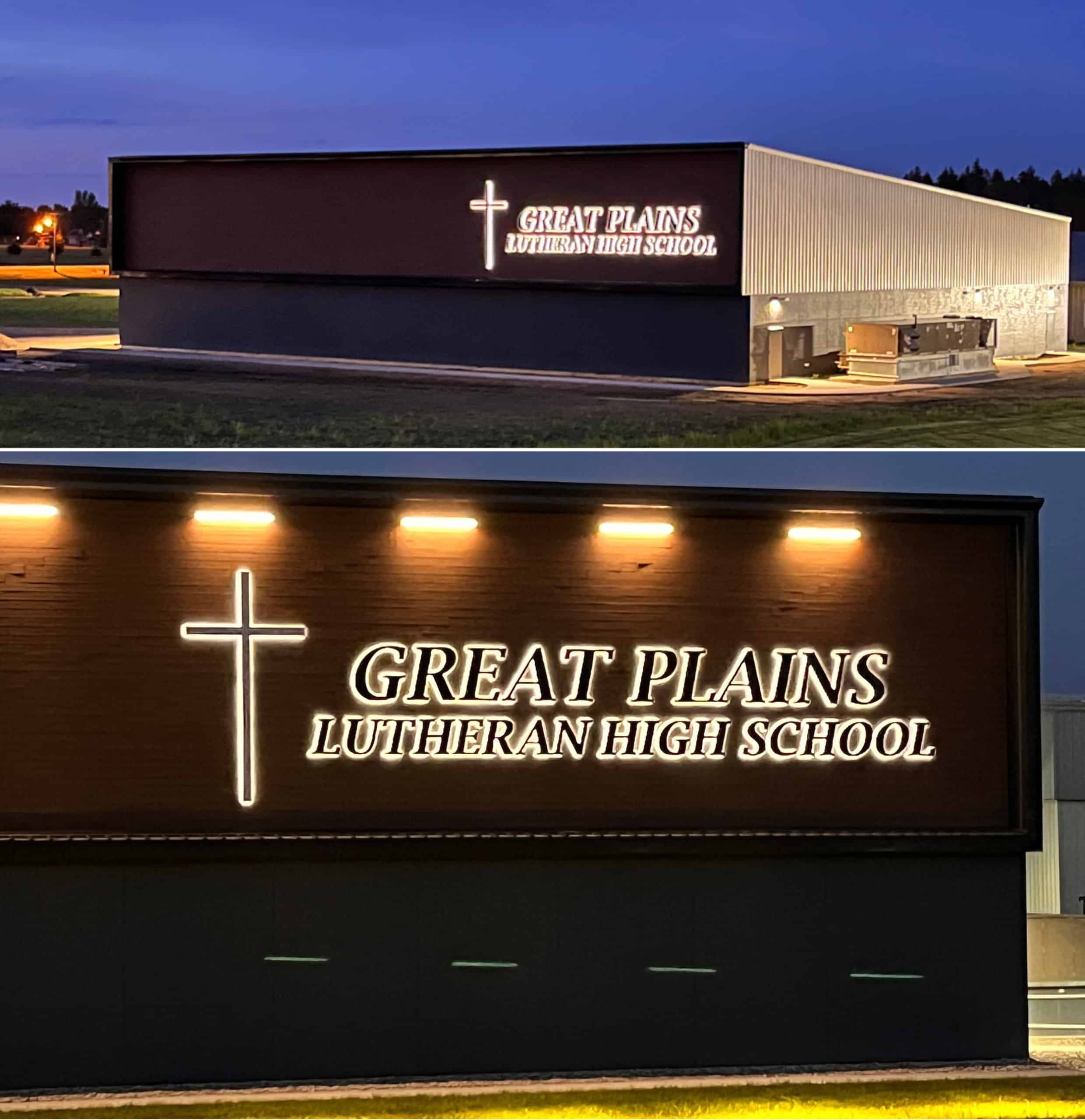 In Plains Sight
Stein Sign Display (Watertown, SD) completed a school signage project for their previous client, hometown Great Plains Lutheran High School this past winter. Reverse channel letters were fabricated from aluminum using a Computerized Cutters Accu-Bend at parent company ESCO. Though the photo above was taken during summer, the installation, which spanned two January days, required a crew of two hearty souls. "Thanks to our previous client's faith in us and our high-quality channel letters, we beat the cold and made this sign shine," says Jeremy Van Zee, lead installer.
PHOTO GALLERY
(21 IMAGES)


📷 Hill House Graphics | Great American Sign | Signarama-Covina | Henry Graphics Inc. | Coastal Signs & Graphics | Stein Sign Display

Advertisement
SPONSORED VIDEO
Find it here! ISA Sign Expo 2023
Whether you're looking to grow your business or advance your career, ISA International Sign Expo® 2023 is the only place to find everything you need to be successful in the sign, graphics, print and visual communications industry.