The Wide World of Print
Sight them on the beaches, in the schools, on our sports arenas … They shall never surrender their effectiveness.
LOOK UP — WAY UP! Or alongside you, in corridors or while gliding through the water. Wide format signage is one of the busiest industry segments and printers report a booming market. Businesses across sectors are competing to attract customers with the largest, most creative visual graphics. And there's profit to be made, from celebrating sports success to sharpening up school pride and more.
"While your existing customers look to you for signs, an additional opportunity exists," says Bill Farquharson, a sales trainer for SalesVault.pro. "Smart signmakers are staying ahead of their customers by engaging in business conversations rather than print/signage conversations. Wide format printing is one of the fastest-growing segments in graphic arts. Gain an understanding of the opportunity and where the applications lie in order to take advantage and bring an additional revenue stream to your business."


print proof
Walls, windows, floors; trucks, trains, planes … the list goes on. If a surface can be wrapped, then wrapped it shall be.
GETTING SCHOOLED
IN WIDE FORMAT
One such high-value project that needed a refresh was the Whitney Young Magnet School (WY), Chicago's first public magnet high school. Opened in 1975, the institution's administrators wanted to continue installing new graphics to dress up its drab, older building. Their graphic designer called upon Graphic Image Corp. (GIC) in Orland Park, IL, to produce wide format graphics for the school's walls, floors and windows.
"We've been working with WY for a few years and [our teams] work so well together," says Frankie Markasovic, vice president of the fourth-generation family-owned print shop opened by his great grandmother in 1953. "We are on a roll with really refreshing the look of this school, which is why I believe they keep adding more and more phases to this effort. I believe that these fresh, new, bright graphics help the students get through long school days."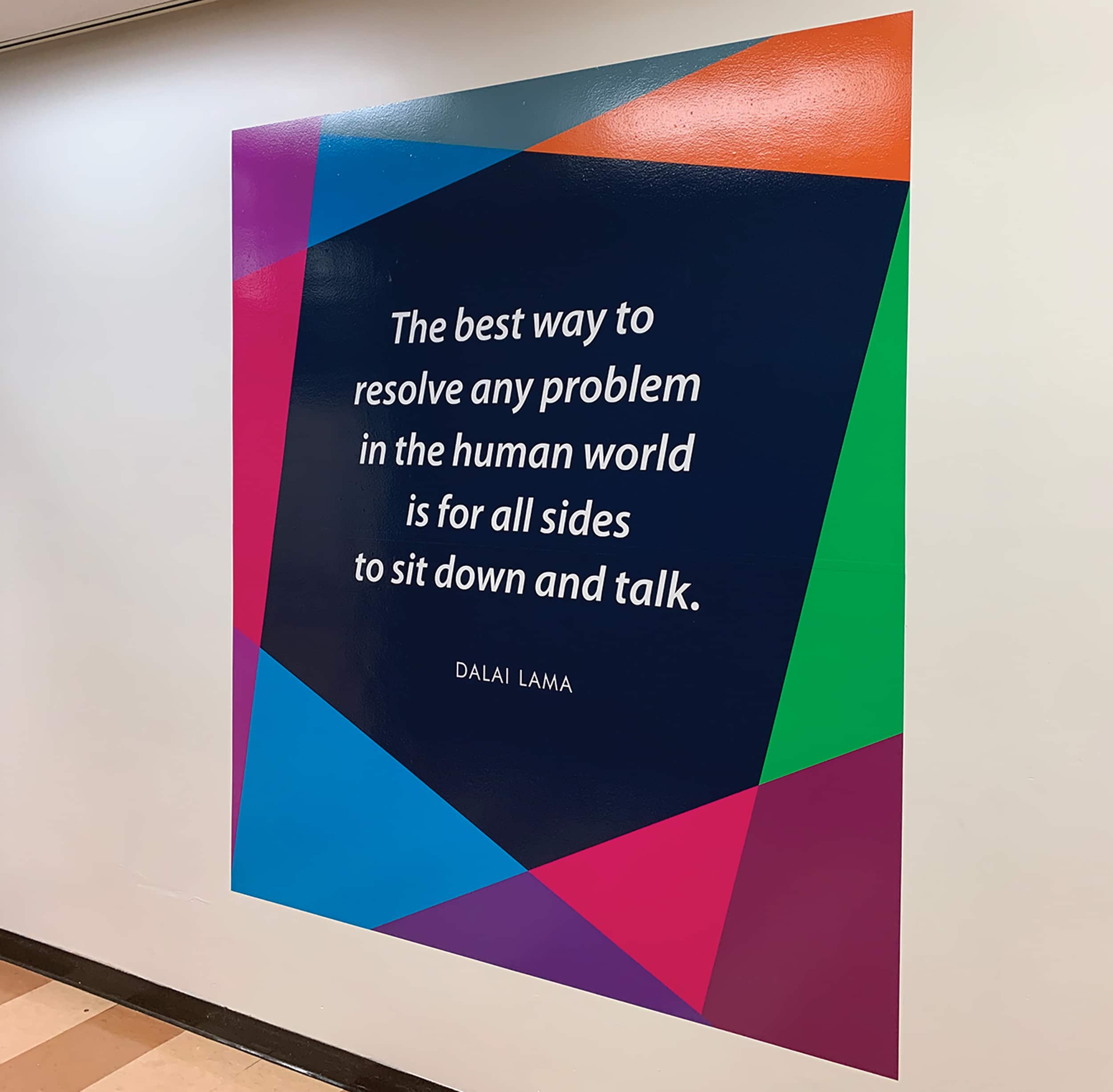 quotes teach
School hallways lend perfectly to inspiring or teaching quotes.
To get started, Markasovic and Grace B. Terry, the school's designer, always take a site survey and physically walk the halls to discuss possibilities. Physically seeing the space, taking pictures and measuring on site is the only way to start a project, he says. It was a real collaboration between the two, as Markasovic relayed his measurements and production-related guidance and the designer worked her magic to create original, attention-grabbing, to-scale artwork for GIC to use in production.
After the design portion is completed in one to three weeks, GIC's production time frame usually takes one to two weeks, with installation scheduled to follow. All in all, Markasovic estimates each phase probably takes a solid month from beginning of concept to final installation — and usually needs to be completed by a certain date before a special event or prior to students being back in session.

pride inside
Wall graphics featuring the team's colors lift school spirit and celebrate big wins.
GIC found that the most recent project called for cut vinyl graphics on a door, which measured 2 x 6 ft., and wrapping two sets of gymnasium doors that were 21.5 ft. wide x 8 ft. tall.
GIC produced all printed graphics on its HP Latex 800W printer and Royal Sovereign laminator, and contour cut all graphics (printed or unprinted) on its Graphtec FC8000 plotter and MultiCam Celero 3 CNC router. The team also used their Rollover Flatbed Applicator table.
Before each print run, GIC's operators always calibrate its HP 800W and use its ONYX Thrive RIP software to color-correct certain blues to help match what WY is expecting.
For the window graphics, the firm used 3M 7125 Scotchcal ElectroCut Graphic Film (Sapphire Blue, Bright Orange and Matte White) and 3M Controltac Print Film 40C with Scotchcal Luster Overlaminate 8509.
For the wall graphics, the firm again chose 3M 40C and 8509 laminate; for the wall itself and the gym door, Avery Dennison MPI 1105 SuperCast Series Vinyl and DOL 1360/1380 laminate; and for the brick, Arlon DPF 8200 High Tack film and matte lamination. GIC produced The Whitney Young French Cleat sign and mural using Arlon DPF 8200 and matte lamination, crafted the face and shoulders with 12mm black PVC, and set the mounted graphics on Avery Dennison MPI 1105 with DOL 1380 matte lamination.
The only challenge besetting the GIC team was figuring out a way to block the students from opening the gymnasium door while its workers were wrapping the other side.
GIC has formed a partnership with AKSIS Graphics (Chicago) as its go-to installation crew. The company has taught Markasovic about setting up projects properly for the installers, and helps to install wide format jobs that GIC does not have time to handle internally.
The WY project is one of many that GIC has added to diversify revenue opportunities. In 2015, Markasovic, who had just attended an SGIA expo and became obsessed with the technology, founded the firm's wide format sign department with one of its MUTOH 64-in. eco-solvent printers and a Graphtec plotter. Since then he has grown the division by 15 times in over six years, posting $20K in wide format sales the first year to more than $300K currently.
Today, he has three dedicated wide format employees and an arsenal of equipment: HP Scitex FB750 flatbed – 98 in., HP Latex 800W – 64 in., Mutoh LED 1600 – 64 in., Graphtec FC8000 plotter – 64 in., MultiCam Celero 3 CNC router, Rollover Flatbed Applicator table, and two roll laminators from Royal Sovereign and GBC. Its wide format division clients hail from San Francisco to New York, requesting standard, bulk yard signs, foamboards and banner orders, to full wall murals, vehicle wraps, short-run packaging and more.
"There is something about wall/window/floor artwork and graphics that can totally change the feel of a room or building," says Markasovic. "This breath of fresh air can make one feel like they are in a completely new space even though they walked those same halls over and over again for years. That little spark of fun, bright energy can hopefully lift the spirits of those students and staff that walk those halls each day."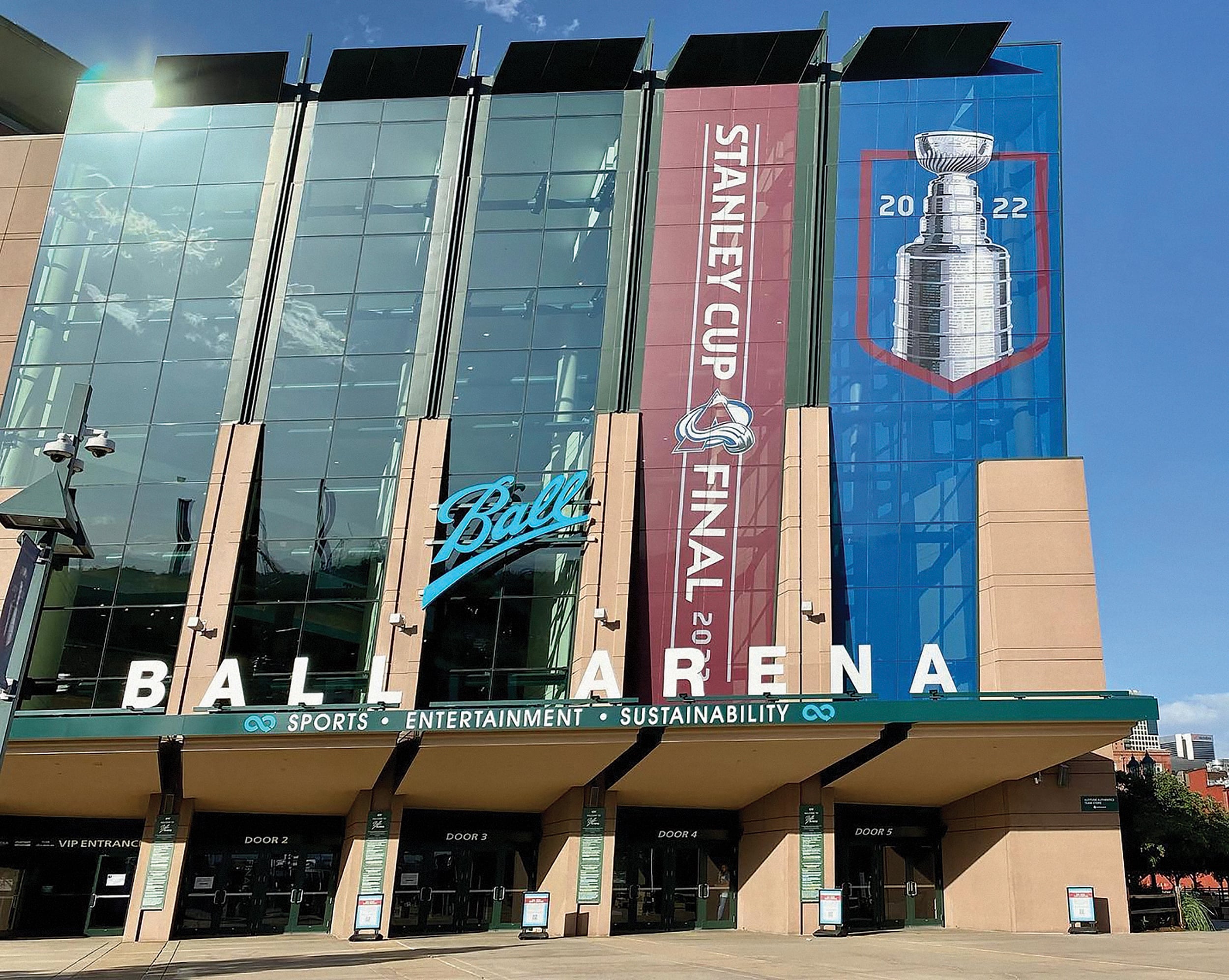 big time pressure
These huge banners for the Stanley Cup finals had to be printed and installed in only three days.
SCORING A GOAL
WITH THE NHL
Almost as lightning fast as a puck being slapshot into a goalie's net, the call came from Denver's Ball Arena and the National Hockey League to Direct Edge Media, a 21-year-old full-service print communication company based in Anaheim, CA. The Colorado Avalanche had just advanced to this year's Stanley Cup Finals and the team's arena needed a variety of wide format assets such as banners, graphics, wall murals and window perfs. Due to Direct Edge's partnership with the arena, the project was awarded to them.
"Since the two teams advancing to the Stanley Cup Finals were not decided until the week before the first championship game, we only had three days to produce and install the assets at Ball Arena. The Direct Edge team was on standby to ensure that we were available to receive files, expedite estimates and get approvals and produce the banner," recalls Jeff Shumaker, chief operating officer of Direct Edge. "Our team was notified on Friday, June 10 and they worked diligently throughout the weekend to produce and have the official NHL Stanley Cup banner ready for install by the morning of Monday, June 13."
Advertisement
To accommodate the quick turn time on all the assets, Ball Arena created the design, the NHL approved it and artwork was delivered to Direct Edge to produce the graphics. The window perf measured 175 x 781 in. and was produced on the firm's EFI VUTEk h5, one of many presses in its facility. Just like every file that comes through, its operators expertly color calibrate everything to ensure that they match the exact colors for the highest print quality.
Not only was Direct Edge tasked with making the signage, but installation as well. In such a short window, the firm faced a few challenges when installing the window perf. The 135-ft. articulating boom lift failed during install, and the NHL notified the firm that they needed to fast-track the installation phase due to media events scheduled at Ball Arena.
"We pride ourselves in thinking outside of the box and after many attempts, we were able to find alternative lifts to complete the install as well as a compromise with the NHL and ESPN to get the assets installed during the media events without noise disruption," says Shumaker.
While Direct Edge received many compliments from the NHL and ESPN on site, the amount of fan photos taken in front of the various assets and the attention garnered made the job into one of its biggest hits.
The company's banners and graphics were prominently displayed during Media Day, while its various wall murals covered the player tunnels and locker room, its stage banners decorated the watch parties at Tivoli Quad, and its huge championship banner hung on the Civic Center building in downtown Denver for the parade.

Fresh catch
This design caused the client to choose something less simple.
BOAT WRAPS ARE
RIDING A WAVE!
Boat owners are a unique breed. Many of them like their water gear to be distinctive and display their personality, especially if they are captaining a high-speed multi-engine craft. The market for custom boat wraps continues to grow with stunning images and designs. Gatorwraps, a 16-year-old business with two locations in southern California and one in Arizona, caters to those owners, providing design, print and installation, as well as window tint and ceramic coating. When the owner of a 30-ft. Bennington Tritoon saw the work produced by Gatorwraps in Lake Havasu, AZ, he contacted them to decorate his boat.
"The owner wanted something simple," says Rod Voegele, Gatorwraps' president. "But our designer wowed them with a vivid rendering using dynamic red and black shades that was similar to a Dave's Custom Boats' M35 speedboat graphic."
Gatorwraps' team of boat wrapping specialists used 3M Controltac Graphic Film IJ180 with 3M Scotchcal Overlaminate 8518, and produced the job on its Mutoh XpertJet 1682SR printer.
One of Gatorwrap's top challenges was wrapping the motors. "The front of this particular boat has a severe slope so we had to design the graphic with that stretched area in mind," says Voegele. "We also wrapped the arch, and the outboard motors to match. We were able to have some creative freedom to make them flow with the rest of the boat."
The entire project took about three weeks to complete from the initial design to installation. The client loved the end result, says Voegele. His boat has a sparkling new look.
Advertisement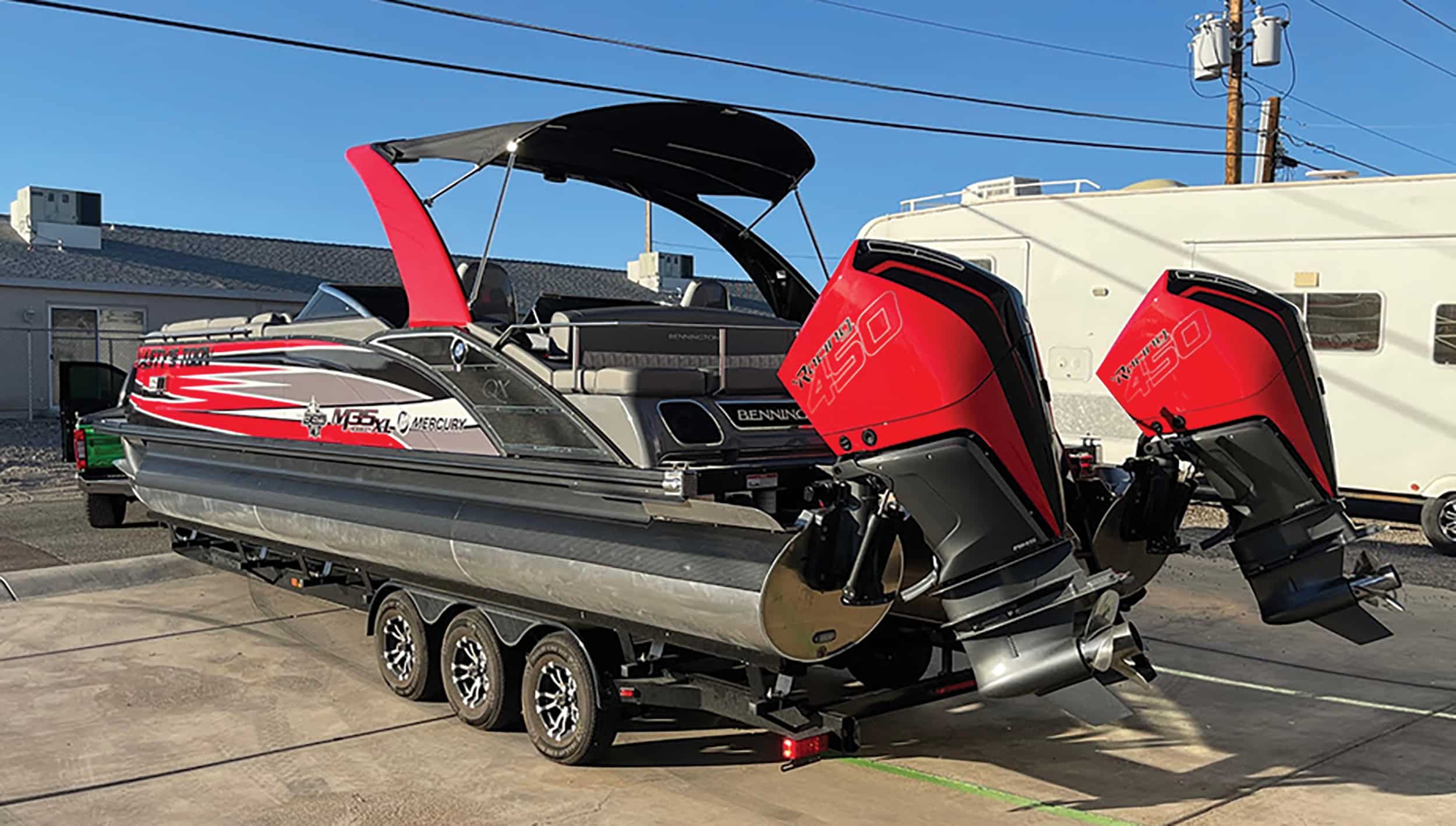 For signmakers seeking to move into this niche, wide format manufacturers offer outstanding assistance, have user groups and hold special events specifically for their customers, says sales trainer Bill Farquharson. Canon, HP Indigo and Ricoh are three good examples of this. They offer assistance not only to owners, but equipment operators and — most importantly — salespeople. The best of the best take full advantage by participating in their webinars and live events.
GIC's Markasovic continues to gain as much education as possible about the intersection between signmaking and wide format production. "Reach out to other local shops or join the super helpful discussions on SIGN SHOP TALK, a Facebook group, to ask questions," he advises. "I have learned so much in a short amount of time by asking advice from experienced sign veterans."
The bottom line is to look beyond the specs of the job and understand what the customer is trying to do, sums up Farquharson. He calls this, "Learning the story behind the job." His suggestion to signmakers is to ask the right kind of open-ended questions to the decision makers, and more than likely they will find their next opportunity for growth.
Finally, he says, it's important to remember what signmakers really do. "If someone asks and you respond, 'We are in signage,' you'll hear, 'Oh, that's nice,' and the conversation is over. But reply with, 'We help our customers find their customers,' and you'll have started a conversation where people will want to tell you all about themselves and their companies, giving you the information you need to come up with a solution. It's like a magic trick."
PHOTO GALLERY
(15 IMAGES)


📷: Direct Edge – NHL | GatorWraps | Graphic Image Corp
SPONSORED VIDEO
Find it here! ISA Sign Expo 2023
Whether you're looking to grow your business or advance your career, ISA International Sign Expo® 2023 is the only place to find everything you need to be successful in the sign, graphics, print and visual communications industry.