Magnetic Signs Are Expanding in Their Forms and Uses
You might say they're doing more than just sticking around.
CREATIVE SIGNMAKERS CAPTURED by the pull of magnetic media discuss new applications, methods to market it and how it can become a profitable niche in your portfolio.
Like other businesses across the country, Signarama Brighton (Brighton, CO) is having a difficult time finding and retaining employees. But this nine-employee, 16-year-old firm has found a unique way to embrace its workforce using magnetic signage. Drawing inspiration from donor/employee walls seen online, Signarama Brighton wanted an office wall incorporating vehicle magnetics to serve a dual purpose. The wall mainly honors the employee of the month and pet of the month, and commemorates the accomplishments, events and funny moments the shop's employees have shared throughout the years. But it's also seen as a great marketing tool to show potential employees a snippet of what it is like to work at Signarama Brighton, while showing customers what magnetic signs can do.
It started with a poster, explains Marketing Manager Mallory Lynn, that the team wanted to get framed from a staff outing to the Immersive Van Gogh Exhibit in Denver. Lynn and her team — Daniel Gallina, Kodak Shepard, JB Colson and Bill Helt — designed and fabricated different sections that surrounded the frame. For half of the photograph sections, they printed second surface on clear acrylic with a Vanguard 5 x 10-ft. flatbed printer and backed the prints in white vinyl. For the other half, they digitally printed images using their Epson SureColor on high-performance Avery Dennison vinyl, then applied first surface.
"We did this to be able to show the difference in photo quality between the two processes," she says. "The sections on a brushed silver backer or a white backer are printed on our MUTOH 661 ADA printer directly on top of the aluminum composite material (ACM) or acrylic. The various icons spread throughout the design are printed directly onto Rowmark ADA [Alternative] with the Mutoh 661."
Advertisement
Signarama Brighton transformed this plain wall into a magnetic board celebrating the employees and pets of the month.
The blank, black sections are magnetic steel ACM where the employee of the month and pet of the month magnets are displayed. To shape the acrylic, Sintra and composite pieces, the team used its MultiCam 5 x 10-ft. router. The lettering for the words "community, team and inspire" were routed from 3mm white Sintra applied to clear acrylic and then layered over other sections with brushed silver standoffs from MBS Standoffs.
Each section is stacked on different depths of material to provide contrast and interest to the piece as a whole. The team used its Epilog 4 x 3-ft. laser engraver to produce various sized Rowmark woodgrain laserable substrates to tie it all back to the wooden frame for the poster.
The shop offers magnetic signs from 6 x 6 in. up to 48 x 30 in. on flat surfaces. Generally, it takes them three to five business days to produce a magnetic sign, depending on whether they are applying digital prints or standard cut vinyl.
"The beautiful part of it being magnetic is that we can always change it up," says Lynn. "We can celebrate certain holidays, team members who get married, whatever we need to keep it fresh. It allows us to fill the space nicely and demonstrate to our customers in person our capabilities, especially with magnetic signage. It has certainly helped us to close the deal on magnetic sales."
Advertisement
In addition to honoring the team members' hard work, the magnetic board also attracts new employees.
LET'S CHANGE PLACES
When the general manager at Hendrick Toyota dealership in Concord, NC wanted to update his 100-ft. showroom, he turned to Mike Lovecchio of Southpaw Custom Graphics for inspiration.
Lovecchio pitched high-resolution magnetic images for the customer waiting area — they could be swapped out easily in the future.
"It seemed to strike a chord with the GM," says Lovecchio. "He had just visited another Toyota dealership that had magnetic signage and he was very curious about it." He sent the GM pictures the following day and together they decided on Toyota Tundra and Camry images.
The magnetic wall image measured 54 in. high and 20 ft. wide. Using Roland DG VersaWorks RIP software on the shop's Roland VersaCAMM VS-540i Eco-Solvent Inkjet printer/cutter, Lovecchio produced the images on Newlife Platinum ST540 12-mil receptive media magnetic film from Switch It Magnetic Frames. The print media for the magnetic frames is a ferrous (iron powder) receptive layer that is easy to print on and renders high quality prints, according to Lovecchio. It has the best white point and the thickness allows it to be used across multiple frames. Lovecchio printed four or five segments measuring 18-in. squares at once on the VersaCAMM and then spliced them to fit into each individual block.
He finished the job using the Switch It Magnetic Frames. This, he says, is the most delicate and key part because each block needs to fall into place with no gaps. First he has to check the wall to see if it is level and has no bumps. Then he adheres the frames with double-face tape to line them up correctly. Once level, he screws them into the panel on the wall. For Hendrick's customer waiting area, he used 30 ABS lightweight frames with a high-energy magnet applied to the face, tiling the frames together.
The job took two weeks from creation, print and installation. The magnetic signage niche has allowed Lovecchio to increase his print business. He used to do very little magnetic signage because it was difficult to work with the thick material and it wasn't easy to feed it through the printer. Since he's started offering the magnetic frame option, he's received a good deal of positive feedback from his customers.
"This job was done earlier this year and we have already been discussing what model we could feature in those areas moving forward," says Lovecchio. "The success of this project has led to a much larger project that we are currently working on."
The colorful magnetic media promoting the Toyota Tundra can easily be changed to show off newer models.
STEALTH MAGNET
Years ago, when the owner of a beautiful glossy black classic car approached Larry 'the MacGyver' Mitchell, owner of SignChef Inc. (El Dorado Hills, CA), to produce a simple-yet-classy, non-permanent, easy-to-transport magnetic sign for events and shows, Mitchell agreed.
"A business that uses magnetic vehicle signs can see a noticeable increase in traffic flow and customer interaction," says Mitchell, whose career dates back to the '70's. "These signs are an effective way to promote their businesses."
The customer wanted a sign promoting a local radio station's talk show on his vintage vehicle that could be easily removed later without hurting its value. Gerber OMEGA software was used to create a design for the client to approve. Mitchell and the classic car owner structured the layout to work well on both left and right fender shapes, as well as the trunk. Mitchell prefers to use Arlon DPF 4500GLX vinyl with Arlon 3420G overlaminate applied to the magnet using SigChef's CWT 1630 Regular Flatbed Applicator Table.
Advertisement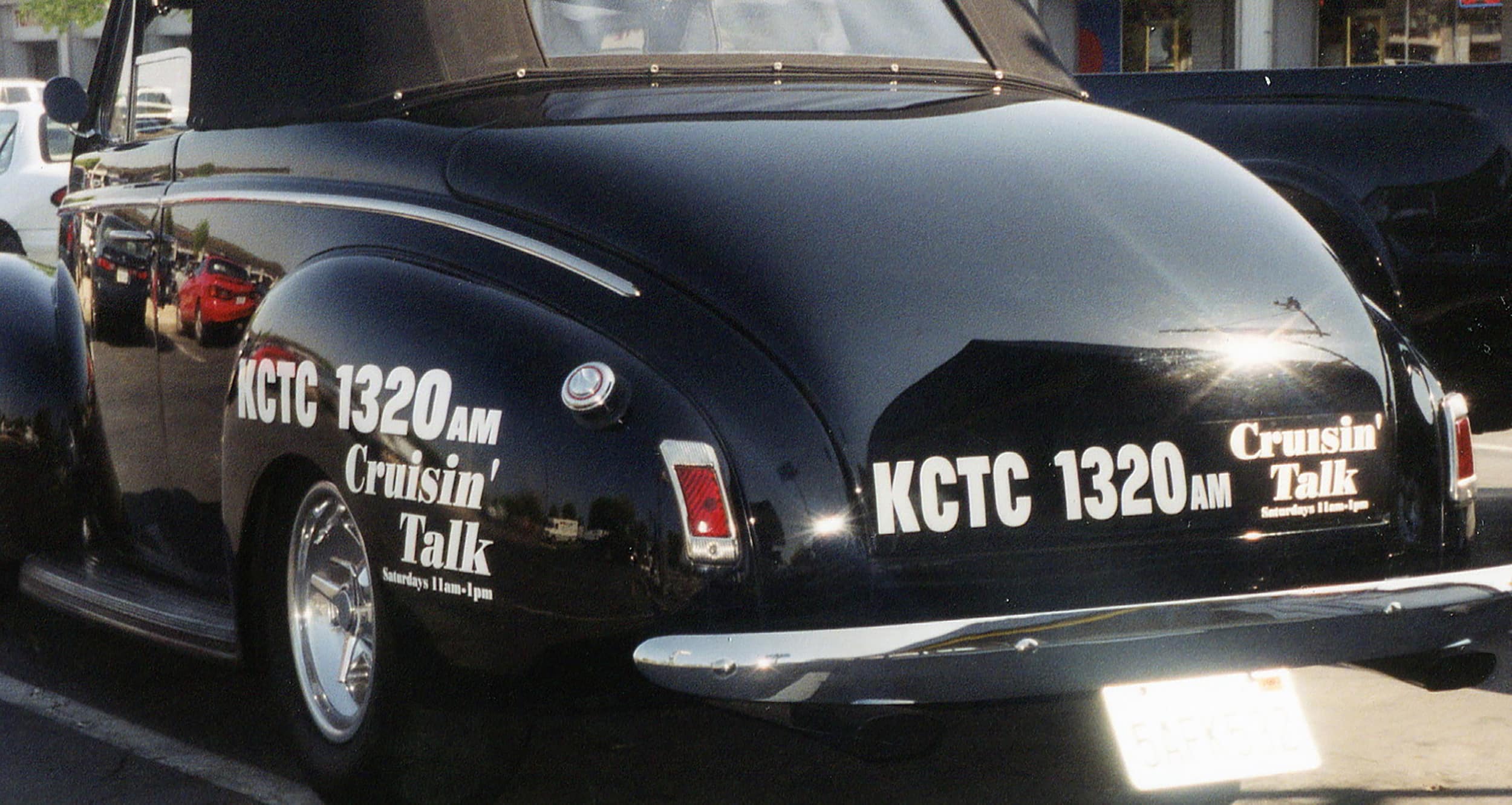 The lettering "KCTC 1320 AM Cruisin' Talk Saturdays 11 a.m.-1 p.m." was produced from a standard Magnum Magnetics 30-caliper magnetic roll, covered with an Avery Dennison cast gloss black vinyl, and decorated with an Avery Dennison cast white vinyl. Mitchell and his team hand cut the contours to match the curved lines on the fender while producing a rectangular cut with rounded corners for the trunk magnet. All production was done in house with a Gerber ODYSSEY XP plotter within 48 hours.
"I call it a 'stealth' magnet because you have to be close to it to recognize it as a magnet," Mitchell says. "It blends in very well."
In the end, his client was pleased with the result and especially happy with the way the gloss level matched the car, which further helps, beyond color, to seamlessly hide the edges of the magnet.
"We have done other colors," Mitchell says, "but sometimes we use a Testors paint pen to add color to the .30 mil edge, a subtle update for the dark magnet edge on lighter color paint jobs. The more you hide that edge, the better the 'stealth' effect. Some clients like it because they are able to get away with magnets where homeowner association (HOA) rules prohibit magnetic signs in residential driveways."
To increase business for magnetic signage, Mitchell suggests producing a short run of complimentary .15-.20 mil. magnetic business cards as an inexpensive way to build client loyalty and increase your firm's ad exposure within a home or place of business.
"Magnetic signs have to be marketed for their benefits or their disadvantages will destroy their perceived value," he says. "Our magnetic signs are profitable because it takes as much time, effort and design commitment to make a good magnetic sign as it does for other substrates. Provide a maintenance and monitoring guide for clients to improve longevity and cost effectiveness. Above all, show clients how to use a fridge magnet to test a vehicle's surface before ordering magnets and wasting their time and money on a product that will not work for them."
These signmakers agree: Magnetic sign jobs have remained steady, as has demand for this highly versatile, repositionable, easily changeable signage.
PHOTO GALLERY
(6 IMAGES)


📷: Signarama Brighton | Southpaw | SignChef Inc.
SPONSORED VIDEO
Epson SureColor Printers | Partnering for Success with SkinzWraps
"Everything we have here has an Epson label on it because it's just simply the best." Whether printing vehicle wraps, signage or commercial wallpaper, SkinzWraps trusts Epson SureColor printers to consistently deliver vibrant, professional-quality large-format prints with amazing depth and color.