Vehicle Wraps with Backlit LED Panels – Now That's a Bright Idea
The "next-level" innovation helped transform an HVAC company's branding.
WE REPORT ON SO many projects from Dan Antonelli's KickCharge Creative (Washington, NJ) because they're always doing new and innovative things. This month it's a fleet wrap featuring a lightbulb that illuminates as part of a rebrand for recently renamed Hutton Electric, Heating & Air in Norfolk, VA.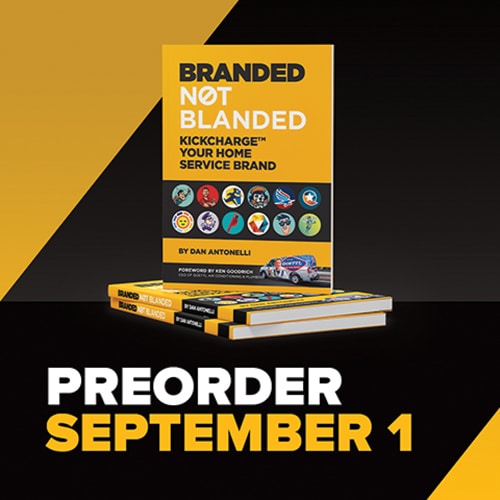 Dan Antonelli has just released a new book, Branded Not Blanded: Kickcharge Your Home Service Brand, which explains and illustrates how to create "a killer home service brand." For more information and to order, visit amazon.com.
Previously known as Hutton Power & Light, KickCharge — which often suggests name changes to their clients — did so in this case so the new moniker would better identify a home service company, as opposed to that of a utility, Antonelli, the company's president and chief creative officer, says. The prior branding did not use a lightbulb. "We talked about a more serious mascot that had a retro vibe to it, but used a more modern lightbulb," he recalls. "We then actually came up with the idea to backlight the bulb by itself. The original idea was to have the bulb be offset and printed on translucent vinyl, and then do a halo LED under it to light it up," he adds.
But this is where the customer's electrical expertise came into play. "The client actually found out about the luminous technology and arranged to have [the wrap] printed with that," Antonelli says.
The technology from LumaMedia Intl. involves lighting panels within electroluminescent vinyl that can be installed on any flat or single-contour surface, according to David Hutton, the client's master electrician. So, layout is very important in the design consideration. Because the panels can be powered by solar, 12V or AC, they're very versatile. The conductors that carry the power to the lighting panels comprise a flat "ribbon" copper insulated via laminated vinyl, Hutton explains.
Advertisement
The lighting panel is about as thick as a credit card and lights up any photoluminescent graphic overlaid on it. The vehicle wrap itself is then applied on top of that. The panel is color correct, so it will 'shine' the desired hue. "It really is a head turner," Hutton says, "and we are proud to have it. This was a real team effort."
KickCharge purposely chose colors not often found in his market so the fleet would stand out. They also made sure the lockup for the logo was adaptable enough to be split on the side of the truck, Antonelli says. "This allows us to maximize the canvas. It's really important when branding to make sure the brand works well for the canvas," he adds. "[Hutton's] Nissans are challenging to have the canvas maximized."
KickCharge presented three options to Hutton, with different mascot approaches and a few variants. "Between concepting, illustration work and wrap design layouts, we had about 50 or so hours into it," Antonelli says.
With the design and lighting concept set, Hutton turned to The Graphics Shop (Chesapeake, VA) and David Meads, installation manager. The shop printed the job on 3M Controltac Graphic IJ180cV3 film using their HP 360 Latex, and protected it with 3M Scotchcal Gloss Overlaminate 8518 applied by a Graphic Finishing Partners (Gfp) 363TH laminator.
Meads had neither seen nor heard of a backlit LED panel for wraps. "When David Hutton told me about it, I was confused and also excited to learn about something so 'next level' in our industry," Meads says. "I know there isn't anybody in our area who has done this before and I was thrilled to be the first to do it and also offer it with Hutton."
What will they — what will you — think of next?
PHOTO GALLERY
(27 IMAGES)
Advertisement
SPONSORED VIDEO
Find it here! ISA Sign Expo 2023
Whether you're looking to grow your business or advance your career, ISA International Sign Expo® 2023 is the only place to find everything you need to be successful in the sign, graphics, print and visual communications industry.