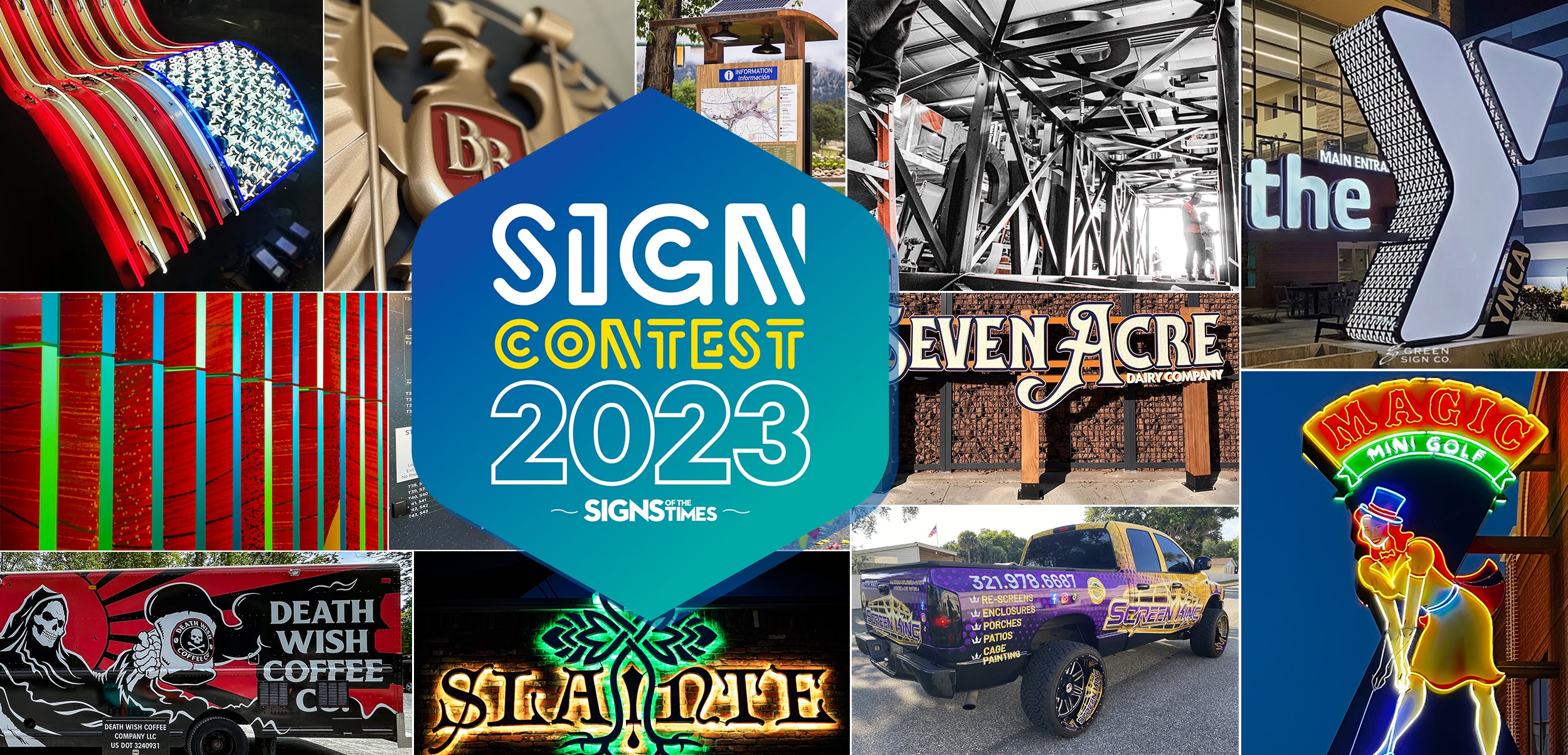 Winners of the 2023 Sign Contest
Route 66-inspired signs drive home with "Best of Show."
BUCKLE UP FOR a tour of the 2023 Signs of the Times Sign Contest. We're honored to carry on a tradition of recognizing excellence in sign design and fabrication that dates back more than four decades.
We received nearly 190 entries from 62 individual sign companies and others — both numbers up somewhat from last year — strongly suggesting that signmaking has emerged from the post-pandemic stronger than ever. Given the broad nature of our categories, we also couldn't help but notice an extremely diverse range of projects for businesses of all kinds and sizes.
Our distinguished panel of judges, whose time and expertise we greatly appreciate, included recent winners of the contest who did not enter this year, as well as members of our editorial advisory board: Jill Ayers (Airspace, New York), Steve Carpenter (Archetype, Minneapolis), Joe Gibson (Ramsay Signs; Portland, OR), Gabe Griffin (Clear Sign & Design; San Marcos, CA) and Sharon Keshishian — with an assist from Shana Gardner (Ion Art; Austin, TX). Our great thanks to the judges!
Though the choice for "Best of Show" had to steer a dark and difficult road, Ace Sign Co. (Springfield, IL) pulled away with the honors for their "Route 66 Experience" project, which features replicas of famous and historic roadside signs, a 25-ft. Route 66 "tribute" sign and much more.
Congratulations to Ace Sign Co. and to all our other winners. We also want to express our deep appreciation to everyone who participated. Thank you!
Click here to go to the first category, Best In-House Design and Fabrication, Illuminated.
SPONSORED VIDEO
Find it here! ISA Sign Expo 2023
Whether you're looking to grow your business or advance your career, ISA International Sign Expo® 2023 is the only place to find everything you need to be successful in the sign, graphics, print and visual communications industry.