WRAPPING ANYTHING, BUT vehicles especially, requires training, practice, patience … plus plenty of tips and tricks. We asked the Signs of the Times Brain Squad and others for advice and, organized into rough categories, present 33 here.
GETTING STARTED
Not every job is a good job to take. Find your strengths, and work there first. Then, as your skill increases, go ahead and take bigger jobs. We all have to start somewhere! —

Josette Brinkman, Fastsigns of Findlay, Findlay, OH
Before installing, tape or use magnets to hold all printed panels in place to ensure everything will align correctly. PHOTO BY KEEN SIGNS & GRAPHICS, AUGUSTA, GA
CUSTOMER EXPECTATIONS
This is a tip from a wrap shop owner: Always set expectations before you start a job and be upfront with any issues you foresee. For example, if a customer brings in a brand new car to be wrapped, let them know the whole process. Tell them that parts will be removed and there is a chance that clips can be broken or we may come up with an issue with the material as we go. There is no guarantee that everything will be "perfection" during the process. That way, if more time is needed or parts that were damaged during installation need to be ordered and replaced, customers are fully prepared.
And if someone brings in an older vehicle, let them know that it's going to look great when it's finished but it's not going to look brand new. Imperfections in the old paint will show through the wrap and we may come up on issues that cause extra time and possibly extra money as we're getting into the job. They need to be aware of those types of things. Being upfront with the client before the job starts is better than having to go back to them later with things they didn't expect. —

Catherine Bacot, Wraps For Less, Orlando, FL

Set expectations of any vinyl removal necessary ahead of the wrap. —

Alex Fong, Signarama Redmond, Redmond, WA
Advertisement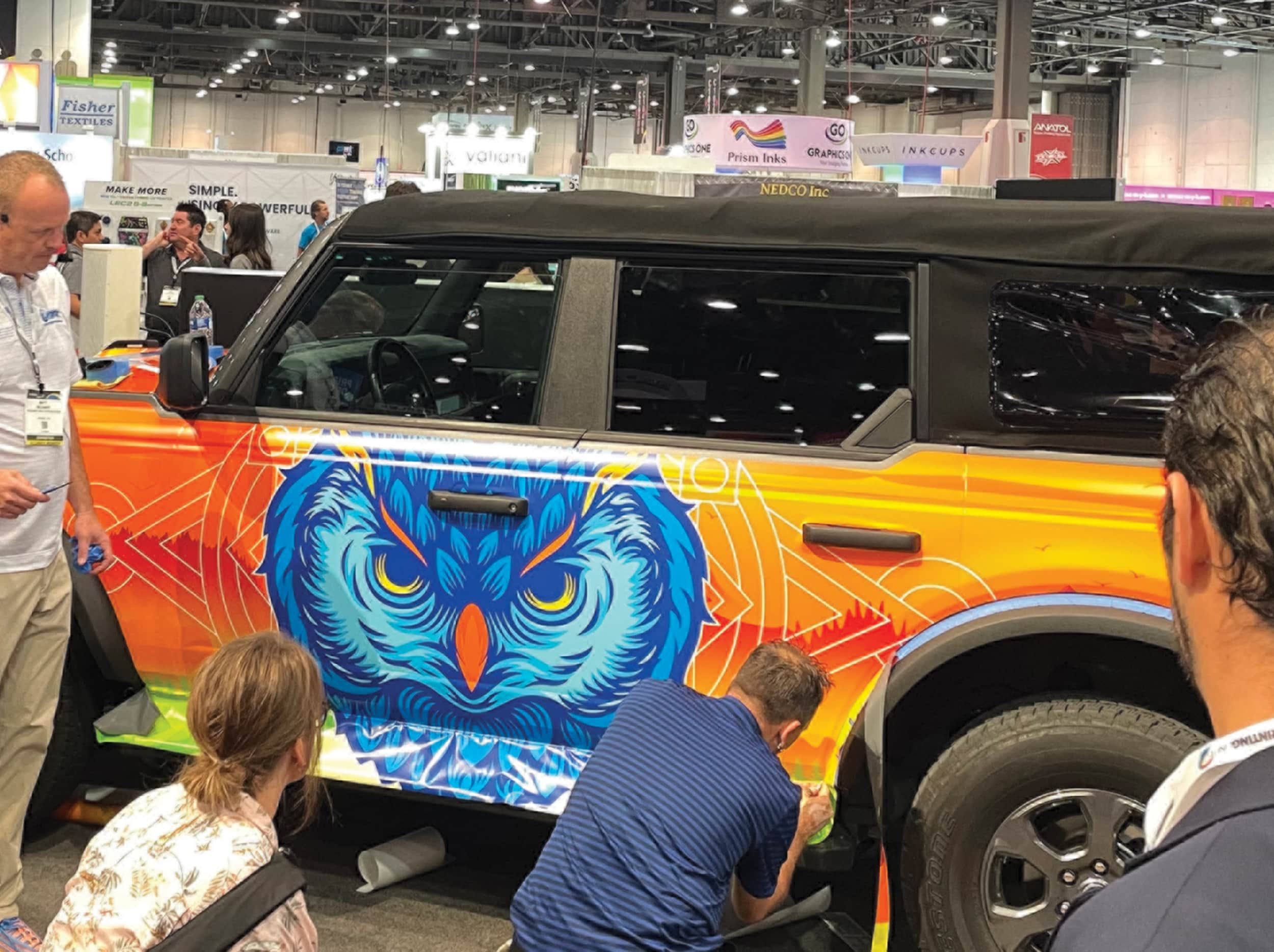 Many tradeshows offer live demonstrations, such as Printing United last year, where Matt Richart led a demo at the Roland DGA booth. COURTESY OF ROLAND DGA
PRICING
Be upfront with your pricing. Many customers are unaware of the process and don't realize the time needed to do a quality wrap. —

Todd Sallas, Coastal Signs & Graphics, Slocomb, AL

Build in the time for pricing when you have to take off body features to wrap those hard places — headlights, bumpers, mirrors, etc. —

Gwen Snow, Innovative Sign Systems, Vista, CA

Charge the customer accordingly! Don't undercut yourself. Go over expectations with them on the "finished product" and make sure your process is clear to them. Always get a deposit up front and if there are any changes along the way on your end, communicate those with clients. Customers don't like surprises … especially if they're going to cost. —

Sean Tomlin, Designer Wraps, Pitman, NJ

Make sure you're pricing to include time/material for a tweak or two within the first 90 days the client has their vehicle back and include a proper written warranty. —

Jeff Thomas, Crossroad Sign Studio, Lynnwood, WA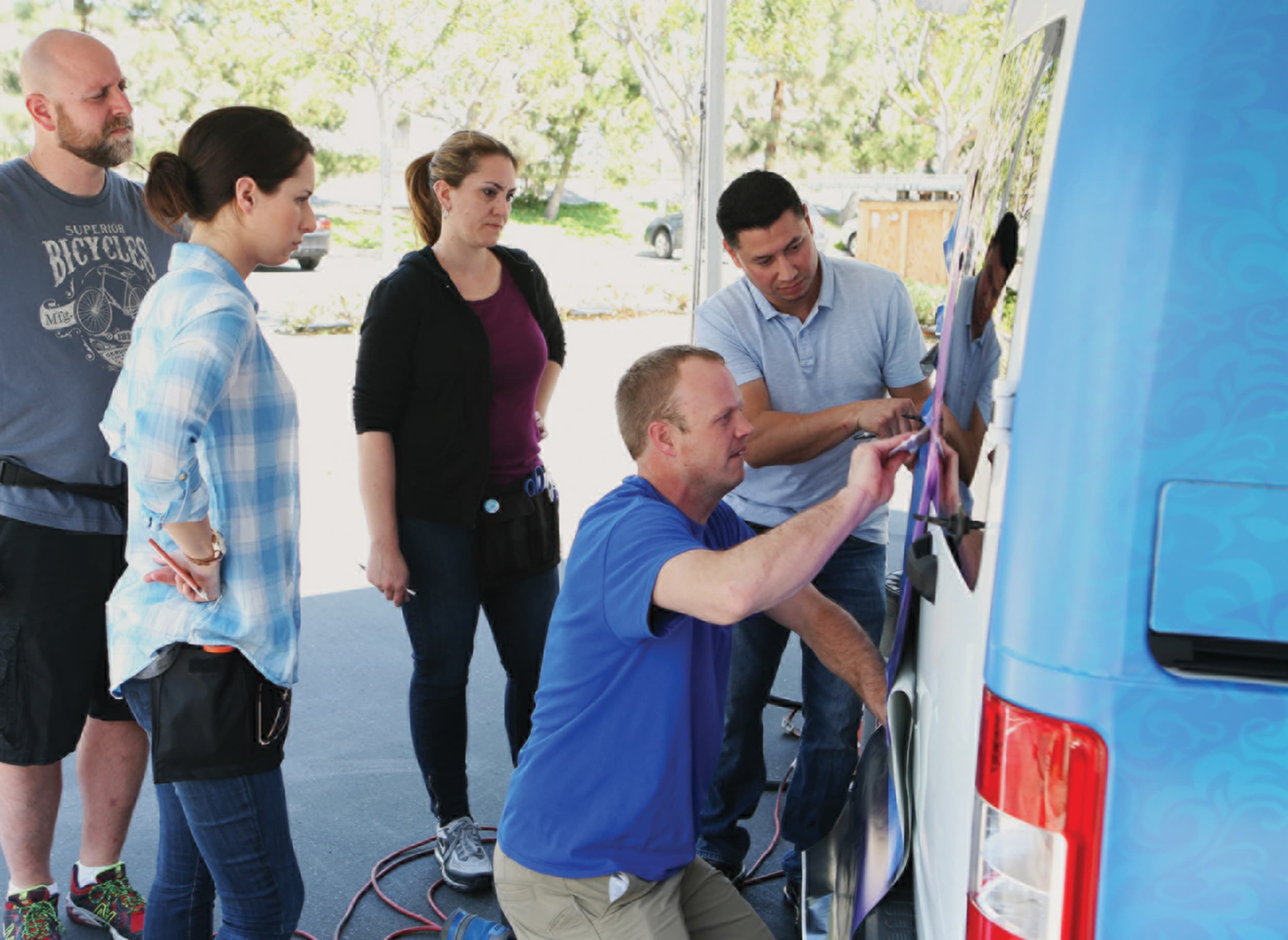 Some companies, such as Digital EFX Wraps, conduct on-site training. Though this photo is from an earlier iteration, the Roland DGA-sponsored offering is now known as Inside the Wrap Shop. COURTESY OF ROLAND DGA
PREPARING TO WRAP
Always inspect the vehicle, before any time is invested in design, etc. and verify the condition of the vehicle will support a quality install. —

Derek Atchley, Atchley Graphics, Columbus, OH

Do a pre-inspection of the vehicle and note any paint issues or trouble areas. Discuss the areas that may need splices. If there is peeling, charge by the hour, not by the job. You never know what you're going to get until there is no turning back. —

Chad Lawson, Sign Pro of Skagit Valley, Mount Vernon, WA

I cannot over-say this: Proper preparation of the vehicle and install space are critical to a successful and quick install. —

Michael Snow, Innovative Sign Systems, Vista, CA

Clean, clean, prep. It's all about the prep. —

Michael van der Melen, The Media Works, Norwood, ON, Canada

As always, it takes time to make time. Clean and prep 110%. —

Rob Tafflock, Tafflock Signs & Graphics, East Northport, NY

Measure, measure, measure! — Adam Montoya, Image 360 South Bay-Manhattan Beach, El Segundo, CA

Remember, a used vehicle requires lots of cleaning. Body seams and edges collect dirt that the car wash won't get off. Include a full day at least to prep the vehicle. Many cheap competitors don't add this in their quotes and that's one reason wraps peel from the edges. —

John Miller, Signs by Autografix, Branford, CT
Advertisement
TOOLS AND MATERIALS
Calendar and cast vinyl are not the same. —

John Konopka, US Sign and Mill, Fort Myers, FL

Use branded protection materials for the interior of customer cars, temporary paper floor mats, seat and steering wheel covers. Offer clients detailed care info, how to care for the wrap. —

Thomas Nance, Signarama Downtown, Louisville, KY

Have good tools! —

Jeremy Vanderkraats, Signs by Van, Salinas, CA

Cutting is key. Also, Pro Bond Adhesive Promoter beats 3M Tape Primer 94 every day. —

Ian Mclellan, Hill House Graphics, Bristol, RI

Invest in the correct materials rather than settling for cheaper substitutes. —

Nick Prentice, Blue River Digital, Columbia City, IN

Use transfer tape for better alignment during installation. —

Cindy Ballard-Guminski, AlphaGraphics Oceanside, Oceanside, CA

A must for every wrapper: Buy a good temperature gauge. We were having problems with vinyl failures around heavily curved areas and found out we were not heating the vinyl enough, so that it would stay conformed to the curved surface. The vinyl looked good as it went out of the shop but failed because the vinyl wanted to conform back to its original rolled state. —

Paul Havenaar, Sign Impressions, Kalamazoo, MI
Working with graphic and color change wrapping films takes an eye for detail and some patience. Carefully work with the film to conform with the curves and recesses of the vehicle. Also, use the proper tools for smoothing and trimming around edges of doors and OEM installed trim work. COURTESY OF AVERY DENNISON
Invest in new and top installers alike by sending them to workshops offered by leading film manufacturers like Avery Dennison. Attending these classes provides a valuable opportunity to learn from trainers and fellow students. COURTESY OF AVERY DENNISON
ADVICE FROM TOP WRAP TRAINERS
If you ever want to confirm whether or not a vehicle has been wrecked or painted prior to installation, sign up for CarFax and use that service to double-check for accidents.
Always take 'before' pictures of the vehicle prior to installation along with the VIN number. This will cover any issues down the road — especially if your client has paint defects or issues that they try to blame on you.
Make sure you are properly insured and covered to complete any installation work inside or outside of your shop. Also use this as a sales tool to show that you are invested and protected. —

Matt Richart, Digital EFX Wraps, Louisville, KY — For Roland Dga

Tend to prefer strategic use of inlays instead of complex installations. Inlays can significantly save installation time and are virtually unnoticeable when strategically placed in body lines. This approach produces efficient and durable wraps.
Familiarize yourself with various wrap materials as they are released. You may be loyal to one favorite, but it's important to be able to install different brands based on client preferences. —

Molly Waters, Avery Dennison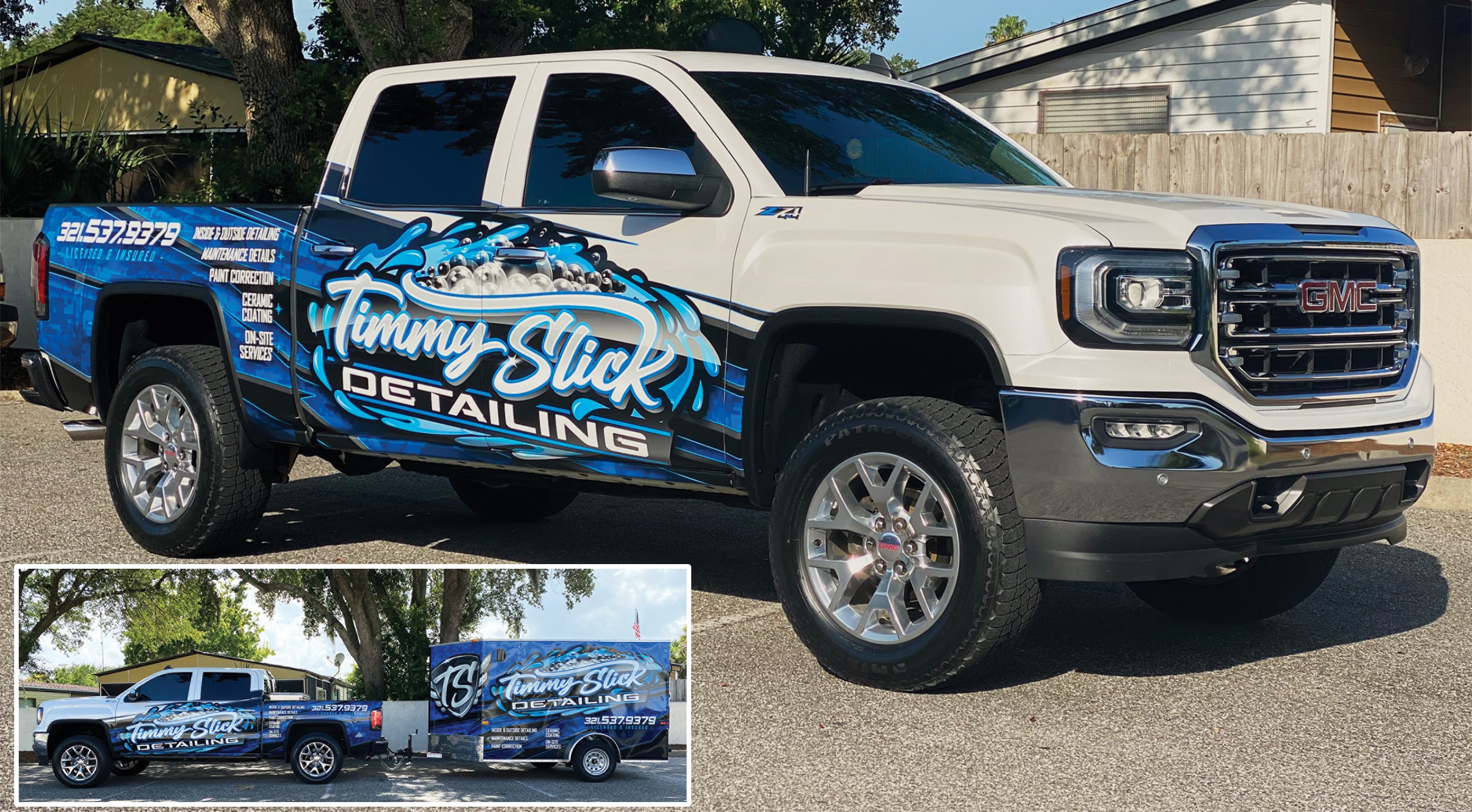 After completing a wrap, take photos of several interesting angles, keeping in mind the setting. PHOTOS BY BLUETAIL GRAPHICS, TITUSVILLE, FL
FINALLY…
Find a wrapper who is easy to work with. —

Jeffrey Cross, Cross Signs, Seminole, FL

Don't take on a rushed, outdoor-install wrap job in October. —

Jake Zani, Rule Signs & Graphics, Randolph, VT

My pro-tip? Outsource. My cousin does wraps so I send customers to him. Not even dealing with it! — Carroll Berg, Berg Ink, Goffstown, NH
PHOTO GALLERY
(9 IMAGES)
What's the Brain Squad?
If you're the owner or top manager of a signage and graphics company in the US or Canada, you're invited to join the Signs of the Times Brain Squad. By taking one five-minute survey each month, you will receive access to some of the industry's freshest data on sales — including your fellow members' comments on what's selling and what isn't — and can make your voice heard on key issues affecting the sign industry. Sound good? Sign up here.
Advertisement
SPONSORED VIDEO
Find it here! ISA Sign Expo 2023
Whether you're looking to grow your business or advance your career, ISA International Sign Expo® 2023 is the only place to find everything you need to be successful in the sign, graphics, print and visual communications industry.