A Monumental Influence
Unique and cheaper materials support signage landmarks.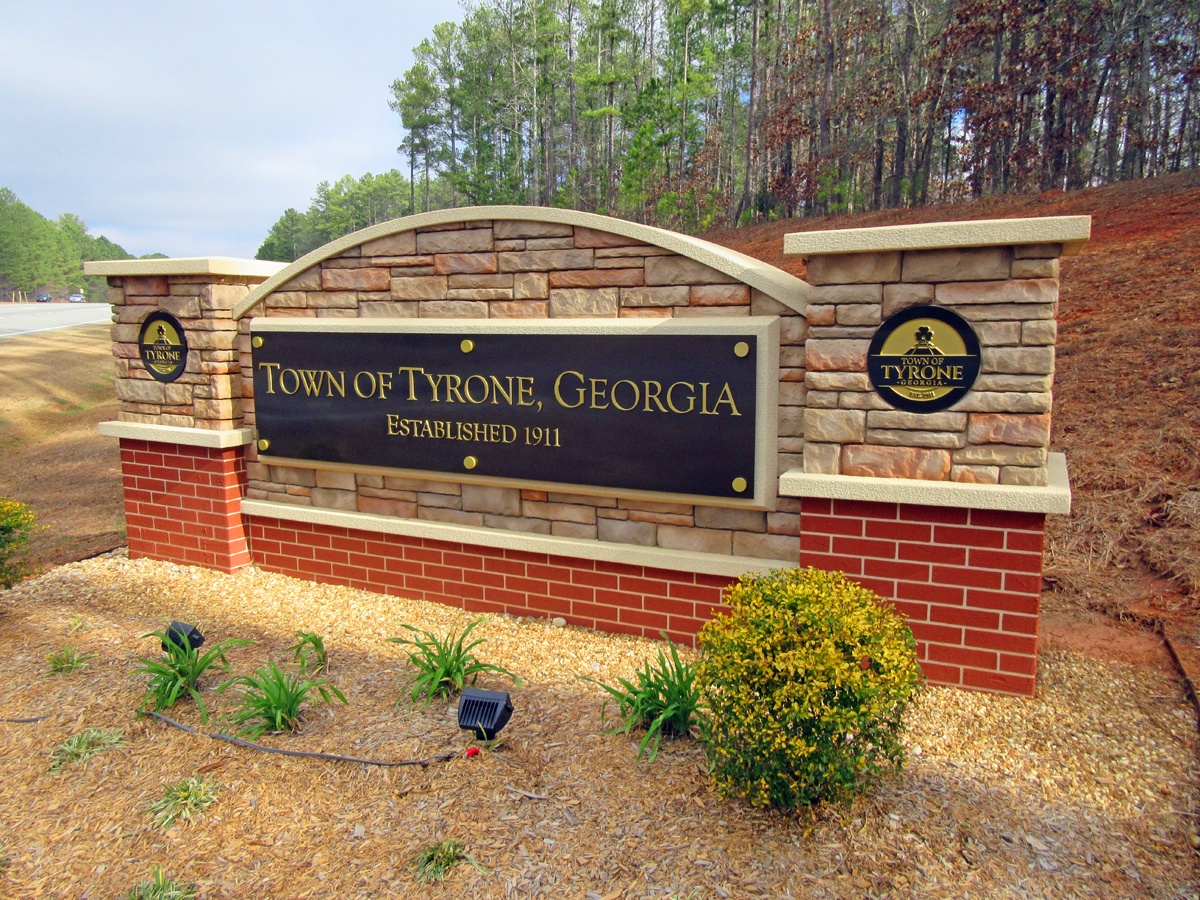 You may not have thought about them recently, but you've definitely found value in monument signs on a weekly, if not daily, basis. Whether they're marking the edge of a city or township, helping to distinguish and add an air of professionalism and permanency to a business, or keeping visitors to a multi-tenant property aware of important information and occupant changes, monument signs inform, delineate space and differentiate a property in the marketplace.
Even in 2017, when you're traveling to a place you've never been using GPS and a real-time mapping service, you've most likely found yourself looking for a monument sign to indicate you're in the right place, or to find the exact building you're looking for. We rely on them and expect them to aid in our journey.
Because of this, nearly all business properties include some provision regarding monument signs, and within every state, city, county, or particular property, there are rules and regulations concerning sign height, materials, build structure and placement.
The following case studies represent a small sampling of the types of monument signs that inform, delineate space and differentiate a property in the marketplace, as well as the challenges signmakers faced in producing them around the country.
TALK OF THE TOWN
Founded in Tyrone, GA in 2001, A Sign Group (ASG) specializes in custom fabrication, in-house design, permitting and installation of a range of products, including monuments, entrances, streetscapes and dimensional signs. "We excel at creating larger exterior signage and lighted signs," said Jacob Wolfe, ASG's owner, "especially in blurring the line between synthetic and real materials."
Advertisement
As clients across the nation are becoming more budget-conscious and material-savvy, many sign companies are turning to synthetics –in this case, foam – in combination with brick-and-mortar materials, to create less expensive, lower maintenance, longer lasting designs.
When the Town of Tyrone contacted ASG to produce two municipal monument signs identifying the north and south city limits as a DOT project, it required levels of clearance beyond the norm from the municipality and its engineers, including site location, material selection and crash-impact requirements. Thankfully, not only does using foam save money and maintenance time, it's impact resistant and carries a higher safety rating than standard masonry. It's why more towns and cities are beginning to demand it, Wolfe noted.
After completing the design, ASG turned to longtime partner, Custom Foam Fabricators in Fayetteville, GA, to produce the main structure and exterior of the piece – an elegant 14 x 3 x 6-ft. synthetic foam monument sign with a urethane hard coat and spray-stucco finish, hand painted and hand carved to resemble real brick and stone.
Back at ASG, logo circles were custom v-carved in-house on a ShopBot CNC Router Table from 0.5-in.-thick, solid acrylic, and painted custom metallic gold and bronze using polyurethane custom-mixed paint.
The main sign panel, establishing the town's founding in 1911, was a router-cut, 0.125-in. solid aluminum plate painted bronze with polyurethane paint, while the raised gold lettering was waterjet cut 0.25-in. aluminum with an anodized gold finish.
Installed on a 6-in.-deep concrete footer with breakaway aluminum poles and expandable foam per DOT requirements, the main sign panel was installed using 2-in.-diameter aluminum round standoffs, painted gold to match the letters. Loctite Threadlocker was then applied to the standoffs to deter vandalism. Not only is the Town of Tyrone prominently displaying ASG's monument sign as the hero image on every page of their website, but The City of Fairburn, which is just a few miles away, asked for permission to duplicate the design for their own city limit signs.
Advertisement
"We're now fabricating three similar monument signs and will be installing them shortly," said Wolfe.
AWARD-WINNING DESIGN
When developer Siepmann Reality Corporation (Waukesha, WI) wanted to create three monument signs to mark the entrances and exits for Windrush, a prominent rolling hills subdivision in lake country just west of Milwaukee, they knew they needed to hire someone special, a sign company that could bridge the divide between the subdivision's rustic aesthetic and the modern monument sign requirements of high visibility, maximum safety and, of course, brand awareness. That's why they engaged Lemberg, a 90-year-old, employee-owned, Brookfield, WI-based firm specializing in electrical construction, sign design and installation, as well as 24-hour electrical service.
As John Wachniak, Lemberg's signs and lighting division manager, tells it, to realize the client's vision, the company had to create unique pastoral design concepts by focusing on and using natural materials and items typically found in the bucolic countryside. Elements such as rustic strip stone line the signfaces, while barnyard roof caps top the taller monuments, right down to a pair of utterly charming (not to mention active) weathervanes installed at the top of two of the monuments.
Textured rustic paint was utilized across the three signs, along with lighted reverse channel letters. All electrical components were hidden inside the monuments, so as not to belie the modern requirements needed to keep the sign visible at night.
Installation moved quickly, with a single crane truck and two installers moving the elements into place and setting up power over the course of several days. "The client and residents were extremely pleased with the visual appeal of the signs when we finished," said Wachniak, "and the design took first place at the Wisconsin Sign Association Sign Design Contest."
Advertisement
A PIECEMEAL APPROACH
Building on more than 30 years' experience, TKO Signs out of Plainfield, IN is known for uniting maximum signage impact with an easy production process, from permitting to final installation.
According to Lee Faulkner, national sales manager at TKO, the company recently fabricated and installed more than 400 signs for the Hendricks Regional Health Plainfield rebrand, ranging from small ADA signs to three large exterior monument signs.
Hendricks Regional Health Plainfield serves patients from southern Hendricks, northern Morgan, eastern Putnam and western Marion counties, so, as you might imagine, removing or replacing all of the hospital's signage at once wasn't an option. To keep visitors oriented during the rebrand, Faulkner and his team devised a plan to repurpose and refurbish the existing monument signs one at a time.
"Our team would take one existing monument sign down and bring it back to the shop, while leaving the remaining signs in place," Faulkner said. "Then, we'd refurbish the sign in our shop, return it to the Plainfield Campus a short time later, and then take down the next sign and repeat the process." In this way, there would always be at least two signs in place to help visitors find their way.
New 0.25-in. aluminum faces with 0.5-in. push-through, clear acrylic letters were added to the refurbished signs, along with the newly rebranded logo set as a true cabinet with internal illumination and second surface vinyl graphics. Because of the one-in-one-out rule, the process was slower to be sure, but the clients' costs were similarly downsized, and there was no need to rezone or seek new approvals on the signs because all of the original elements were being reused.
I AM GONNA PLAY SUN CITY
Bootz & Duke Sign Co. in Phoenix knows a thing or two about monument signs. Founded in 1964, the family-owned business has been building quality signs for three generations. Recently, they completed several monument signs with digital boards for 12 recreation centers in Sun City, AZ, including several surrounding the Lakeview Recreation Center.
Sun City is a community for adults over 55 located northwest of Phoenix. At its heart sits scenic Viewpoint Lake, and nearby Lakeview Recreation Center offers a wide array of sports and activities, including tennis, boating, swimming and even mini-golf.
"We were asked to create something non-traditional for the design," said Charlie Gibson, vice president of sales at Bootz & Duke. To meet this request, Gibson and his in-house designers chose aluminum angle and aluminum skin construction for the 10 x 12-ft. monuments, with push-through acrylic lettering and smooth and stucco textured paint.
Crafted to mirror the look and feel of an ocean wave, with Daktronics Galaxy Digital Boards attached to showcase the city's upcoming events and activities, the monuments were sure to draw the attention of drivers from the street.
This caused a bit of an issue: Due to Sun City's unique zoning ordinance, the Rec Center is technically zoned the same as residential areas. In addition, Maricopa County has its own ordinance that requires all monument signs to be 20 ft. back from the street.
"We had to lobby and get a variance to install the signs near the property lines," said Gibson. "It took a bit longer, but we do a lot of work in this town, so we were expecting it. Plus, I was looking forward to the challenge."
SPONSORED VIDEO
Find it here! ISA Sign Expo 2023
Whether you're looking to grow your business or advance your career, ISA International Sign Expo® 2023 is the only place to find everything you need to be successful in the sign, graphics, print and visual communications industry.