Navigate through seamless signage in these three extra-large projects.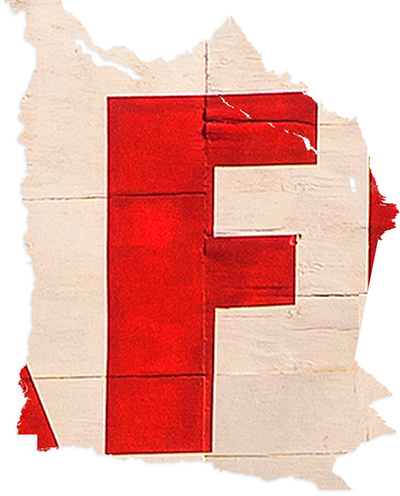 ROM THE WEST COAST to the East Coast, and everywhere in between, large-scale projects like stadiums, casinos and urban neighborhood centers could simply be meaningless mazes of colossal structures, rooms, hallways and doors if it weren't for wayfinding.
Thankfully, today's directional systems are so much more than a sign with an arrow pointing you in the right direction (though they're that, too). Often, sign companies are integrating digital maps, LED screens, interactive kiosks and other changeable messaging that not only guide people to their destinations, but can also be easily altered to change where to point them, depending on the day's events.
Whether you find yourself designing for a stadium or a store, consider using a number of different signage solutions like these three companies did for the ideal end-user experience.
DAZZLE IN THE DESERT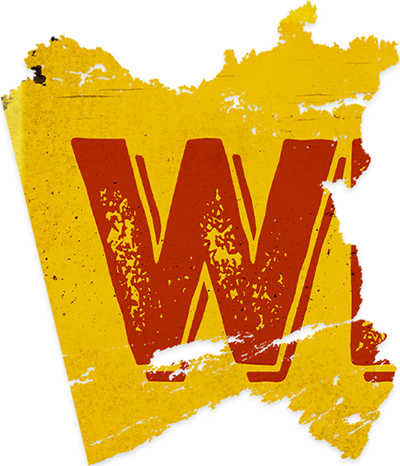 hen Lorenc+Yoo Design (Roswell, GA) was contacted by architectural firm and long-time client HBG Design (with locations in Memphis, TN, San Diego and Dallas) about designing directionals and more for the new Desert Diamond Casino's West Valley Resort in Glendale, AZ, they jumped on the chance. Principal Jan Lorenc explained that not only would Lorenc+Yoo be working on a dynamic, $500-million dollar project to benefit the Tohono O'odham Nation tribe, but he'd also be able to easily keep an eye on it, as he was already making frequent trips to visit his brother in Phoenix.
The casino, part of a larger entertainment and sports district on the west side of Phoenix, was phased in over the course of a few years. Lorenc+Yoo was tasked with creating the signage, including for primary identification; site directionals; video boards; two separate six-story parking garages; comprehensive interior wayfinding; and identity signage for food, beverage and venue signs.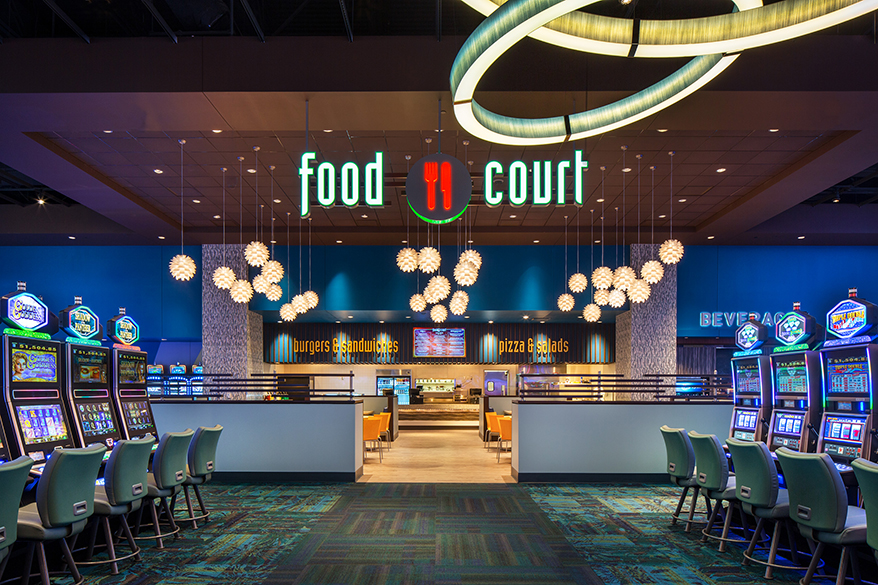 Although the initial project was to complete the resort to the extent in which it currently exists, after the design and development phase the scope was decreased, and the casino itself had to be moved temporarily to a warehouse due to budget concerns. With that in mind, upfront organization became priority number one. "With so many patrons coming and going, and plans to expand in the future, the initial organization of the resort [was] key," Lorenc said. "[Although] we were tasked with implementing most of what we had already designed in a small temporary space, thankfully everything was still carried out in the end."
For the West Valley project, Lorenc+Yoo was provided with all of the resorts' logos except for the food court logo. Lorenc said his company creates all their designs in-house with SketchUp to help visualize their 3D work, which then integrates into the architect's Autodesk Revit or 3D models. "The architect, HBG Design, provides our firm a SketchUp conversion of their Revit files and we use the 3D models to place all of our signage elements in scale," Lorenc said. "This is a technique we have used for the past two decades, and from early concept to final design we are integrating in scale with our projects."
Advertisement
Since Lorenc+Yoo is purely focused on design, they ensure their contractors fulfill their design intents and specs. "We prefer working with proven contractors that have been great collaborators in meeting our design. If changes [or substitutions] need to be made, we like contractors that negotiate with us versus substitutions that do not meet our specifications," Lorenc said. "We protect our collaborators and they protect us since neither is perfect. The end product of our work is the installed work; hence it is essential that we team with proven collaborators throughout the USA and internationally."
FROM CARS TO CAMP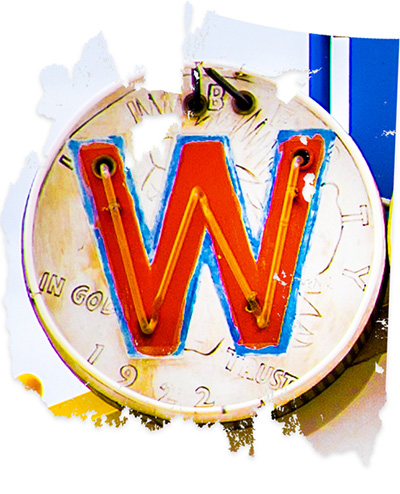 hat do you do with 76 acres of unused land and buildings in Charlotte, NC, that over the past 100 years have housed a Ford assembly plant, a US Army quartermaster depot, a missile factory and an Eckerd/Rite Aid drug store distribution center?
If you're a developer like ATCO, you transform the land into the city's largest, adaptive re-use project. A "hub for creativ;ity and innovation," according to its website, Camp North End is an urban neighborhood center that offers a mix of office, restaurant, retail, public space, hotel, event and residential development. To find your way around this staggering three million square feet of…everything, you're going to need a sign or two. Enter Airspace (Brooklyn, NY) Founder and Creative Director Jill Ayers, who was introduced to the project and client through their architect partner, S9 Architecture (New York).
Airspace helped implement the first phase of the project by developing a wayfinding master plan for the site that included campus identification at main points of entry, street identification, district identification, vehicular and pedestrian directionals, a shaded kiosk with a hand-illustrated site map, building numbers, regulatory signage, base building signage and public restrooms. "This is an amazing adaptive reuse project," Ayers said. "We have lots of experience with this niche and love working [in it]. The projects have tremendous history to inspire a designer."
After developing an initial identity for the site, Airspace drew up their wayfinding master plan. Because the site is currently divided into five districts (Boileryard, Crossroads, Mount, Keswick and Sylvannia), Ayers said a simple kit of parts was provided to help with both vehicular and pedestrian navigation right now, but can be added to as the site continues to develop.
Airspace was responsible for Camp North End's programming and design (identity and wayfinding) as well as fabrication and installation, working closely with ATCO and S9 Architecture. Ayers said the Adobe Creative Suite was used for the programming, artwork and construction documents. They then hired an illustrator to help with the site map (which was then printed digitally), taking inspiration from military and recreational camps. Recycled and found materials were used for the signage — including stone, steel, wood, metal pipes, corrugated aluminum, cork and off-the-shelf display cases. The messages on the street signs, vehicular and pedestrian directionals were applied with Matthews Paint and 3M Scotchcal 7725 vinyl and reflective white vinyl.
Although the project was immense, long and complicated, Ayers was pleased with the end result. "It is such a big campus and [has been] virtually unknown to the folks in Charlotte for so long, [so] having a comprehensive system made navigating that much easier and fun for people," she said. "The most challenging part was getting the map right. We wanted a hand-drawn look, but it needed to be easily edited by the client and us."
Advertisement
SIZE MATTERS
ver gotten lost in a stadium? Was it due to misleading signage (or maybe one too many visits from the beer vendor)? Either way, we can probably all agree it's not fun to literally walk around in circles trying to find the bathroom, your seats or a helmet full of nachos.
Luckily, Design Communications Ltd. (DCL; Avon, MA) was pre-qualified years in advance of the start of the SoFi Stadium project in Inglewood, CA. That meant they were able to plan way ahead to make sure they could fulfill the needs of this massive undertaking (and figure out how to guide you to concessions) before even agreeing to take on the new home of the NFL's Chargers and Rams. "We looked at several scopes of work on the project site prior to this wayfinding scope, which we determined to be a great fit due to our capacity and our proven ability to perform on large, complex projects delivered under a demanding schedule," said Tom Bergeron, art director/marketing at DCL.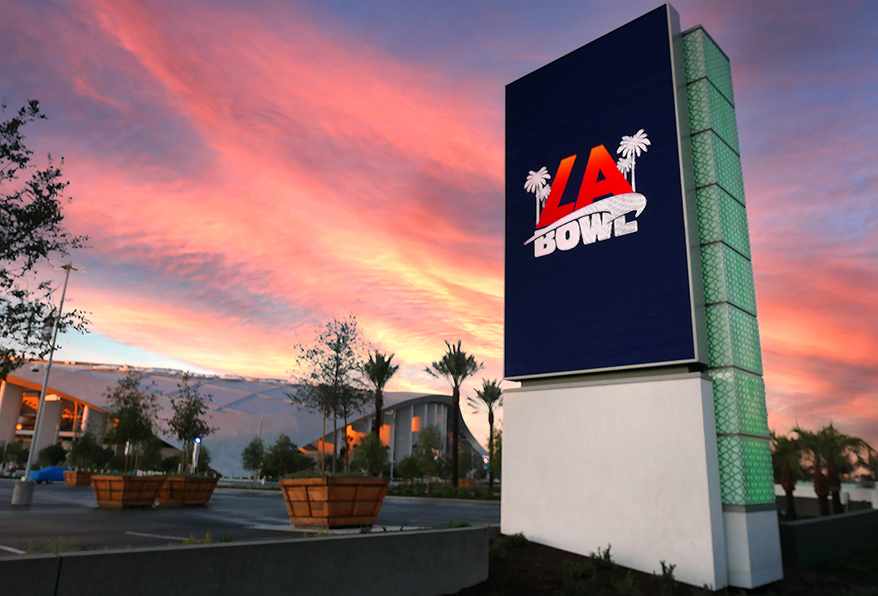 For the 3.1-million-sq.-ft. stadium, DCL was tasked with creating signage including kiosks; regulatory; static and digital wayfinding; and both static and digital identification signs. This included eight 30-ft. monument towers and two 45-ft. monument towers replete with LED displays with custom returns; 154 double-sided LED/LCD kiosks; and 435 post-and-panel signs, according to Bergeron. While the designs were created by HKS Architects (Dallas), DCL bore the responsibility for the project management, design-engineering, custom fabrication and job site prep (including laying foundations and installation) for the signage.
HKS design intents and location plans were provided to DCL, who generated engineered shop drawings, graphic proofs, samples and mockups (including field mockups) using AutoCAD in phase one. With approvals in hand, DCL prioritized and fast-tracked the early requirements for fabrication-finishing-tech integrations, site prep and installations. The company used project management tools and techniques to manage and organize product required across the 298-acre site. "DCL's teams are all able to coordinate and track each individual sign and its specific location and progress," Bergeron said. "Our site personnel have full, real-time access via tablets to all project information and drawings."
Fabricated aluminum was the main substrate, due to the nature of the exterior signage, aluminum's fabrication qualities and its ability to avoid rust and minimize weight. Samsung Prismview LED panels were provided to DCL, as well as LED lighting from Bitro and Lumenpulse. DCL also used PAM wayfinding software, all three of their manufacturing facilities and a full fabrication staff, who operated various CNC machines and workshop/hand tools.
"When visitors arrive, the digital wayfinding solutions will direct them to various entry points. Depending on the status of the event, these screens will change to direct visitors to on-site vendors and merchants or exit points when an event concludes," Bergeron said. "The wayfinding system is essential in keeping flow and improving the overall customer experience."
Expert Tips for Creating Wayfinding Systems
If only there were a map for navigating your way around the art of wayfinding. Fortunately, we were able to tap some experts to guide us with their wayfinding advice.
Jan Lorenc, Lorenc+Yoo Design
Be careful not to use too many destinations on wayfinding signs and instead go from zone to zone, and then split the directions to minor areas in the zone. Keep wayfinding signs simple as much as possible.
Design the sign system the same way as well. It can be easy to overdesign and over-detail elements when truly they are only there to complement the environment and aid in the visitor experience.
In large resorts, consider adding parking counts on perimeter road directionals to keep visitors informed of the parking availability. Introducing garage names from the outset and reinforcing with color to aid in recognition and orientation are helpful to create discernable elements that help in navigation.

Jill Ayers, Airspace
In the case of a master plan, try to think of all of the issues that may occur over time. Leave room for additional messages, flexibility and change-out. Also consider introducing a purposeful kick-off phase so all team members fully understand the project vision.
Ensure the final experience is steeped in a thoughtful vision — one that is authentic to the experience and is playful and unexpected.
Tom Bergeron, Design Communications, Ltd.
Having a highly skilled and experienced team is crucial to delivering a successful project. For DCL, that includes project managers, design consultants, engineers, planners and schedulers, fabricators, finishers, multimedia integrators and trusted vendors.
Make sure each component is thoughtfully reviewed and built for the physical world (taking into account maintenance requirements, foot traffic considerations, materials, accessibility, etc.).
SPONSORED VIDEO
Find it here! ISA Sign Expo 2023
Whether you're looking to grow your business or advance your career, ISA International Sign Expo® 2023 is the only place to find everything you need to be successful in the sign, graphics, print and visual communications industry.