Sign Installation Equipment – Pick the Best Tools for the Job and Save Money
Installing signs is physically demanding, but it's easier with instruments designed specifically for the task.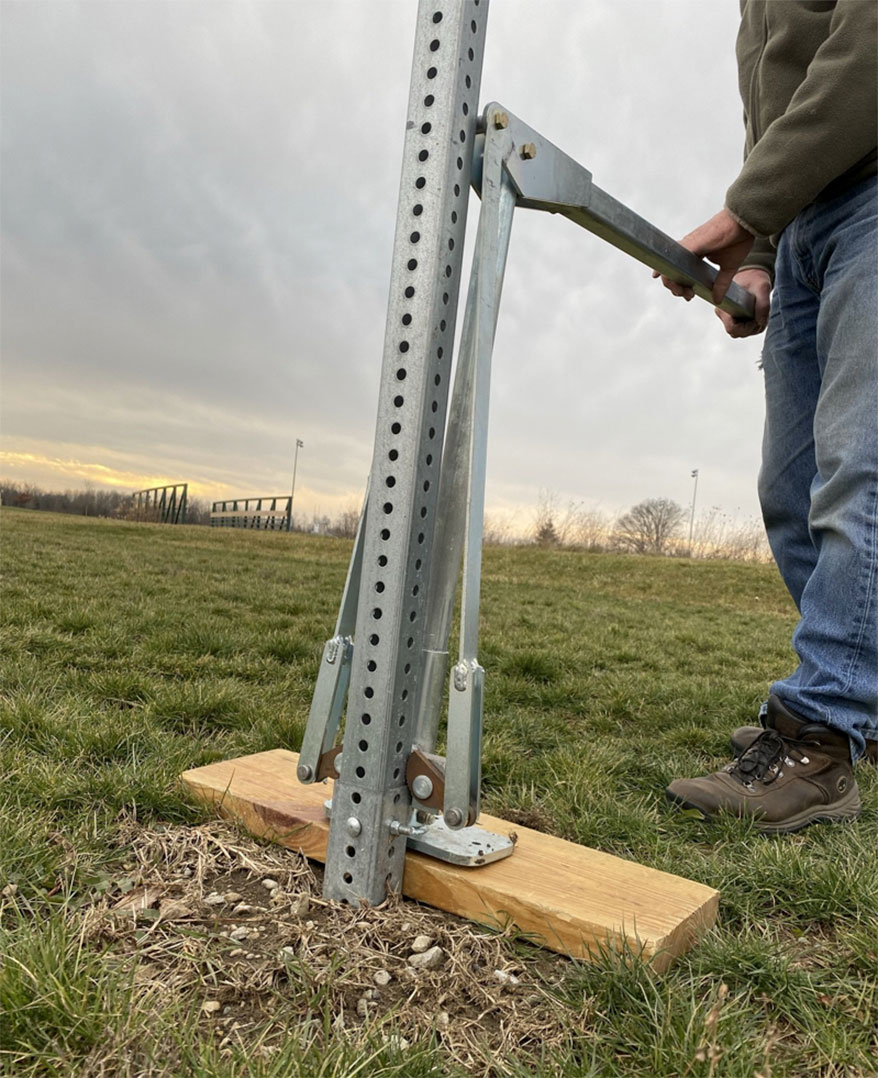 DO YOU DREAD installing signs? Don't worry; we're going to look at ways to ease some of the more back-breaking and frustrating jobs like installation and removal of sign posts, fastening banners and more.
So, you have to install some new road signs that use T-posts, U-channel or square tubing. No worries, pull out the old sledgehammer and pound away. Well, the top of the post might not get too badly mangled but now you notice you've only driven the post a foot deep. You can, of course, get a specific T-post driver at the nearest farm equipment shop and it will greatly simplify the job. However, you can quickly find out that the placement of the handles in the center makes driving a long post difficult without something tall for you to stand on. No problem, you can purchase drivers specifically designed for taller posts. The handle extends well past the opening and allows you to drive up to a 12-ft. post.
If you have to install a few posts only occasionally then the manual method works fine. However, if you need to drive a bunch of posts then it can be a real chore. If this is a good part of your business, then it makes sense to invest in a gas-powered driver. It works the same way — put it over the end of the post and stand it upright. The main difference is that the unit will automatically hammer the post in the ground. You just need to hold the post up and stop the driver when the post reaches the desired depth.
Setting a post is a hard enough job, but what happens if you need to remove one? You can yank and pull all you want but it just doesn't seem to budge. You're in luck; post removers are available for practically any type of post. If you've used a car jack before, then you can quickly and cleanly pull a post from the ground.
Advertisement
Now let's talk about a type of sign installation that is usually a breeze. Wire mounts for corrugated plastic signs are often easy to just push into the ground. However, if you live in a dry area, it can be impossible to push wire mounts into concrete-like soil. Once again, there's an easier way. If you carry an electric drill in your kit — and who doesn't? — then you can find long drill bits that will create the proper-diameter hole for a wire sign holder.
Finally, let's talk about another common installation, pole-mounted banners. You see them everywhere and installing them is not the most complex operation, though it generally involves taking careful measurements. Where a specialized tool becomes helpful is when the banner-pole brackets are mounted on the pole. To fasten the brackets to the pole, a long metal band is normally used. The real trick is getting the bands tight enough to secure the banner to withstand conditions that may include high winds. Sufficiently hand-tightening a band is practically impossible. Luckily, you can obtain a banding tool that is handheld and easily operated, even while you are on a ladder. It will tighten the steel band and most have a built-in cutter to trim off the excess banding.
Sign installation (and removal) can be physically demanding at best and downright impossible at worst if you don't have the right tools. Check them out if you find yourself dreading installation day.
PHOTO GALLERY
(6 IMAGES)
SPONSORED VIDEO
SureColor R5070 and R5070L | Consistent, High-Quality Signage Printing
Achieve consistent, repeatable color for high-quality signage, including banners, adhesive vinyl, wallpaper and more, with the robust, reliable SureColor R5070 and R5070L 64-inch roll-to-roll resin signage printers. Learn more.