Tailgating Never Looked So Good Thanks to This Bus Wrap
A Cincinnati Bengals superfan tapped Performance Wraps to execute a "custom graffiti art" design.
This project won a 2023 Best of Wide Format award from our sister publication, Big Picture. See all of the winners here.

Print Shop: PERFORMANCE WRAPS | performancewraps.com
Location: Dayton, Ohio
Tools and Supplies: Grimco 54-in. Briteline WrapCast film, Grimco 54-in. Briteline WrapCast matte overlaminate, Roland DG VersaExpress RF-640 wide-format digital printer.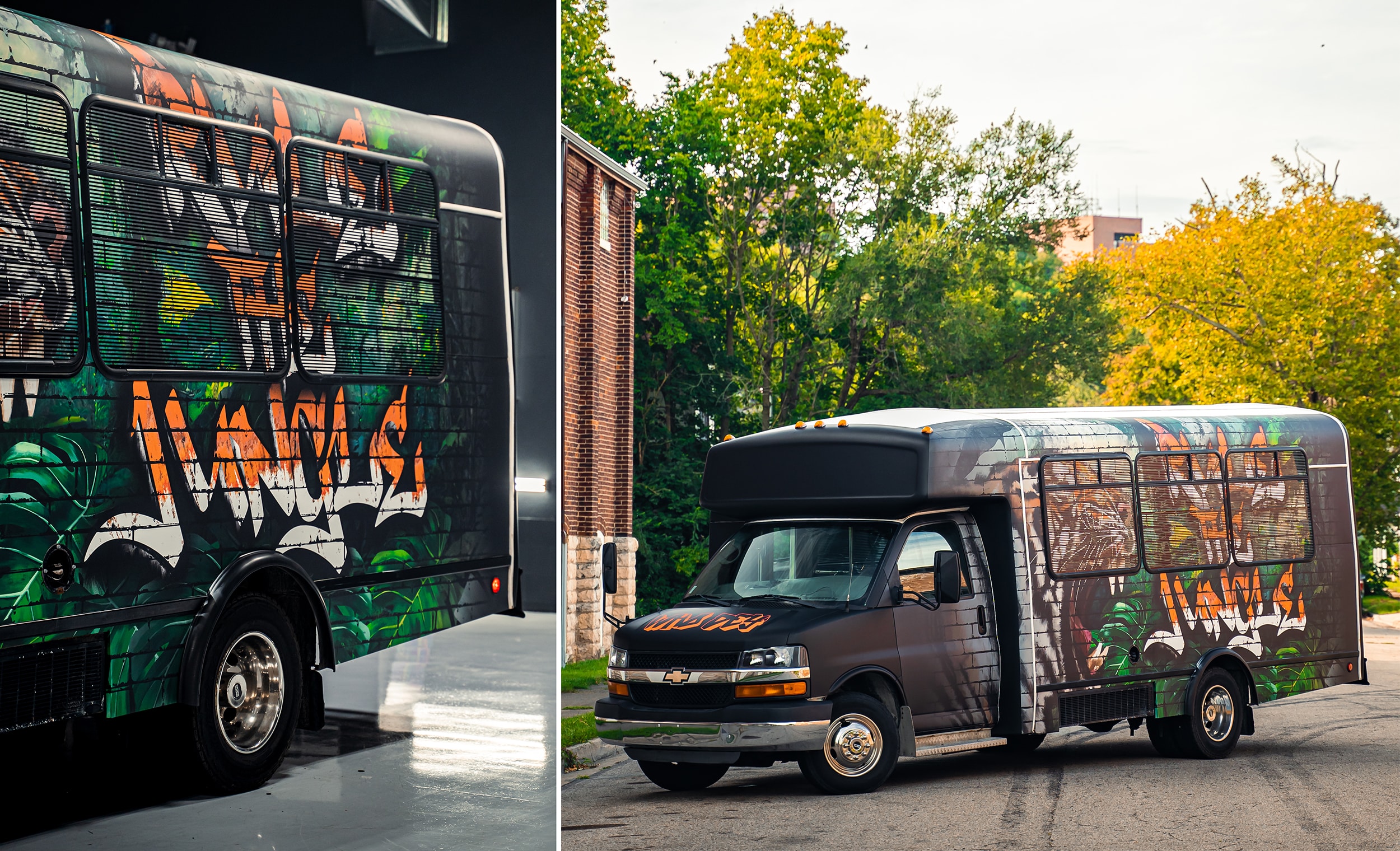 TAILGATING IS ONE piece of football culture that is often taken very seriously. Fans are always looking for a chance to up their spirits and stand out from the crowd, whether by painting their faces with team colors or wearing the number of a star player. Performance Wraps provided one Cincinnati Bengals fan a way to do just that by wrapping his Chevy Express 15-passenger bus with a Bengals-themed graffiti wrap. 
With the kickoff to the season only 18 days away, Performance Wraps owner Andrew Banks and his team had to find a way to accomplish a "spray paint-like" matte look that would cover 575 square feet of the bus. Typically, Performance Wraps would use the normal 50/50 window perforation, but the optically clear laminate would have an extremely glossy finish – interrupting the look of the full matte wrap. Instead, they printed the windows separately and ran them through a plotter to create a "homemade" version that would maintain the same matte finish. With the final presentation, the custom window perforation allowed the client and his fan entourage to still look out the windows and display their team spirit from nearly every inch of the Bengals bus. 
Initially, the client wanted a style of graffiti found on the sides of train cars. That's where the matte laminate comes in. Using a Roland DG VersaExpress RF-640 wide-format digital printer, the wrap was printed with Grimco's 54-inch Briteline WrapCast Film and laminated with Grimco's 54-inch Briteline WrapCast matte overlaminate. With nearly two and a half weeks to spare, the designing, printing, and installation was completed right in time for the Bengals' first game against their all-time rival, the Pittsburgh Steelers. 
"This pushes the boundaries of wide-format print by digitally creating what once was a work of art made with cans of spray paint," Banks says. "We are now able to produce the artwork digitally and then really finish the look with a matte laminate to give it that 'custom graffiti art look' at a fraction of the time and cost."
Advertisement
SPONSORED VIDEO
Find it here! ISA Sign Expo 2023
Whether you're looking to grow your business or advance your career, ISA International Sign Expo® 2023 is the only place to find everything you need to be successful in the sign, graphics, print and visual communications industry.