The Basics of Glass Bending
The techniques you need for bending glass successfully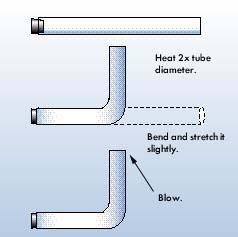 Editor's note: The following is an excerpt from Neon Techniques Fourth Edition, a book originally written by Samuel C. Miller and revised by Wayne Strattman. The book is available from ST Publications Book Division or your local sign supplier. For more information, call (800) 421-1321.
Right-angle bends
The most basic bend is the right-angle bend. The key to making a good bend is to heat sufficient glass to make the bend, and also to prevent kinking of the glass. For a right-angle bend, mark the glass tube so that the portion of the surface placed into the fire equals two full diameters of the tube. For example, if 12mm tubing is to be bent, small marks should be made on the tube 12mm in either direction from the center of the bend, creating a heating zone of 24mm (Fig. 1).
Heat the glass in the crossfire, moving it back and forth uniformly while rotating the tube (Fig. 2). As the glass softens, balance the ends of the tube in your hands to prevent twisting or stretching of the glass. Before making the bend, raise the tube higher in the fire to apply more heat on the bottom, which will be the outside of the bend. Next, bend the ends of the tube upwards while using the blowtube to prevent the soft walls from collapsing.
A second method for making right-angle bends is the miter bend technique (Fig. 3). This method is used on uncoated tubing in countries where tubes are coated after bending is completed. Heat a ring of glass on a 45

SPONSORED VIDEO
New Golf Course Graphic Installations With Mactac
Visual communication is essential to a successful business. 2020 required restaurants to pivot from promotional graphics to safety and spacing graphics. Now that restaurants are reopening, it's time to make necessary signage updates and Mactac is here to help. Before you even enter a building, there are thousands of opportunities to welcome and inform your patrons. Whether that is with window graphics, sidewalk graphics, or building wall signage. Stick with us as we walk through the endless opportunities and which Mactac products can help you achieve the goal.