US Navy Ship Transformed by Printed Signage
Mesh banners prove ideal for branding a buoyant basketball game.
This project won a 2023 Best of Wide Format award from our sister publication, Big Picture. See all of the winners here.

Print shop: A3 Visual | a3visual.com
Location: Los Angeles
Tools and Supplies: Duratex 8-ounce mesh banner, 13-ounce vinyl Frontlit 1000×1000 Denier, 3M Controltac 40C-20R, 3/16-inch Gatorfoam foam board, 7.6-ounce Black Back fabric, 3-mm ACM (max metal), Fabric for Retractable (Softimage 240), 36-in. Silverstep Rewinds, A-Frames (Signicade Deluxe in white), shop's EFI Vutek GS Pro-TF Series printers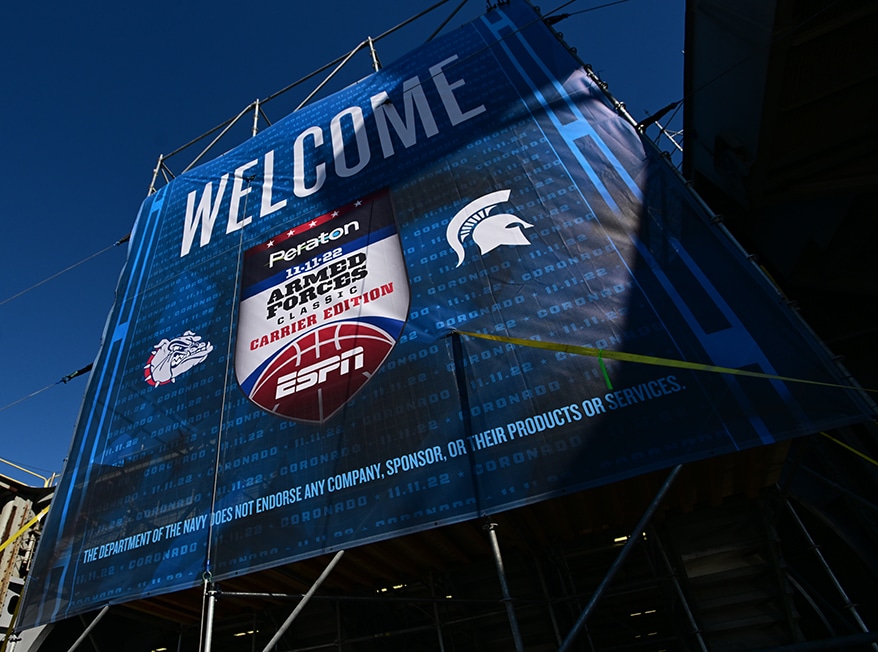 "IT'S NOT EVERY day you get to see a basketball game played on the flight deck of a U.S. Navy ship, let alone collaborate with partners like ESPN to visually dress the space for one," Craig Furst, president and CEO at A3 Visual, says. The Los Angeles-based company faced the unique ask of producing, installing, and removing event graphics for the 2022 Peraton Armed Forces Classic, a Veteran's Day college basketball game played aboard the USS Abraham Lincoln, a Nimitz-class nuclear-powered aircraft carrier docked in San Diego.
A3 Visual collaborated with ESPN and the USS Abraham Lincoln crew to create graphics for the nationally televised NCAA showdown between Gonzaga and Michigan State. "Custom-fabricated mesh banners were the best choice for the outdoor environment," Furst says. "It was important for our team to consider the strong winds the San Diego harbor could see on game day. Using a breathable material like mesh made it possible for air to flow without compromising the structural integrity of the truss structures and bleachers."
Advertisement
ESPN and A3 Visual transformed the docking area and flight deck. In addition to installing custom-fabricated mesh banners throughout the stadium bleachers and stands, the team wrapped mesh and vinyl banners around truss structures and temporary frames to establish a perimeter around the court. Other highlights include vinyl decals inside the main court and throughout the event area, custom eight-foot table covers, and wayfinding Coroplast sheets and A-frame signs throughout the venue. A3 Visual imaged signage on EFI Vutek GS Pro-TF Series printers. The mesh graphics were reinforced and hung with grommets.
Come game day, 3572 ship passengers and millions of at-home viewers saw A3 Visual's impeccable event branding as they watched Gonzaga scrape past Michigan State in the final seconds of a nail-biter. "A3 Visual has had the privilege of working on some amazing and unique events over 51 years, and the Peraton Armed Forces Classic 2022 was definitely one for the books," Furst says.
Advertisement
SPONSORED VIDEO
Find it here! ISA Sign Expo 2023
Whether you're looking to grow your business or advance your career, ISA International Sign Expo® 2023 is the only place to find everything you need to be successful in the sign, graphics, print and visual communications industry.