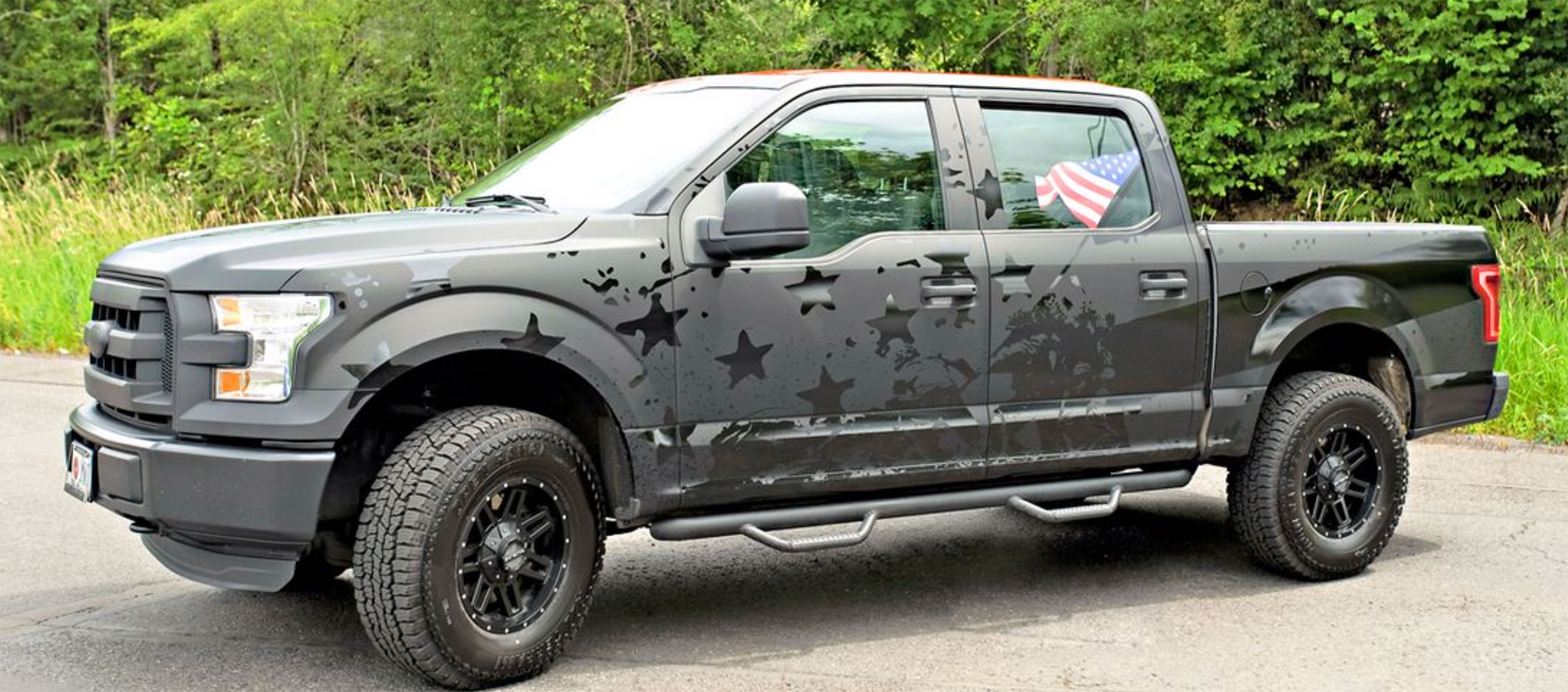 We Salute These Wraps
Signs of the Times celebrates Veterans Day.
TO HONOR THOSE who have served our country in the armed forces, this month we feature two military-themed wraps.
ONCE A MARINE…
… always a Marine. Frank Kelsay, warehouse manager for 503 Sign Works (Beaverton, OR) , served in the 3rd Battalion, 3rd Marines for four active years and five in the reserve. Frank deployed to Operation Desert Storm during the Iraq War, is very proud of his service and loves the Corps. He decided to wrap his pick-up truck before attending a local (Oregon) Marine Corps Birthday Meetup with other veterans. Luckily, Frank didn't have to scout out a wrap shop.
He issued a single order to Sean Rhodes, graphic designer/3M Preferred Installer for 503: "Go rogue" on the design for the truck. Using a matteblack background, Sean placed a plotter-cut, gloss-black overlay pictogram of the WWII flag raising at Iwo Jima, with small, color US flag window-perf accents on both of the truck's sides. The rear features a full-color print and gloss-finish tailgate wrap with a U.S.M.C. Chesty Puller quote, and a pro-Second Amendment rear window-perf graphic. Finally, with an assist from sign shop coordinator Mackenzie Clark, an underlay of the U.S.M.C. "EGA" symbol landed on the hood, which Sean then wrapped in matte black, adding a thin EGA detail overlay.
The shop drew upon a range of wrap vinyl: 3M IJ180Cv3 with 3M Scotchcal 8518 Overlaminate, 3M 2080 G83 Gloss Dark Red, 3M 1080 DM12 Dead Matte Black, 3M 2080 G12 Gloss Black and CLEAR FOCUS ClassicVue for the windows. The printed vinyl was run through 503's Epson SureColor S60600 printer and Kala laminator, all guided by SAi's Flexi Production Manager software.
Weeding the gloss-black flag-raisers on the side of the truck and hiding some damage to the body were two of Sean's main challenges, he said. Sean made sure the design would be able to hide future damage easily, as well, and performed the install on his own over a day and a half.
Now, while driving, Frank often collects honks and waves from veterans, Sean said. "We like to show it to veteran customers who need inspiration for veteran vehicle-decal requests." Oorah!
Advertisement
HEARTS AND MINDS
"I have been helping the VFW in McHenry with their marketing for over five years, including the installation of a monument sign with a Watchfire LED EMC [in 2014]," said Eric Dohman, owner of ECD Signs in Johnsburg, IL . "That same year my partner, Kristine Ozyuk, and I moved her father, Ken Ozyuk, a disabled Vietnam vet with Parkinson's and dementia, in with us to care for him until his passing last year." As a result, Eric and Kristine became increasingly involved in the VFW.
A recent project was a ticket trailer, from which the VFW Fox River Post #4600 could sell their "wildly popular 'Queen of Hearts' tickets … due to the demand for $1 million-plus jackpots," Eric said. The trailer can also be pulled in parades and used at other events. It needed to look great closed, but still display pertinent information when open. When it came to the design, other than wanting the logos for the branches of the military, auxiliary and POW-MIA, everything was left to Eric, during which he remembered to "always keep the flags going the right way." He put 20 hours into the design and made three minor revisions for the Queen of Hearts committee.
Jet Fast Printing in Fox Lake, IL produced the prints using an HP Latex 560 to output 3M 1080 Wrap Film, which they laminated on their Daige Quickmount. Eric started off the install, finishing the back in three hours, then freelance installer Juan Trevino completed the rest in eight more hours. "The tricky part was all the openings, counters, latches and drip edges," Eric said. "It required precise measurements to ensure words and logos were not cut off. We also opted to back out all the screws before installation and re-install them."
The McHenry VFW has been lucky that a few Queen of Hearts jackpots have funded their building, Eric said. They have done extensive remodeling to create a place that benefits not only the members, but the community as a whole. "Not all posts have been so lucky," he noted. "Most posts are open to the public these days and I encourage everyone to stop by their local post to support them."
We wholeheartedly agree.
Advertisement
SPONSORED VIDEO
Find it here! ISA Sign Expo 2023
Whether you're looking to grow your business or advance your career, ISA International Sign Expo® 2023 is the only place to find everything you need to be successful in the sign, graphics, print and visual communications industry.