Best In-House Design and Fabrication, Non-Illuminated
2023 Sign Contest: CATEGORY 3
FIRST PLACE
Fabricator, Designer and Installer
Sign Art Studio
Mount Horeb, WI
makesignsnotwar.com
Client
Seven Acre Dairy Co.
Project Name
Seven Acre Dairy
Fabrication Equipment/Tools
MultiCam Apex3R, Miller welders, various metal fabrication equipment
Installation Equipment/Tools
Scissor lift for mural
Materials/Components
Sign foam, cedar, aluminum, ACM, Ronan lettering enamels
Software
Adobe Illustrator, SAi Enroute
Other Components/Tools
Lettering brushes
Project Description
Seven Acre Dairy renovated an old butter factory to be a high-end restaurant, boutique hotel and dairy bar/bakery. A traditional dimensional sign with hand hammered HDU letter faces and a handpainted mural would foot the bill perfectly.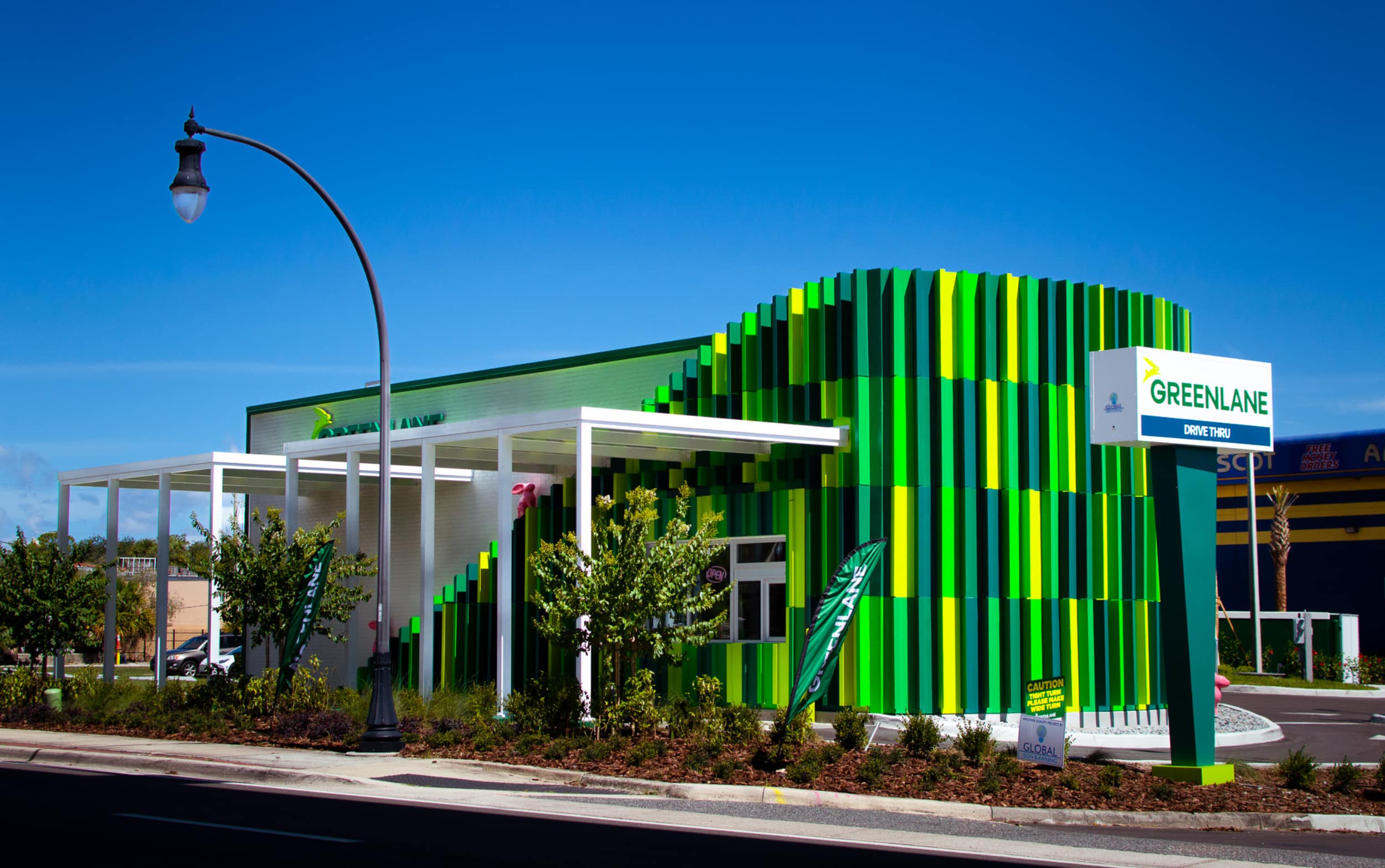 SECOND PLACE
Fabricators
Global Sign & Awning
Tarpon Springs, FL
globalsigncompany.com
Bill Devlin, Javier Gomez, Abdiel Medina, Vic Concepcion, Chandler Gray, Zach Wood, James "JR" Sampson, Sean Carrey, Chris Lee, Jimmy Young, Tyler Mitchell, Jason Fitzgerald, Vincent Dietrich
Designer
Emily Greene
Installers
Zack Baxter, Rolf Gomes, Carlos Santiago, Mike Ludwig, Rob Beck
Client
GoGreenlane
Project Name
Greenlane Lenticular Facade
Selling Price
$378,000
Fabrication Equipment/Tools
Roland VG2-640 digital color printer, Autek cross-flow paint booth and mixing room with 2 x 24-in. tube axial exhaust (3hp/3 phase motor), GMC NC hydraulic box and pan brake, Laguna CNC router, Pearson 10 gauge shear
Installation Equipment/Tools
60- and 48-ft. Altec bucket trucks, welder, miscellaneous hand tools and drills
Materials/Components
Rectangular tube, flat bar, Sherwin-Williams paint, aluminum sheets
Software
Adobe Illustrator and Photoshop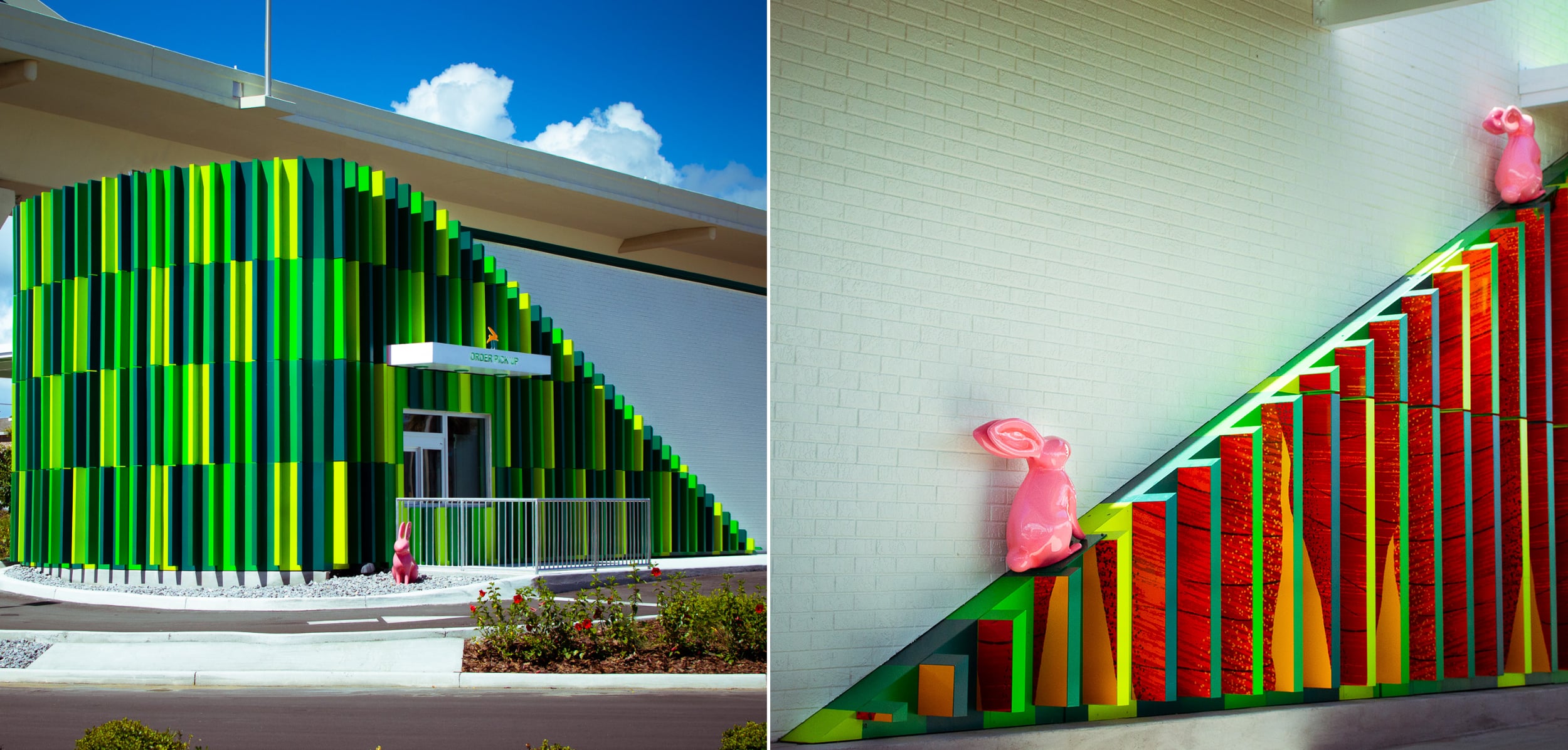 Project Description
Greenlane is a new, fresh and healthy food idea in Tampa. Team Global designed, produced and installed the Lenticular Facade.
THIRD PLACE
Fabricator, Designer and Installer
Stoner Graphix
Hummelstown, PA
stonergraphix.com
Client
Ollie's Bargain Outlet
Project Name
World's Largest Bobblehead – Official Guinness Book World Record
Fabrication Equipment/Tools
MultiCam router, Canon Colorado 1650 printer, Summa plotter, GBC Pro 64 thermal laminator, Future Cure paint booth
Installation Equipment/Tools
Bucket truck, hand mount, hand assemble, hand finish
Materials/ Components
Square box tubing, low-density EPS foam, 1,100 lbs. of coil spring, ORAFOL ORAJET 3551 54-in. RA vinyl, Brightline Wrapcast Satin 54 in. by 150 ft. laminate, Akzo Nobel Grip Gard BC paint
Software
Adobe Creative Cloud, Cyrious Control, Gerber OMEGA 5.0, ONYX Thrive 21, SAi EnRoute 7
Other Components/Tools
Bolts, screws, adhesives, cutting blades, cutting tape, cleaning solution and cloth, measuring tape, gloves, paint supplies, sanding supplies, sculpting supplies
Project Description
For 40 years, Ollie's Bargain Outlet has committed to offering huge deals on brand-name merchandise. In honor of their 40th birthday, they enlisted Stoner Graphix to craft a fully functioning bobblehead. From start to finish, the bobblehead creation process took four months and included 3D modeling, hand sculpting, carving and painting. The company utilized a light-density foam material with a steel inner skeleton for support, and created a spring mechanism to produce the bobbling motion. More than 10.5 gallons of paint were used to create a perfect Ollie replica, which was 3D scanned with EnRoute, cut on MultiCam in 4-in.-thick sections, then glued together and assembled. The 16.5-ft.-tall and 700-lb. bobblehead claimed the world record.
Click here to go to the next category, Best Outside Design/Shop Fabrication, Non-Illuminated.
PHOTO GALLERY
(15 IMAGES)


📷 Sign Art Studio | Global Sign & Awning | Stoner Graphix

Advertisement
SPONSORED VIDEO
Find it here! ISA Sign Expo 2023
Whether you're looking to grow your business or advance your career, ISA International Sign Expo® 2023 is the only place to find everything you need to be successful in the sign, graphics, print and visual communications industry.