Best Outside Design/Shop Fabrication, Illuminated
2023 Sign Contest: CATEGORY 2
FIRST PLACE
Fabricator
David Hutson
Neon Time
St. Louis
Designers
Magic Mini Golf
Hope Edwards, Joe Edwards
Installer
Signcrafters Inc.
St. Louis
signcrafters-stl.com
Client
Magic Mini Golf
Project Name
Magic Mini Golf Neon Sign
Fabrication Equipment/Tools
Waterjet, CNC metal brake, slip rolls, horizontal band saw/iron worker
Installation Equipment/Tools
50-ton crane, 80-ft. 3-ton boom truck
Materials/Components
Steel, aluminum, neon glass, France Transformers, chasing LED light bulbs, LED reader boards
Software
Adobe Photoshop and Illustrator
Other Components/Tools
Animation by Starlight Controls (Marble Falls, TX)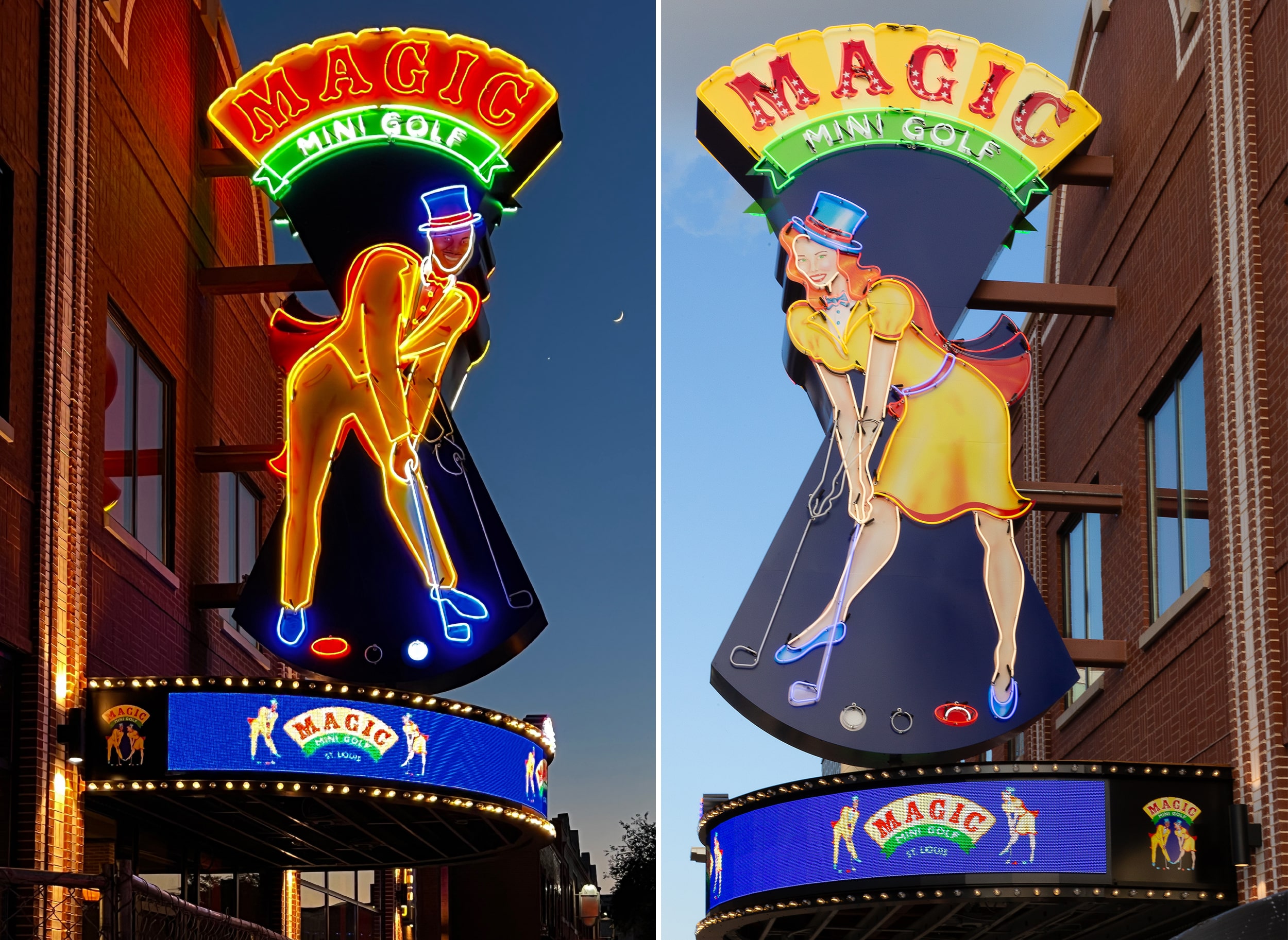 Project Description
Huge 26-ft. animated neon spectacular shows a woman and a man putting a golf ball into a hole. Flashing-neon sequencing shows their arms and putting — club swinging out and back to hit the ball which moves across the sign. Letters and cape light sequentially in this unique hourglass shape that features a custom-curved EMC/semi-circular marquee.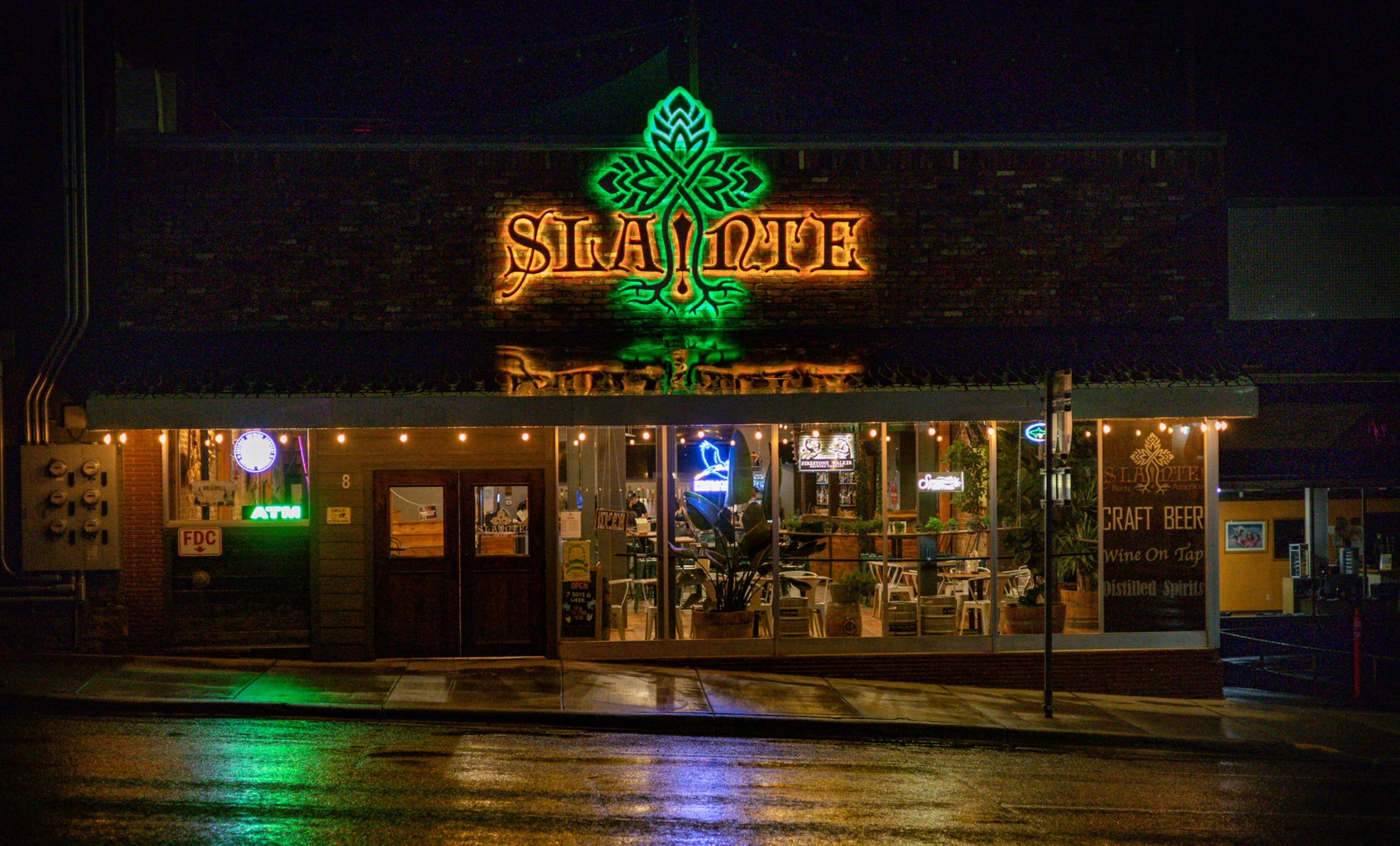 SECOND PLACE
Fabricator
Weitzel Signs
Butte, MT
weitzelsigns@gmail.com
John Weitzel
Designers
Sláinte Butte America Pub (logo design)
John Weitzel (logo adaptation to fit illumination schematics specs)
Installers
John Weitzel, Ryan Hall, Michael Kujawa, Chris Johnson
Nate Watson, Watson IT Solutions, Butte, MT (completed LED component installation on building)
Client
Sláinte Butte America Pub
Michael and Mallory Potts
Project Name
Sláinte Butte America Pub Facade Sign
Selling Price
$11,500
Fabrication Equipment/Tools
3-ft.-wide butcher paper, hand snipes, hand notcher, Miller Manual Foot Stomp Spot Welder (MSW-41), 4-ft. metal brake, various hand tools
Installation Equipment/Tools
Genie Z45 Lift, DeWalt Impact Drill with Mason Bit, DeWalt Impact Drill with Driver Bit, other standard electrical installation tools used for electrical hookup
Materials/Components
Paint Lock sheet metal, cold roll rods, flat bar, Allanson lighting components, recycled Lexan sign face, Wi-Fi controller, wireless receiver and power repeaters, Krylon spray paint, copper leaf, aluminum leaf, 1 Shot Speed Dry UV Clear, mason screws
Software
Ultra-Flex
Other Components/Tools
1960's Optiscope projector was used to create butcher paper patterns from the digital blueprints.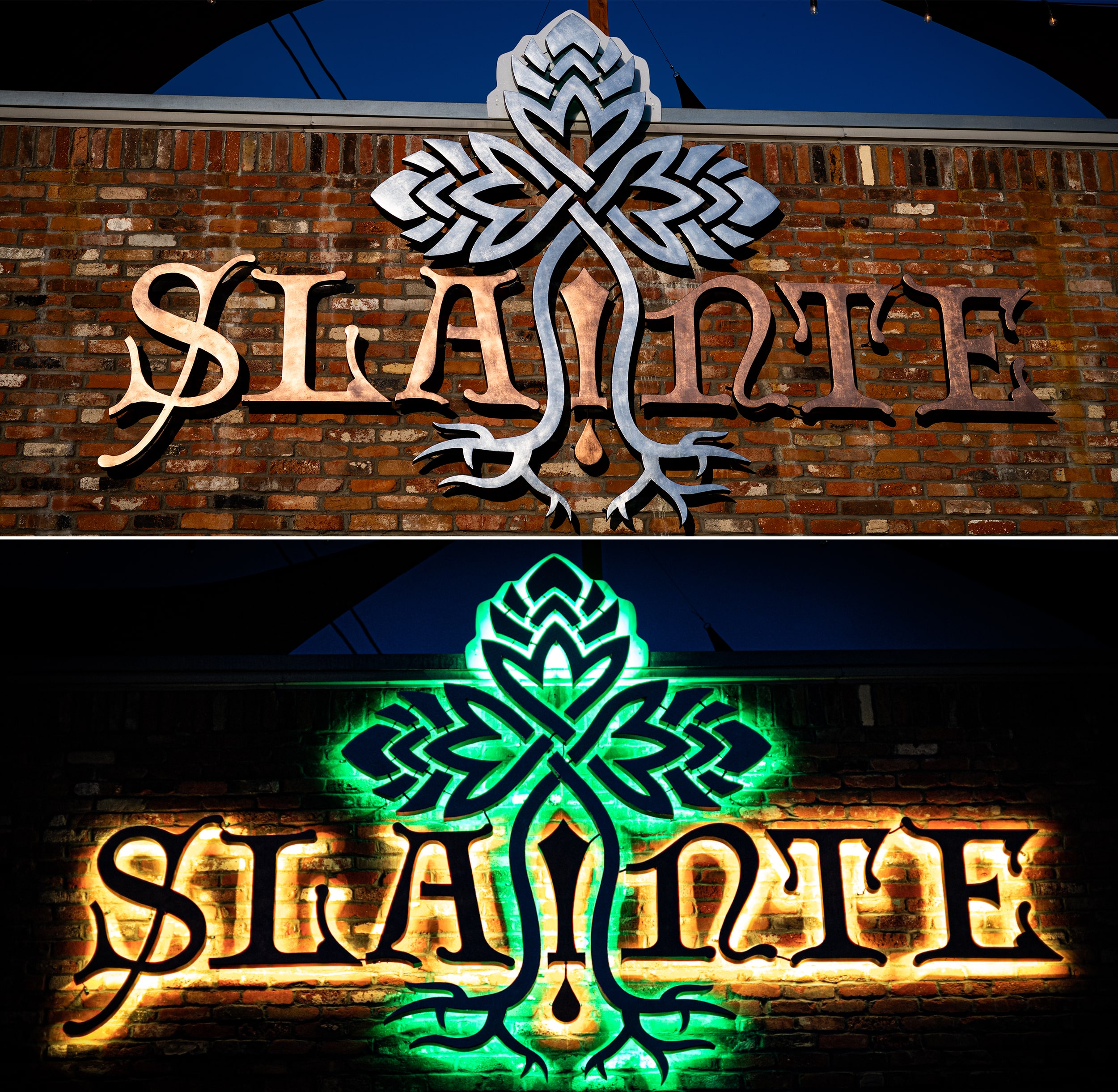 Project Description
Located in the National Park Services Butte-Anaconda National Historic Landmark District, Sláinte Butte America Pub's owners Michael and Mallory Potts requested a handcrafted sign with copper surface — as Butte is a copper mining city — and a lighting effect that would "glow" and reflect off the background. John Weitzel digitally rendered the provided logo — "Sláinte" with a Celtic Tree Knot — and created full-sized letter templates on butcher paper. He cut the letters, 1.5-in. returns and mounting tabs from sheet metal, fabricated the standoffs, and primed and painted the letters and external faces. Self-adhesive lighting strips were applied to the back side of the letters and Celtic Tree Knot. The sign was divided into four zones for lighting purposes, isolated by padded plywood that also stabilized the letters and spacing. Installers removed the plywood after attaching the sign to the brick brewery facade. The LED power supply and electrical components were installed in a waterproof electrical housing box mounted to the back of the facade.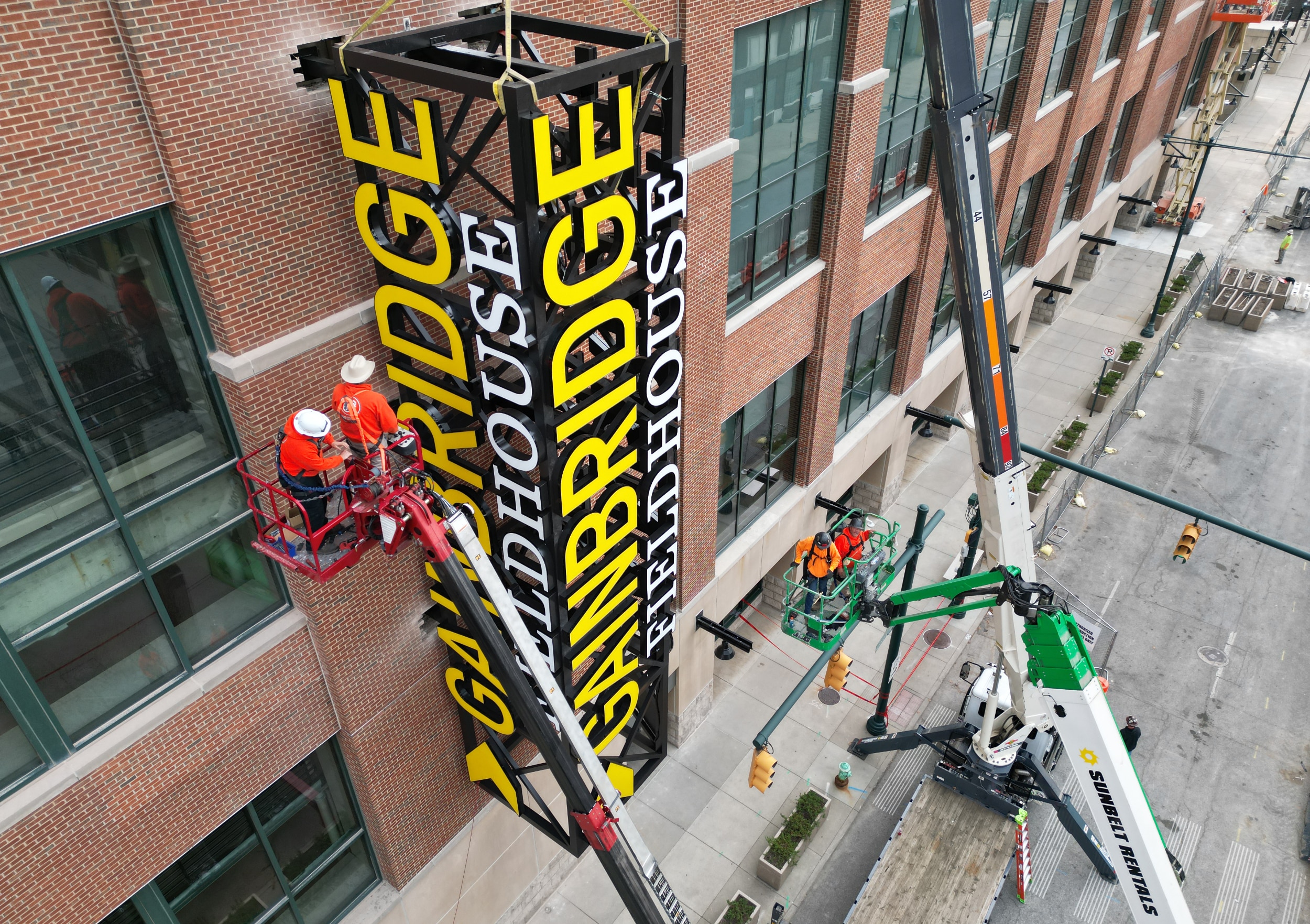 THIRD PLACE
Fabricators
ISF Signs
Indianapolis
isfsigns.com
Steve Jewel, Greg Walden (Waldo), Brandon Ingalls, Corey Kegeris, Ben Morse, Zack Nolder, Keagan Walsh
Designers
RLR Associates
Indianapolis
Jason Hall (ISF Signs)
Installer
Robert Cole, Adam Walsh, Bryan Konija (Dollywood), Cody Coleman, Travis Spears, Hobby Halbleib
Client
Gainbridge Fieldhouse
Project Name
Gainbridge Fieldhouse Blade Sign
Selling Price
$125,000
Fabrication Equipment/Tools
CNC, Waterjet
Installation Equipment/Tools
Crane, Bucket trucks
Materials/Components
336 ft. of 6 x 6-in. aluminum tube, 480 ft. of 3 x 3-in. aluminum tube, 144 ft. of 6 x 3-in. aluminum tube, 64 sheets of .080 aluminum
Software
CorelDRAW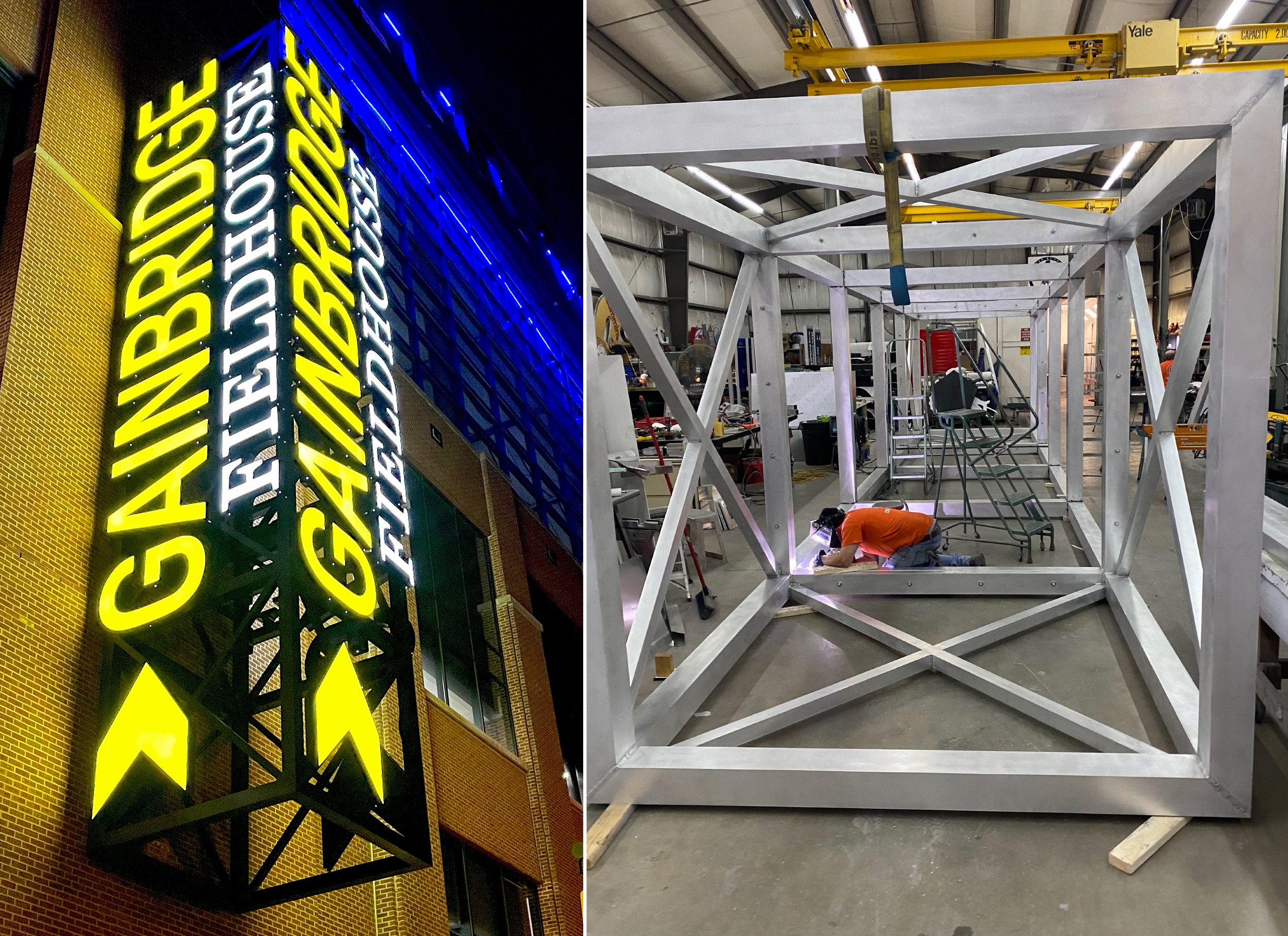 Project Description
Installed on the iconic Gainbridge Fieldhouse — home of the NBA's Indiana Pacers and WNBA's Indiana Fever — this 40-ft.-tall blade sign has become one of Indianapolis' landmarks. A collaboration with Populous (Kansas City, MO), an architectural firm and RLR Associates design firm helps maintain the integrity of the original design while using existing supports.
Click here to go to the next category, Best In-House Design and Fabrication, Non-Illuminated.
PHOTO GALLERY
(13 IMAGES)


📷 Magic Mini Golf | Weitzel Signs | ISF Signs

Advertisement
SPONSORED VIDEO
Find it here! ISA Sign Expo 2023
Whether you're looking to grow your business or advance your career, ISA International Sign Expo® 2023 is the only place to find everything you need to be successful in the sign, graphics, print and visual communications industry.