Better Signs Start with Better Surveys
A little extra effort at the outset goes a long way.
SITE SURVEYS. NO one likes doing them. Clients complain about paying for them. They're tedious to complete. And there are no high fives or feel-good "I made that" pride after completing a well executed site survey.
"I absolutely love doing site surveys"
— No sign person ever
But a bad site survey? Oof, that's going to cost you. A poorly executed site survey will wreck your profit margin on a job and sink the morale of your team faster than you can say, "This sign is not going to fit."
Let's cover some quick tips on how you can improve your site survey process and avoid the headaches of production redos and return trips to a site.
Assemble Your Site Survey Toolkit
It's often overlooked, but one of my best tips is simply to have a separate survey bag or box with all the gear you need. Don't wait until right before you jump in the truck, because you will forget something. And do not ever steal or swipe tools from this bag.
Here are the basics of a good survey kit:
Your smartphone with a decent camera (or separate digital camera)
Notepad on a clipboard with plenty of pens and/or pencils
Nice measuring tape that doesn't buckle or kink up. Bonus points are awarded if you get two of these and tuck one away in a separate pocket of your bag
Quality set of screwdrivers including phillips, flathead, Torx, and square drivers
Utility knife
Roll of blue painter's tape
Measuring wheel
Half-dozen 2-ft. wooden stakes, preferably painted white or a bright fluorescent color
Story pole (typically a 3- or 4-ft. length of wood painted with 1-ft. markings)
Scout the Site Before-Hand
Great site surveys begin before you even start your truck. A little bit of legwork upfront goes a long way.
Spot check the local sign codes
You don't want to propose something that you won't be able to build.
Spend a few minutes researching local zoning codes so you've got a good idea of what's allowed and how large/how high you can build.
Advertisement
Complete a digital survey
Online tools like Google Maps make it super easy to understand your site remotely. This is even more critical the further you have to travel.
Look up your site address in Google Maps using the satellite images.
Use Street View to get an idea of what the site looks and where the sign will go.
Take screenshots of the storefront on Street View and print them to bring on site with you; these will be handy for adding notes and measurements.
Don't forget to bring any extra equipment you need based on your digital survey, like a ladder.
Locate any utilities
There's nothing worse than earning that client sign-off on a really nice proposal and then learning there's a gas or water line running through your footing.
Place an order with your local underground utility location service.
Request that they mark more than just the proposed sign area itself – expand out 25 ft. or more around your original location in case it turns out to be unfit or not ideal.
Leverage Tech in Your Process
I still love the feel of handwriting notes on a yellow legal pad, but to maximize efficiency and collaboration – it's time to upgrade your technology.
Here's what I recommend when the question of tech comes up in our Facebook community for sign shop owners.
Apple iPad Pro (WiFi + cellular)
Yes, they're more expensive than other tablets, but you get what you pay for here. Don't forget the Apple Pencil so you can take handwritten notes.
Advertisement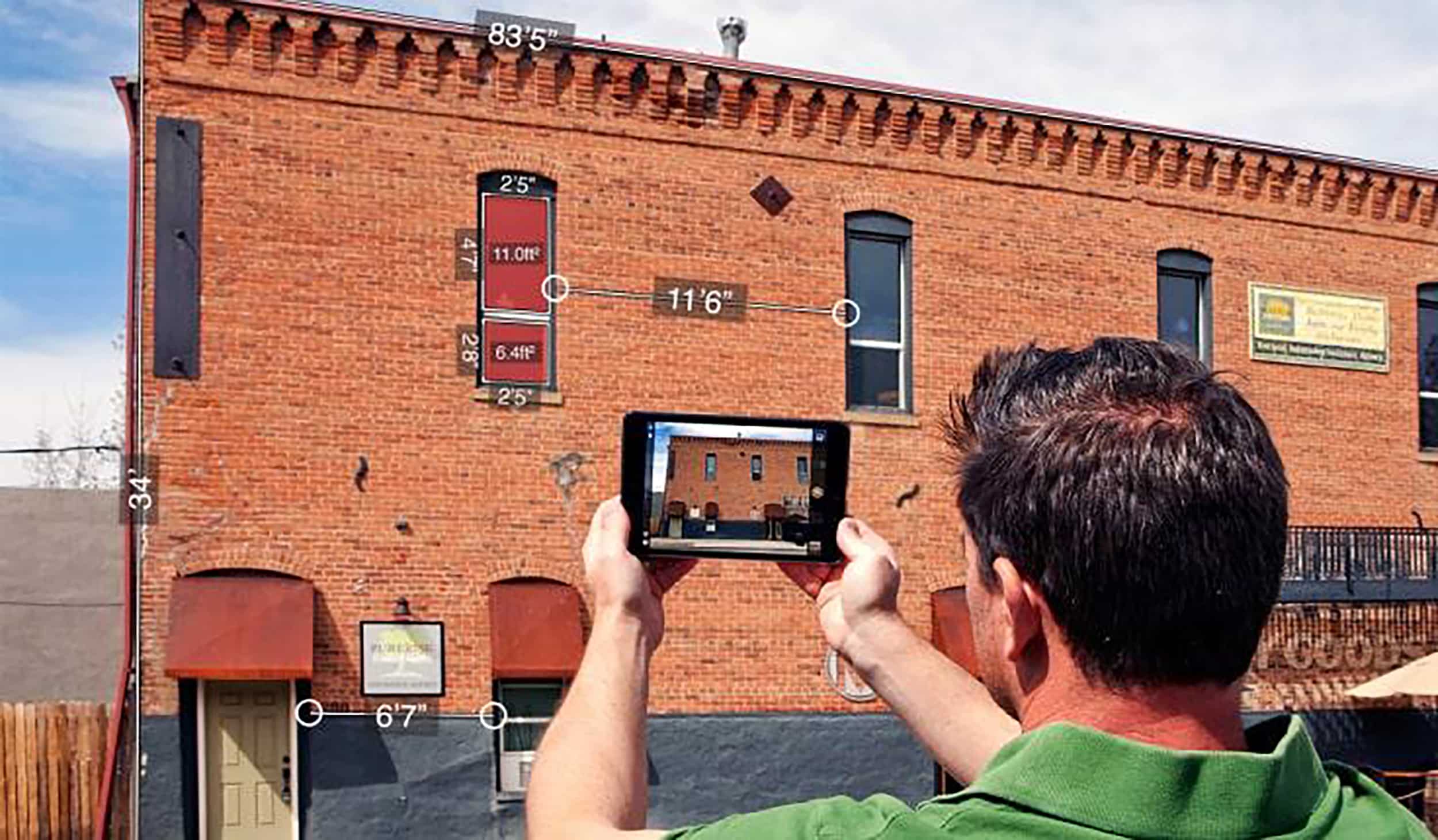 Spike by Ike
Spike is a laser measurement device that works with smartphones and tablets that is perfect for measuring hard-to-reach locations. It allows you to take measurements from photos without having to climb up that ladder or getting into a bucket.
Note taking app
Download and pay for a good note-taking app that allows you to markup your images with measurements, callouts and more. A good app will also make it quick and easy to share with other members of your team.
Here are two solid choices:
Photo organization app
Several photo apps like Company Cam are purpose-built for organizing job site photos. They're usually marketed more towards contractors and those in construction, but they work equally as well for our industry.
Work Your Survey Plan
To avoid forgetting a measurement or other important info, you need a written outline or checklist with all the info you need to gather. This will prevent you from having to double back to the site later.
It could be as simple as a handwritten plan you made before you left the shop.
I'd recommend creating different survey forms for the different types of sign projects you sell.
New wall-mounted signs
New freestanding signs
Sign face replacements
Vinyl wall and window graphics
I've also worked with shops who've had success digitizing their survey forms using tools like JotForm or other form builder tools.
The survey's not done when you jump back in the truck to head home.
It's critical that all the measurements, info and photos you took are organized and shared with your team. Yes, it sucks taking the extra time, but spending 10 minutes on this step now can help prevent two to three hours of lost time later when you move into production and installation.
Take the time to organize everything into a proper job folder on your shop's file server.
Upload your notes and photos in your sign shop management software or project management tool.
In closing, yes, doing site surveys the right way is boring, tedious and not even remotely fun. But it's a critical step in the process. Over the next few weeks, try adding these tips into your site survey workflow. They'll help you to decrease mistakes and gain efficiency for all the steps in your project that follow.
Advertisement
SPONSORED VIDEO
Find it here! ISA Sign Expo 2023
Whether you're looking to grow your business or advance your career, ISA International Sign Expo® 2023 is the only place to find everything you need to be successful in the sign, graphics, print and visual communications industry.