2023 Women in Signs: Sharon Toji
Almost 87, she's a driving force behind the adoption of ADA signage in the US.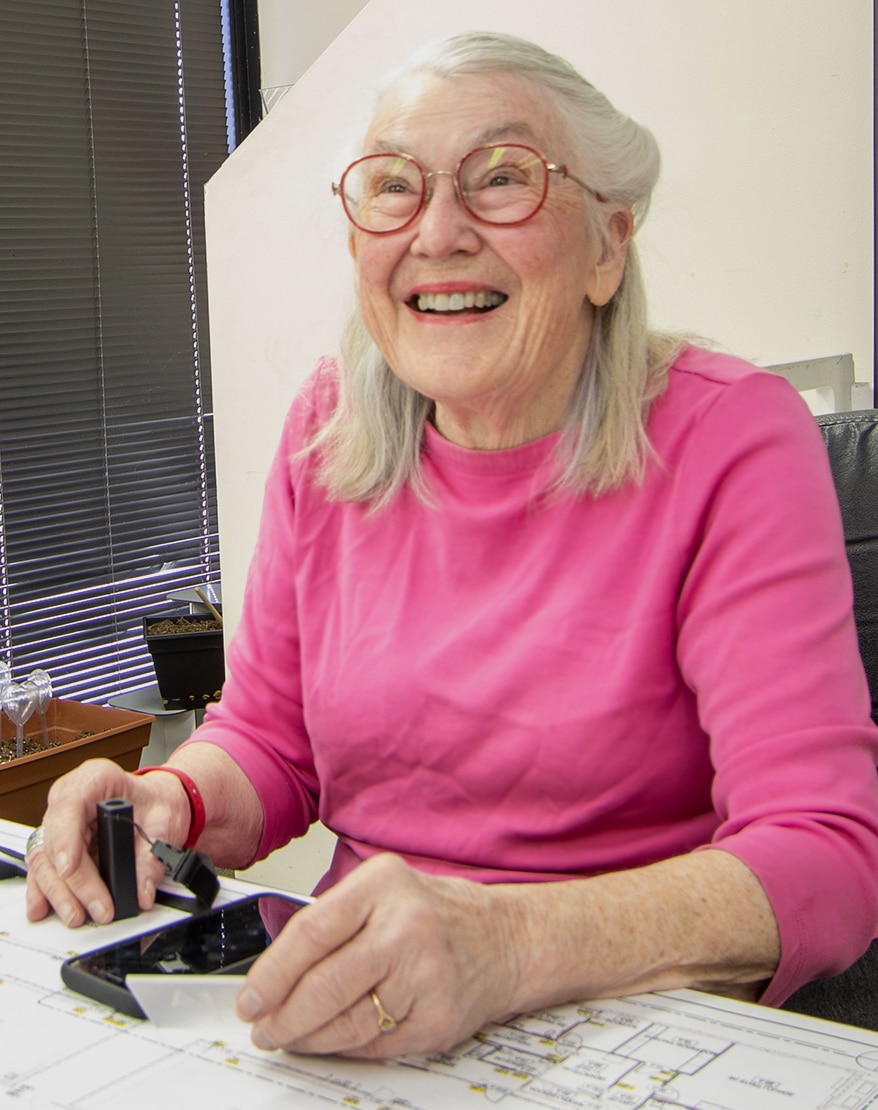 Sharon Toji
Co-Owner
| H Toji and Co. (Lakewood, CA)
RAISED IN A TINY Oregon town, Sharon Toji won a trip to Washington for President Eisenhower's essay contest about work opportunities for disabled veterans. "I was taught in my family that I could do anything I set out to do," Toji says, "and that came from my father as well as my mother." After attending Reed College (Portland, OR) on scholarship, Toji became a US documents librarian at Reed. She then accepted a fellowship at the University of Munich before returning as documents librarian at General Motors Acceptance Corp. (New York).
Toji married her first husband; they had four children from Germany left with them to raise. Their own first child was born with multiple disabilities, including blindness and deafness. "That led me," she says, "to do a lot of research on disability." In 1963 her family returned to Portland. Toji started a literacy program for adults with learning and visual disabilities, and by then, she had six children with a seventh on the way when the family moved to Irvine, CA.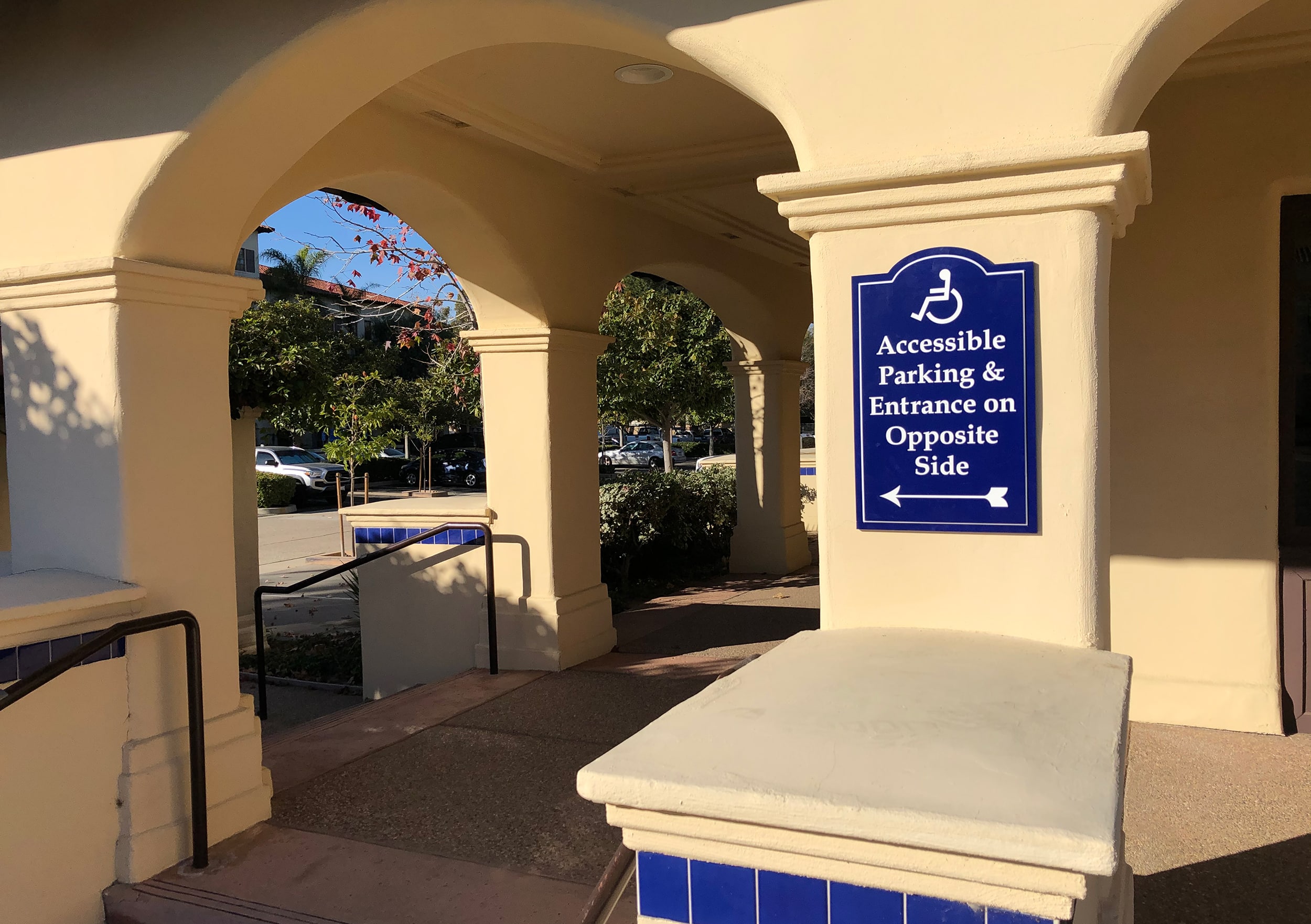 ADA SIGN LADY: Personal reasons started Sharon Toji's interest in ADA signage, and years of study have made her an expert.
"After 10 years of teaching, I was divorced, had founded a cultural center for young people and had a Capezio store," she says. Then Hitoshi Toji came to the center to talk about a sign she wanted and they became friends. They bought a print shop together, married and moved both printing and signs closer to home. She took charge of the design, wayfinding and code requirements, she says. "By 1980 I was fully engaged in the sign business and investigating the new techniques being used to replace hand painting."
When Toji heard about the ADA, she immediately put her documents knowledge to use. "After I wrote an article and sent it, unsolicited, to a sign magazine, my phone rang off the hook," she says. "Sign people were afraid, they were puzzled, they thought their businesses might be destroyed." Toji started attending conventions and was asked to give ADA seminars at trade shows. Eventually, the National Electric Sign Association (NESA, now ISA) wanted to join the American National Standards Association Committee. NESA asked Toji to be their Washington representative; she's been an ANSI delegate since.
Advertisement
As a woman in the sign industry, "My biggest difficulty has been convincing the workers in our shop that they actually need to take direction from me," she says. "They'll turn to my step-son rather than to me." Toji also "never learned to think that money was all that important" and sometimes upsets her "team of equals" because she won't make signs that aren't usable and accessible. "I have turned down work, even when we could have used the income," she says. "But everyone knows that we understand both the letter and the spirit of the ADA standards."
Toji is very proud of her company's work. Next year, she hopes to honor husband Tosh (who will be 95) with a 70th anniversary party for H Toji and Co. "We have designed and made some really beautiful signs … that people can read both visually and by touch," she says. The company has just completed a new font, ADA/InvisiTouch, to make readable tactile signs in a new way. Almost 87, Toji has no intention of slowing down. "I'm very proud to see that ADA signs, which frankly, many sign people laughed at and told me wouldn't even be around in a few years, are now a major part of the US signage industry."
PHOTO GALLERY
(7 IMAGES)
Advertisement
SPONSORED VIDEO
Find it here! ISA Sign Expo 2023
Whether you're looking to grow your business or advance your career, ISA International Sign Expo® 2023 is the only place to find everything you need to be successful in the sign, graphics, print and visual communications industry.