Changing the Channel
Three channel letter projects prove the medium is a great fit for any size project.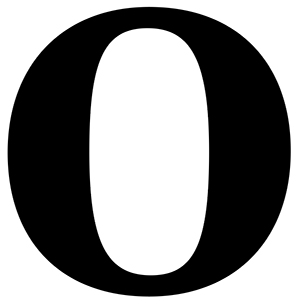 nce you can recognize channel letters, you soon realize they are one of the most common three-dimensional graphic sign elements used for exterior signage. You find them everywhere — from public storefronts to modern church facades and from industrial complexes to government buildings — and for good reason: They are affordable, easy to read, great for brand recognition, designer friendly, fit with a variety of lighting options and can be mounted in multiple ways.
Another reason channel letters are ubiquitous? They last a long, long time. "When the proper materials and techniques are utilized within the letter production, we often see these signs lasting through generations," co-owner and operator Matt Baker of Bakers' Signs and Manufacturing (Conroe, TX), said. "They do require routine maintenance on a five- to seven-year cycle, but are durable and long-lasting in terms of an overall investment within a branding campaign."
LET'S HEAR IT FOR THE HAWKS
The University of Houston-Clear Lake (Houston) needed a new sign to show off their Hawks pride, so they contacted Bakers' Signs and Manufacturing (Conroe, TX), with no direction other than knowing they wanted a more modern look. "The client only had an image of their existing signage and we wanted to update it to their new branding," Bakers' Signs Designer Sofia Fanzo said.
Working off their existing sign and the client's branding guidelines, Fanzo created three design concepts of non-lit letters and the client loved all three, Production Manager Beth Ludden said. Then, co-owner and operator Matt Baker suggested the letters be illuminated, another idea that lit the client's imagination a lot brighter.
Fanzo explained that the Hawks lettering decided upon was geometric and not script — already a bonus in the world of channel-letter making. On the flipside, however, the size and serifs of the letters did pose a slight fabrication challenge. To make sure they could get the look they wanted, they designed everything in CorelDRAW and made a sample letter to work out some of the fabrication details before proceeding to complete both sets.
The letters were crafted from .063-in. aluminum on the sides, .125-in. aluminum for the backs, and ¼-in. plating and 1 x 1-in. tubing for additional structural support. They also used ¾-in. acrylic with a digital print overlay from 3M vinyl, Matthews Paint and Principal LED modules.
Most of the fabrication of the 5-ft.-tall Hawks letters had to be done by hand since each letter had individual challenges due to its shape. Fanzo said she worked exclusively in CorelDRAW for this project because it's great for production and she can send EPS files straight to the router operator to use in SAi EnRoute with very little error or issues.
From there, fabricator Manuel Serrano worked to cut all the faces, baffles and backs using Bakers' C.R. Onsrud CNC machine. Then, Serrano and the rest of the fabrication team used a shear to cut most of the supplemental pieces and their hands to form the letters. All the 3M digital prints were printed and applied by Print Lead Julian Miranda and everything was then painted using Matthews Paint.
Finally, once the letters were installed to the aluminum base, Bakers' install team made adjustments to the alignment using shims to ensure all the letters lined up correctly. They then painted the shims the color of the base.
While University of Houston-Clear Lake maintenance staff can expect to clean the letters once or twice a year, Baker suggested having a qualified sign technician inspect all channel letter signs annually. "[An inspection] can save money in the long run by ensuring the letters are cleaned, functioning properly and free of any underlying issue that could cause damage to the sign. Things like a wiring issue or wildlife making homes in or on a channel letter can create major issues that can be avoided if caught early," Baker said.
SHOW US THOSE PEARLY LIGHTS
Elmhurst Family Dental (Elmhurst, IL) was ready for a rebrand of their exterior and interior signage. So, they did what a lot of shops do nowadays: hit up Google. Luckily for Signs House (Chicago), they were on the other end of that internet search.
After the dental office representative filled out the contact form on their site, Signs House Account Manager Mohammad Saleh said they got to work, guiding the client toward the perfect signage for the space that would fit Elmhurst's requirements of affordability, visibility and design flexibility: channel letters.
Once the type of sign was decided, Signs House created a new design that Elmhurt's Dr. Louis Pahopos and his employees loved. From there, they mocked up three different designs from which the customer could choose using CorelDRAW and rendering with Cinema 4D software.
"We offered them [the] renderings and they approved it right away," Saleh said. "[Dr. Pahopos] appreciated that we are professionals. He trusted us in our suggestions and let us choose the right one." Signs House then exported the files in a DXF format from CorelDRAW into SAi EnRoute for production.
For the exterior sign materials, Signs House chose .065-in. aluminum for the letter backing and .04-in. aluminum for the returns. They then incorporated 3/16-in. acrylic faces with jewel trim and HanleyLED lighting. The company shaped and cut the letters using their in-house Accu-Bend channel letter bender from Computerized Cutters along with their MultiCam CNC router.
The Signs House team also added a backing support for the logo to keep the look symmetrical, as it extends outside of the raceway that holds the letters and logo together, Saleh said.
In addition to the channel letter exterior sign, Signs House made the dental office a lobby sign and is building a monument sign to draw in street traffic as well, Saleh said.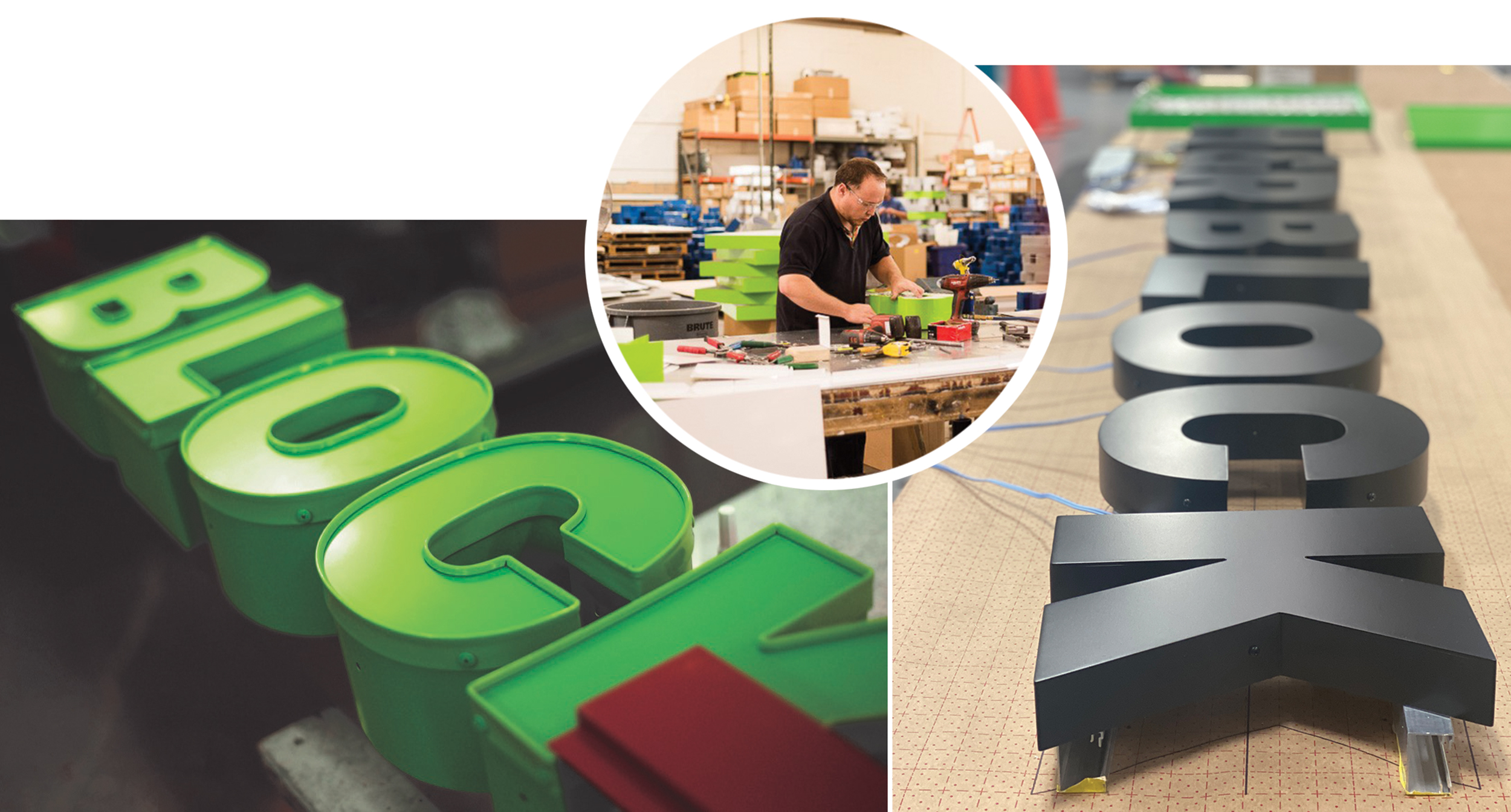 BLOCKED AND LOADED
Fourteen years and 7,000 locations: That's a lot of years and an incredible number of sites at which South Water Signs (SWS; Elmhurst, IL) has provided signage to H&R Block. They are a full-service signmaker's dream client as channel letters are the primary sign type that the tax preparation giant uses, Noah Pettit, vice president of sales at South Water Signs, explained.
The main reason SWS and H&R Block make such a great team is because the signshop is equipped to churn out major quantities of letters every day. "We can produce up to 40 channel-letter sets per day, which is important for many customers during a large rebranding project," Pettit said. "Our equipment and team fabricating these letters are top-notch … We are a UL-certified plant and have additional certifications to ensure all our products meet environmental standards." SWS can also build channel letters with or without trim cap to give customers flexibility should they be opting for a more modern look, he added.
And, although channel letters can be difficult to fabricate and read depending on the size and font of the letters requested, Pettit said the H&R Block logo is a perfect fit for this type of sign because of its familiar sans-serif block-style font.
To help avoid difficulties in signmaking and fabrication, Pettit says SWS provides a complementary service to all their clients called a "sign family" that outlines every detail associated with all sign types they may want or need. SWS also creates control samples which are used during their quality-control process. Both of these elements help to ensure consistency of their clients' brands.
Although SWS is not at liberty to disclose the materials they use to create the H&R Block signs, Pettit did reveal that, after converting the design files to production files, they rely heavily on their six SDS Automation ChannelBenders as well as their Computerized Cutters Accu-Bend and Accu-Clinch machines for bending about 95% of their channel letters.
With as many letters as they churn out a day, Pettit says the shop has to make sure they have enough people taking care of the trim cap lined up to ensure no bottlenecks, as this is the most 'taxing' part of the channel letter-making process.
So You Want to Enter the Channel Letter Market?


Experts Offer Their Top Tips:

With channel lettering all around you, are you starting to feel as though you should take the hint and hop into the market yourself? Great idea! But… before you jump too quickly, read on for tips to enter the market from a few sign experts.
Mohammad Saleh




Signs House


To enter the channel-letter market, ideally you should hire professional fabricators and buy the equipment, though you can start out by hand with minimal equipment.Once you start getting more customers, you can invest in a return bender machine and a CNC router to expedite the process.

Noah Pettit




South Water Signs


I would recommend reaching out to local retailers and independent restaurants opening new sites in your area, as they are always in need of channel letters.You'll realize quickly when it's time to buy a channel bender machine because your volume will be exceeding your manpower of bending by hand.

Keep in mind, if you cannot increase your trim-cap capacity, increasing your production with an expensive channel bender will not help you get any more product out the door. Ideally you can move your benders to the trim-cap department after purchasing your machine to avoid the common bottleneck in the trim-cap lineup.

Matt Baker and Thomas Turner




Bakers' Signs and Manufacturing


Having the right electrical certification is necessary to provide this type of sign and the related cost is well worth it to any signshop.The right experience and training in fabricating channel letters are crucial to providing quality products and service to your customers.

If you are going to provide any product or service, you must ensure it is of quality. Sign companies that cannot provide quality products and service will not last long in this industry.

Once you obtain the right licensing, certifications and experience to provide channel letters to your customers, you will likely see growth in that aspect of your business.

Channel letter benders can offer increased ease and efficiency in production. Our company made letters by hand for years before acquiring a channel letter bender. You can do fine and be profitable without one. However, considering the cost of a quality bender and the hours saved over the course of several years will reveal whether it is worth the investment to purchase one.

Know your client base and their needs: Start small and old-school, do what you can by hand and build on. As your experience and the demand of that product from your shop increase, continue to invest.

When you're ready to buy a channel letter bender, get involved within your state or regional sign associations, as well as the International Sign Association (ISA), vet the suppliers and vendors to find out what is the best fit for your operation and go from there.
PHOTO GALLERY
(46 IMAGES)
SPONSORED VIDEO
Find it here! ISA Sign Expo 2023
Whether you're looking to grow your business or advance your career, ISA International Sign Expo® 2023 is the only place to find everything you need to be successful in the sign, graphics, print and visual communications industry.