Channel Letters Are in Demand – These 3 Sign Projects Show Why
Today's channel letters prove that imagination is their only limit.
CHOICES ABOUND FROM sleek, streamlined and sophisticated lettering to bold, colorful logo-inspired designs. Here, three sign companies share their strategies and techniques for creating today's channel letter signs.
DESIGNS YOU CAN DANCE TO
SHOP: ASL Signs
LOCATION: Myrtle Beach, SC
URL: aslservicesmb.com
ASL Signs, a family-owned company launched by owner and founder Anthony Leggio, specializes in creating high-end custom signage for hotels, resorts, restaurants and attractions in Myrtle Beach, SC — and beyond. "The market for outside-the-box signage here is strong, since everybody wants to have the biggest and brightest signs to attract visitors — almost like a mini Las Vegas," says Joshua Thomas, who joined ASL Signs 10 years ago as vice president and chief technology officer.
While the bustling South Carolina beach town remains a key market sector, ASL Signs has also branched out to design and manufacture signs for locations across the country. Among their clients' top sign requests: channel letter signage, thanks to its diverse design applications and wide-ranging color and illumination possibilities.
Demand for channel letter signs is so high, in fact, that ASL Signs recently purchased a new, updated Accu-Bend Model 26 channel letter bending machine from Computerized Cutters Inc. to supplement the older Model 26 bender they've been using for the past decade to notch, flange and bend aluminum channel letters.
"We've specced out the new machine a little differently to include a 'small arm' — a bending arm that is roughly half the size of the standard model — as well as a scoring arm," Thomas says. These adjustments, he feels, will make it easier to produce clean, tight bends — and therefore better overall assembly — on channel letters sized 10 in. and smaller. The company plans to continue to use their original, standard model machine for larger-size channel letter projects.
"Whether you're doing a welded assembly or you're doing self-piercing rivets or clench or staples, the biggest problem with making a small channel letter is actually getting the tooling inside. So, if you have a 5-in.-tall letter that's 5 in. deep, that poses a lot of issues with fastening, getting lighting in and sealing it so you don't have leaks. This new machine will open up a bunch of doors and make things easier on our assembly team," Thomas says.
ASL Signs' 20-person team creates all their signs on site, using their Computerized Cutters Accu-Cut KR and Accu-Cut XP router tables, the latter of which has a tool changer to enable automated changing of bits. To fasten their channel letter returns, the company uses either their new Computerized Cutters Accu-Clinch SPR (self-pinching rivet) fastening machine or their Norlok Technology Inc. Letterlok 4000 with SPR tooling option.
Thomas's team generally uses 3mm aluminum composite backings with internal LED lighting — including faux neon, which has been popular with customers.
ASL Signs embraced this technique in creating eye-catching exterior signage for Tin Roof locations in Kansas City and Indianapolis, for example. Their Tin Roof signs incorporate red marquee-style channel letters in an open-faced design that offers a neon-look without the disadvantages of actual neon.
"We've developed a process to do open-faced, neon-looking channel letters that are actually LED. They're bright. You don't have to worry about glass breaking, big transformers or the consumption of a lot of energy," Thomas says. "Even customers who want a very vintage look can get it using LED lights — rather than neon — with this process."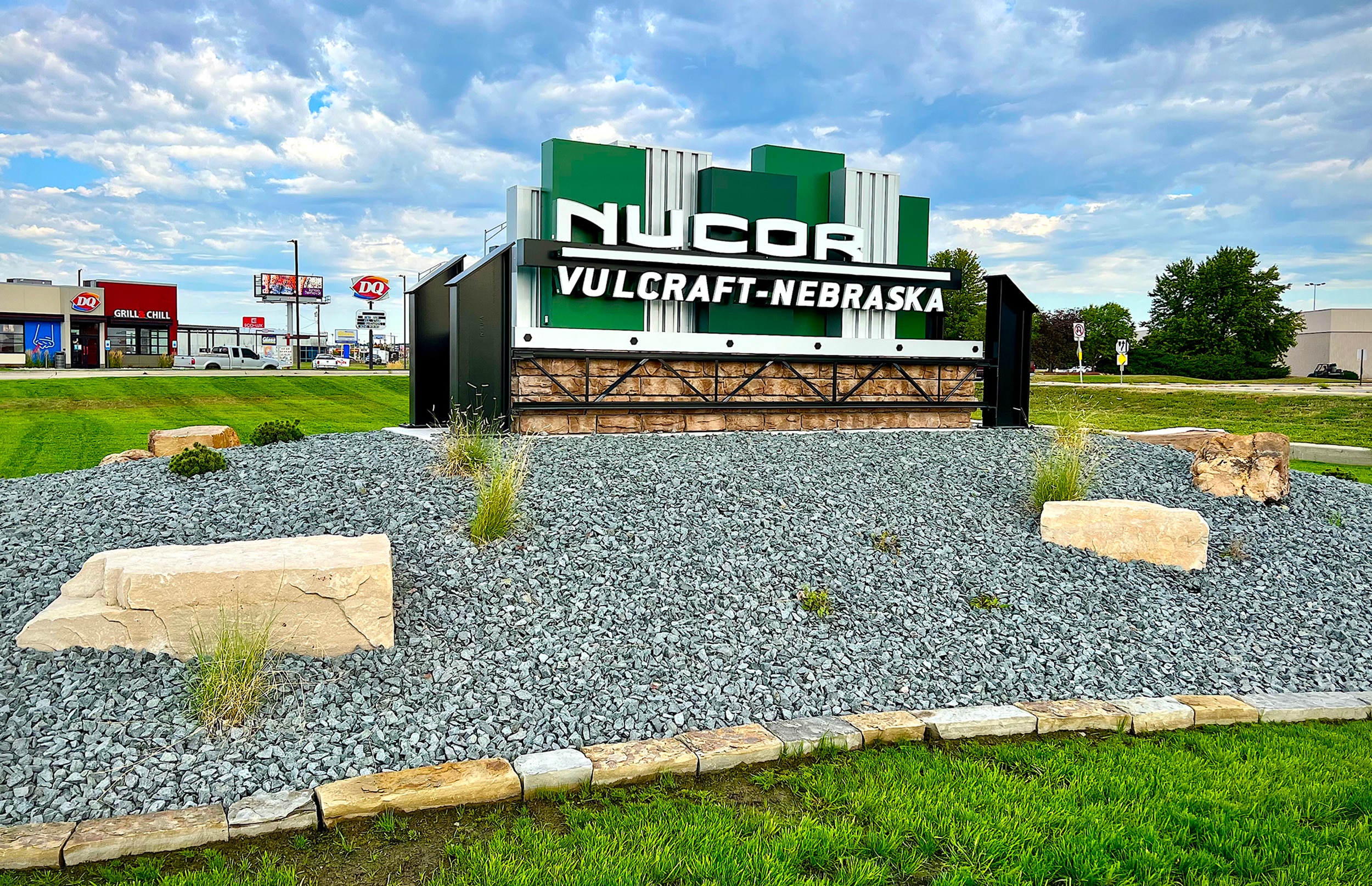 TRUSTED PARTNERSHIP
SHOP: Love Signs
LOCATION: Norfolk, Grand Island and Lincoln, NE
URL: lovesignco.com
Family-owned Love Signs started in 1920 as a traditional handpainted sign business but has evolved into a full-service sign company with three locations in Nebraska, now being led by third- and fourth-generation family members.
The company creates both exterior and interior signage for schools, hospitals, churches and a wide variety of commercial and retail clients, says General Manager Jake Wesch, who is married to Brittany Love-Wesch, a fourth-generation Love family member and sales executive for the company. "We pride ourselves on being a turnkey solution for not just building letters but everything a client needs for their branding as well, from billboards and vehicle wraps to wall wraps and more," Wesch says.
Channel letters have long been a large component of Love Signs' overall project load — so much so that the company has developed a manufacturing partnership with ESCO Wholesale Sign Manufacturing based in Watertown, SD, to create many of their channel letters.
While Love Signs does still manufacture some channel letter projects in house, their ability to outsource select projects to Esco allows them to "have controlled cost," Wesch says. It also allows them to streamline their manufacturing processes and reduces the amount of in-house space they must allocate for equipment and raw material storage, he adds.
Still, with Love Signs' own reputation on the line, they wouldn't outsource to just anyone. "We've worked with Esco for so long, they've become like an extension of us," Wesch says. "We trust them to deliver a high-quality product, and we keep an open line of communication — we talk with them every day."
The dedicated communication and team approach allows both shops to coordinate production timelines and schedules — as they did for the recent sign project for the Vulcraft division of Nucor, a large steel manufacturer located in Norfolk, NE.
For this project, Wesch's team purchased fabricated channel letters from Esco, which they affixed to a pylon backing and cabinet base that Love Signs' fabrication staff created in house. The metal framework surrounding the base was also constructed in house using Nucor steel materials.
For those channel letter signs they produce themselves, Love Signs adopts a "more traditional" fabrication approach — using means other than a dedicated bending machine, Wesch says. And, when it comes to trends in channel letter designs, Love Signs is seeing a rising demand for signs with backlit or halo-lit effects. Channel letter signs that showcase differently at daytime and nighttime are also in high demand.
"Day-night vinyl — where the vinyl on the channel letter face is colored to show up during the daytime but also perforated so that at night the LED shines through as white light — has been another popular option," Wesch says. "It's a great contrast between daytime and nighttime looks."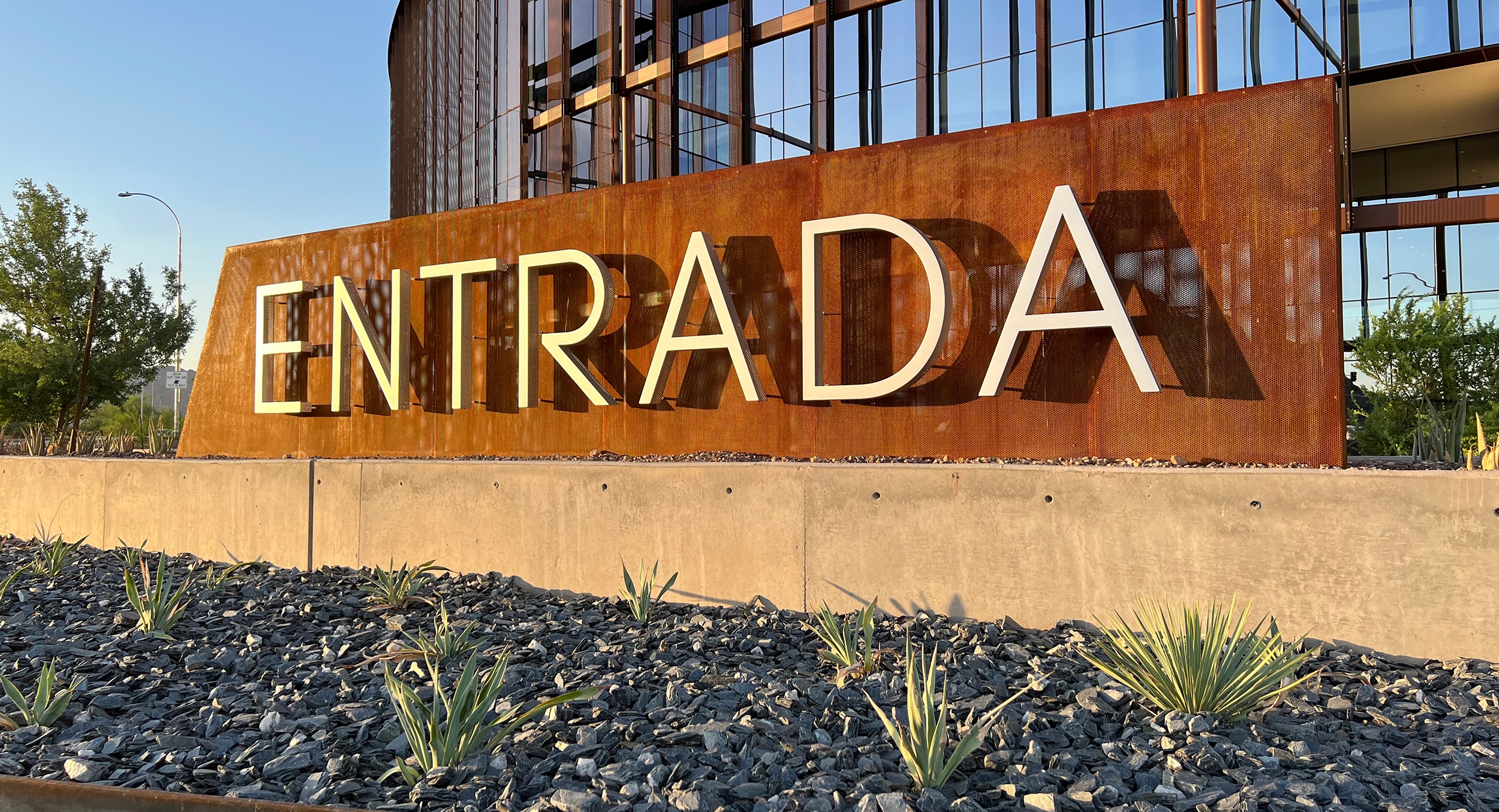 LIGHT INTERPLAY
SHOP: Associated Sign Co.
LOCATION: Phoenix
URL: associatedsign.com
Founded by CEO Mike Shano in 1985, Associated Sign Co. is now run by Mike and his wife, company President Judy Shano, as well as their sons, Jason and Corey Shano, who both serve as vice presidents.
The full-service sign company — which employs around 35 staff members — designs and manufactures its projects entirely in house and also offers installation services, allowing it to be a "one-stop shop" for their customers, says Corey Shano.
Channel letters have always been a large subset of the signshop's workload, comprising around a third of their projects. While some clients prefer to stick to more simple designs — think white faces and black returns — Associated Sign is frequently receiving requests for more unconventional channel letter styles.
Case in point: the 23-ft.-long exterior marquee sign Shano's team created recently for Entrada, a new, mixed-use campus in Scottsdale, AZ, that includes office buildings, multifamily housing and retail outlets.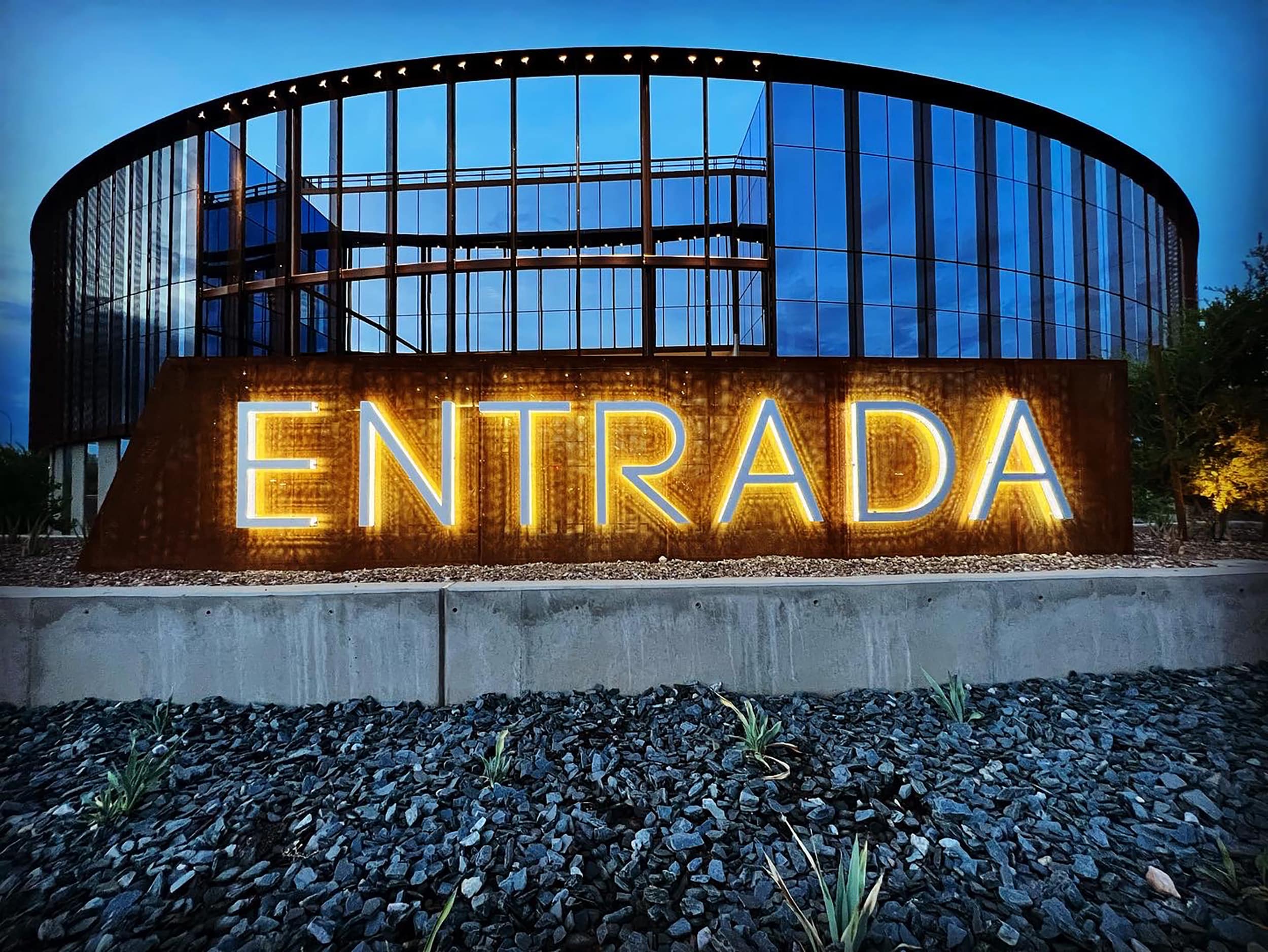 Halo Infinite
Associated Sign produced this reverse pan channel letter sign with perforations in the returns to increase the halo-lighting effect.
The sign features halo-illuminated aluminum reverse pan channel letters with perforated returns mounted onto a fabricated, perforated COR-TEN steel cabinet with waterjet-cut graphics. The letters and returns are both created from ⅛-in. aluminum, and the Cor-Ten steel was weathered using a rust activator.
To create the unique look, Associated Sign used an SDS Super ChannelBender, along with a MultiCam CNC router, a Gerber CNC router and a TECHNI waterjet. "The channel bender has shed so much labor time — which was our greatest expense," Shano says. "Before we got it six or seven years ago, we used to hand bend the letters, which was time consuming. That machine has been a great investment for us."
The Entrada developer particularly appreciated the clever usage of perforated returns to craft an impressive design. "It's a great option when the sides of the signs are visible," Shano says. The unique combination of light pouring from the perforated returns interplaying with the perforations on the Cor-Ten steel created a specialized halo effect that Shano describes as an "alien-like pattern of light that was a 'happy mistake.'"
"We had never done this perforated-on-perforated combo before," he says. "When we saw it at night we were so thrilled by how cool it looks."
PHOTO GALLERY
(11 IMAGES)


📷: ASL Sign Services | Associated Sign Co. | Love Signs