Very Few Sign Companies Promote Their Sustainable Practices
The reasons for that vary, as our Brain Squad explains.
QUESTION:
Do you promote your sign company's sustainable practices to customers?
Yes:
17%
We let customers know that we recycle a large percentage of our waste and that we use materials with recycled content because it is part of how we run our business and it is important to many of our customers. —

Vince Cvijanovic, Graphic Components, Greensboro, NC

It sometimes can save them dollars. Sustainable practices are also part of our company culture. —

Steven Carpenter, Archetype, Minneapolis

Use in sales pitches. — Kelly Hanaway, Milwaukee Sign Co., Sussex, WI
No:
83%
Not an issue with my customers. —

Bill Ryan, Ryan-Markland Signs Inc., Inverness, FL

Vinyl is not a sustainable product. —

Raychel O'Donoghue, Lexington Signs & Graphics, Burlington, MA

Hard to quantify and prove. —

Greg Abbott, Abbott Image Solutions, Wilmington, OH

It's never a topic anyone has brought up. — Geoff Orlick, Quality Designs Ltd., Campbell River, BC, Canada

We don't do enough to make it worth promoting. —

Michael Johnson, Henry Graphics Inc., Buford, GA

We don't make any serious efforts and don't want to pretend that we do by greenwashing. —

David Gonzalez, Skymark Signs, Toronto

Unfortunately, we haven't fully implemented sustainability throughout the business, but we plan to keep trying. —

Jamie Potvin, Metro Sign & Awning, Tewksbury, MA
Advertisement
QUESTION:
Which, if any, of the following sustainable efforts does your sign company practice?
Reducing landfill waste through recycling, composting or compacting
53%
Reusing old materials in construction
51%
Reusing old materials in other ways (e.g., boxes for packaging)
76%
Recycling scrap from shop and other items (cans, bottles, paper)
59%
Recycling materials from old signs from the field
62%
Saving electricity on lighting (LEDs, natural light)
73%
Saving electricity in other ways (e.g., using laptops vs. desktops)
30%
Other (heating/cooling shop project areas only, using latex water-based inks and paints)
15%
QUESTION:
Which of the following best describes your feeling toward sustainability?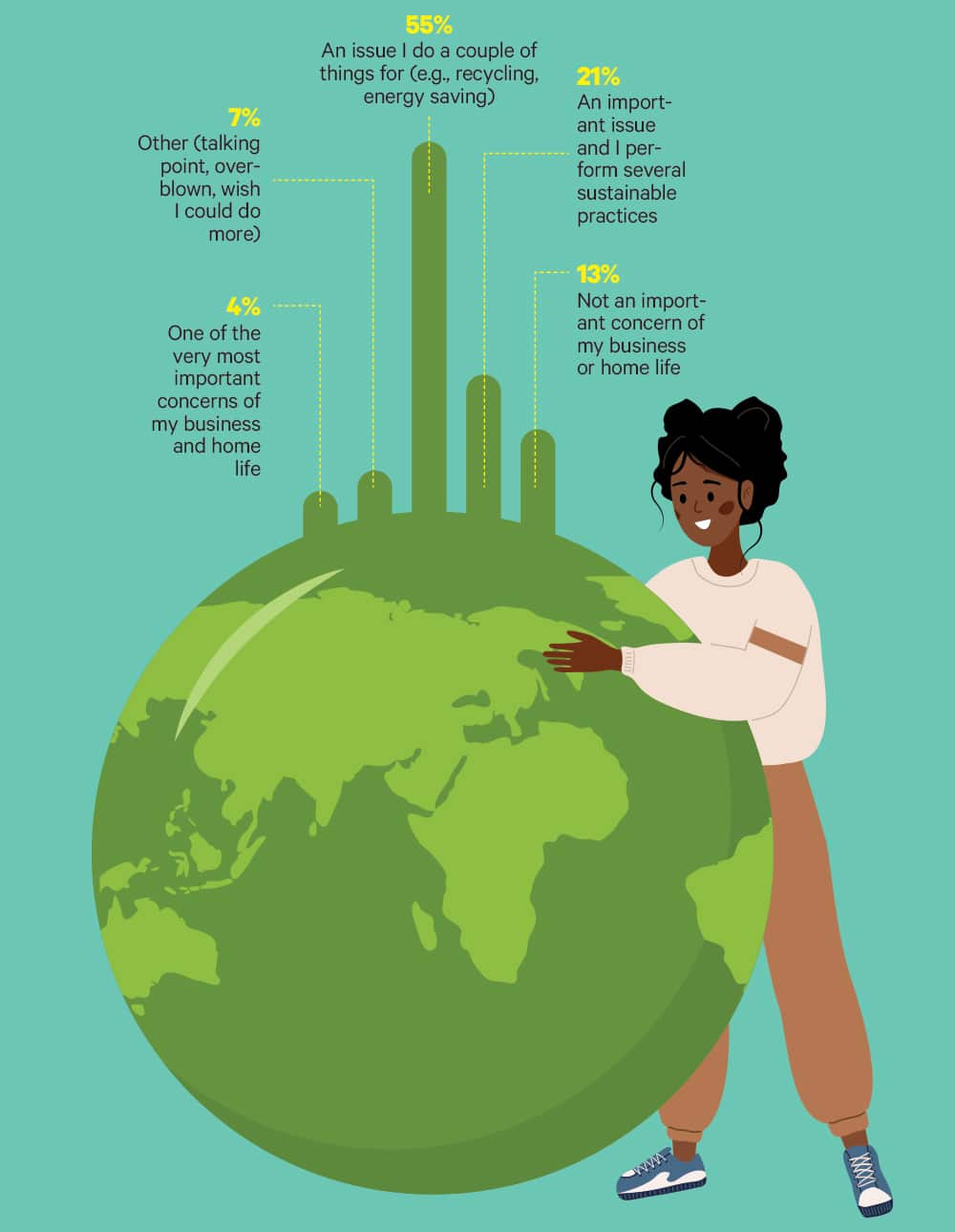 What's the Brain Squad?
If you're the owner or top manager of a signage and graphics company in the US or Canada, you're invited to join the Signs of the Times Brain Squad. By taking one five-minute survey each month, you will receive access to some of the industry's freshest data on sales — including your fellow members' comments on what's selling and what isn't — and can make your voice heard on key issues affecting the sign industry. Sound good? Sign up here.
Advertisement
SPONSORED VIDEO
Find it here! ISA Sign Expo 2023
Whether you're looking to grow your business or advance your career, ISA International Sign Expo® 2023 is the only place to find everything you need to be successful in the sign, graphics, print and visual communications industry.