BLADE SIGNS PROVIDE one of the best ways for businesses to be seen by street and pedestrian traffic. "We like blade signs as a way of capturing views from sidewalk traffic; sadly, many towns have strict regulations regarding size, which limits their effectiveness," said John Miller, owner of Signs by Autografix (Branford, CT). Some locales also restrict the shape and materials. Nevertheless, whether given free reign or a tight spec list, all it takes is a little ingenuity to craft them effectively.
SHINE ON
Fact: A fun, creative design firm needs an equally fun and creative sign. Who better up to the task of creating an eye-catching, dazzling, black, yellow and white neon sign than Right Way Signs of Chicago? Designed by and for Lincoln Design Co. (Vancouver, WA), Right Way fabricated the sign in-house using their ShopBot CNC alongside some good old-fashioned welding and neon bending by hand, according to CEO Alex Perry. The shop used sheet metal from Eastern Metal Supply, neon from France Lighting Solutions and other supplies and materials from Midwest Sign Supply (Chicago) and Wensco (Addison, IL).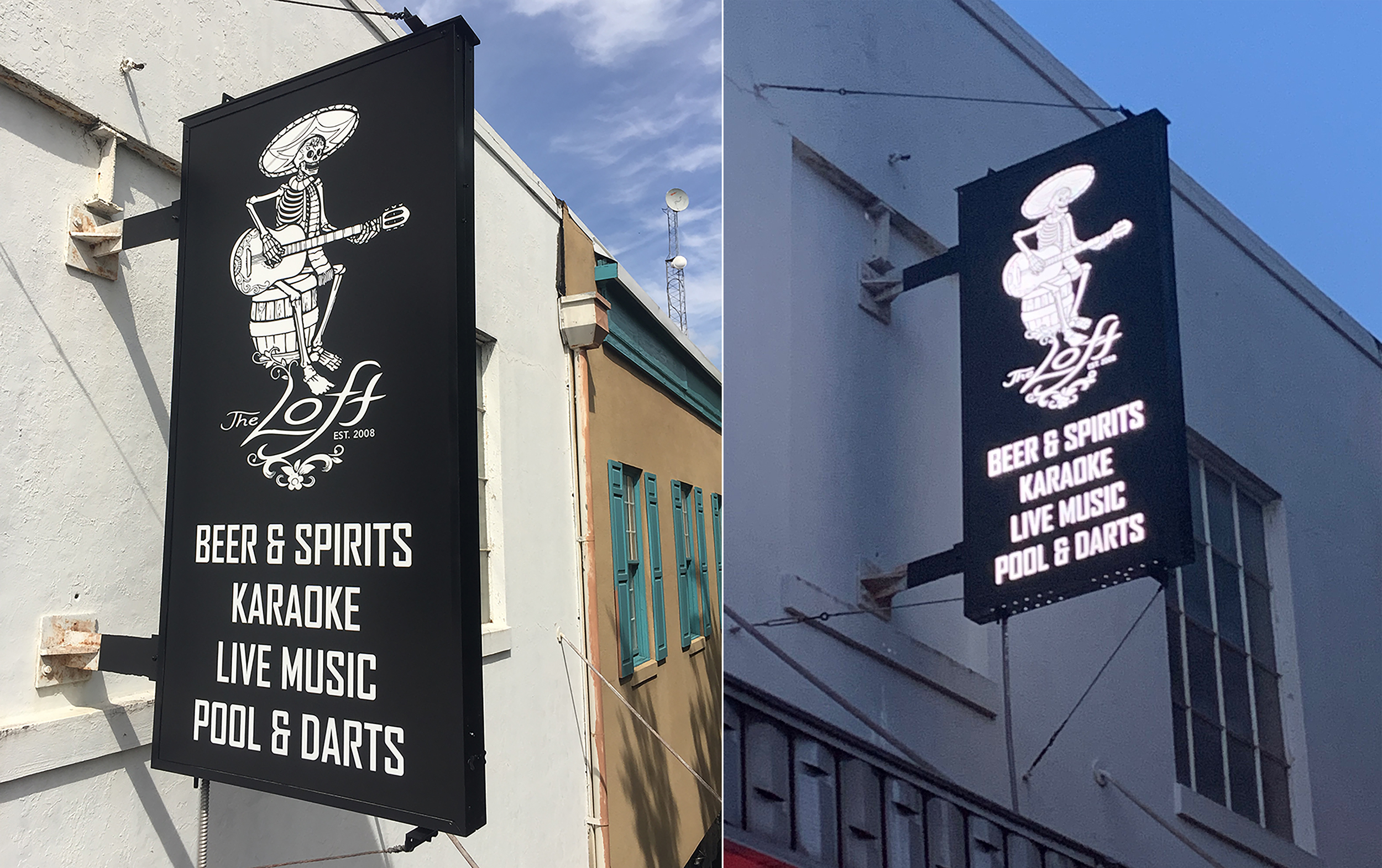 LONG TIME CUSTOMER, FIRST TIME SIGNMAKER
Although Fastsigns of Augusta owner Melvin La Pan says he'll never recoup the money he's spent over the years as a customer at The Loft bar in Augusta, GA, by making signs for his friend/the bar's owner, that didn't stop him from trying. La Pan said his shop fabricated new faces, removed the fluorescents that were inside the cabinet, installed an LED retrofit and repainted the blade sign. Fastsigns used HanleyLED Stellar Edge Series S-1270 and ⅛-in. white acrylic with die-cut 3M 3630 Scotchcal Translucent black vinyl for the faces, cut with their 20-year-old, 64-in. Mimaki plotter.
Advertisement
SIGN SOLVERS
And sometimes, there are no rules. Take the Enigma Escape Room blade sign crafted by Signs for San Diego (S4SD; Oceanside, CA). The downtown San Diego project was referred to the shop from another company who didn't have the structural design or a way to build the requested illuminated blade sign, S4SD owner Frank Murch said. S4SD brought the concept into reality by using an aluminum square-tube frame and aluminum sides and faces, routed with a MultiCam 1000, and with an acrylic underlay. 3M translucent cut vinyl and Matthews Paint provided the color. The whole sign was then MIG-welded with a Daihen Mig Boy 135.
SWEET NEON
When national food chain sweetgreen needed a sign for a Houston location, they reached out to their national account partner Ruggles Sign (Versailles, KY). While sweetgreen considers neon one of their signature looks, Houston imposes limits on blade-sign sizes and the customer didn't like the look of small-copy neon. They settled on combining Bitro Group LEDs and Paige LED power supplies with accent neon illuminated by France Neon Transformers and Transco Neon in an 18 x 20 x 4-in. blade sign, according to Ruggles Operations Manager Brad Turpin, Jr.
IF YOU BUILD IT
Jeremy Vanderkraats of Signs by Van (Salinas, CA), is stoked about his summer install for the Brew and Krew Ale House (also in Salinas). "The sign lit the downtown sign industry on fire," he said. "[Two weeks after] install, we had four new businesses inquire about signage. High-quality signage breeds more high-quality signage, every time." The client-designed blade was made with a sandblasted western red-cedar base and the "Brew and Krew" section created from 1-in.-thick DUNA-USA CORAFOAM HDU. The Behr-painted backgrounds were applied with a brush, while add-ons were sprayed with a 3M Accuspray system.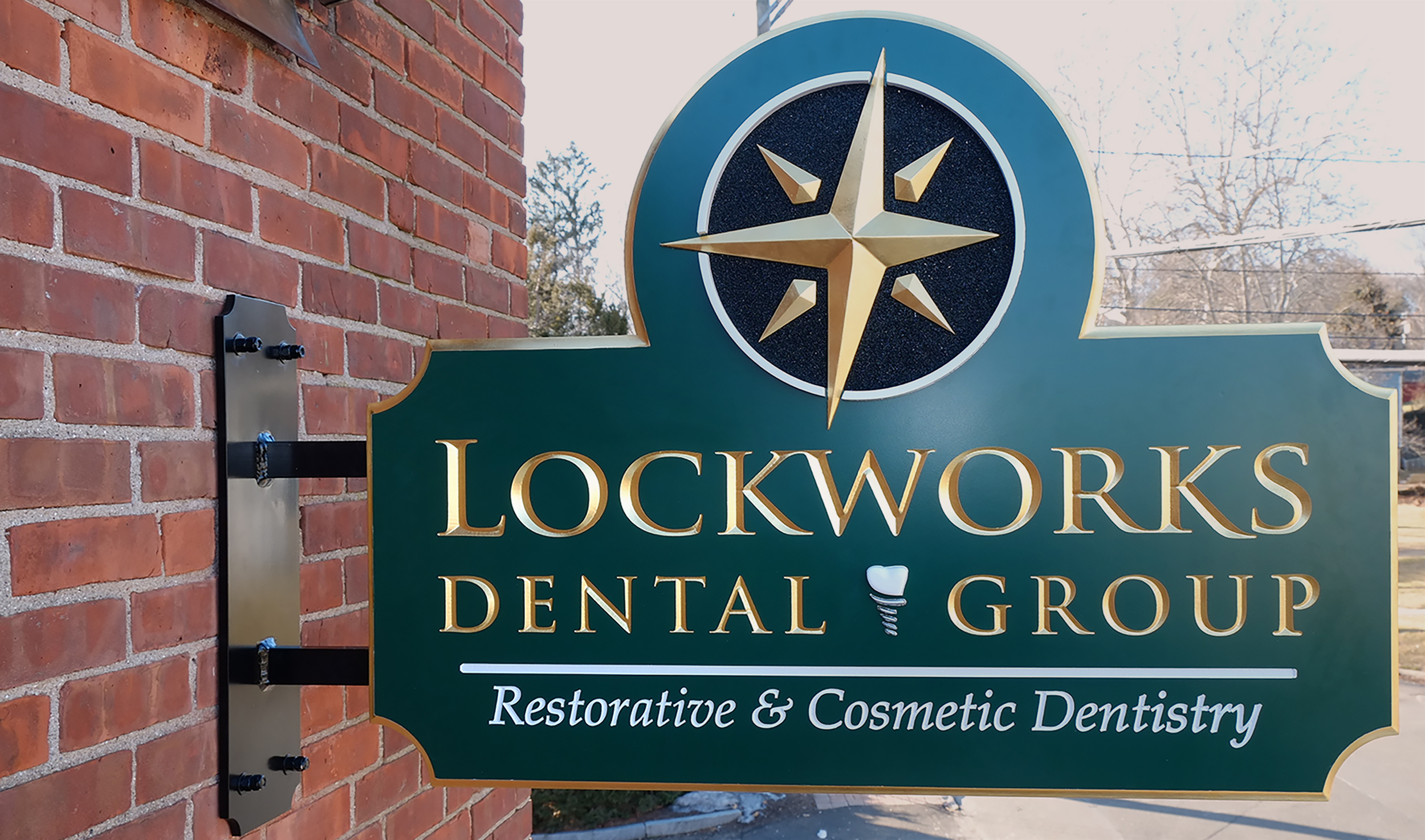 Advertisement
SQUEAKY CLEAN
When Lockworks Dental Group (Branford, CT), hired a marketing firm to create a new logo for them 20 years in, they turned to local Autografix to update their original signage, too. The town's restriction on projection length initiated a new layout to maximize the lettering readability, owner John Miller explained. The double-sided, 30 x 40 x 3-in.-thick SignFoam 4 HDU sign was carved on a Laguna SmartShop 2 CNC in two halves with an aluminum mounting between. The raised tooth and lettering were hand-carved with the name covered in 23.5k gold leaf, while the 3D gilded compass rose sits on black glass smalt. The entire blade was finished in Matthews Paint acrylic polyurethane.
PHOTO GALLERY
(19 IMAGES)