List Classifieds Regionally, Rank Top 100 Sign Companies and More from Our August Inbox
Another sign pro looks to technical colleges for industry training.
Classified Request
I peruse [SOT's online] classifieds once in a while. I have gone into the Help Wanted section since I moved from the West Coast to the East Coast. I do not understand why the ads are not listed regionally. I wrote an email about this 10 years ago, then again several years back. There needs to be a category to fill in for states or Time Zones or break the USA into 4, 5 or 10 sections. It seems like adding that one classification would save readers a lot of time reading every ad. Not every skilled worker wants to move seven states from where they live. —

JD Moore, CA

I totally would do it [place a paid classified ad on signsofthetimes.com] if I wanted more work or wanted to impart a bit of wisdom or sell something… I'm getting older and feel comfortable with the work I have and get refreshed by the new stuff I see … —

Cindy Gillihan, Gilly's Super Signs, Placerville, CA
Ponderings
Like to know why some signshops give their services away and promise to be onsite but knowing they can't deliver. It just makes our job harder to compete when we have all the equipment to do the job because [including everything needed makes our prices seem] too high. —

Cody McElroy, Commercial Sign, Houma, LA

Has there been any consideration of spearheading programs at technical colleges to groom young individuals for sign jobs? There is so much potential with this. —

Jeff Rice, Bald Guy Files, Montrose, CO
Best Sellers
It would be great to have SOT provide a list of the top 100 US/North American Sign Companies ranked by sales volume. —

Vince Cvijanovic, Graphic Components, Greensboro, NC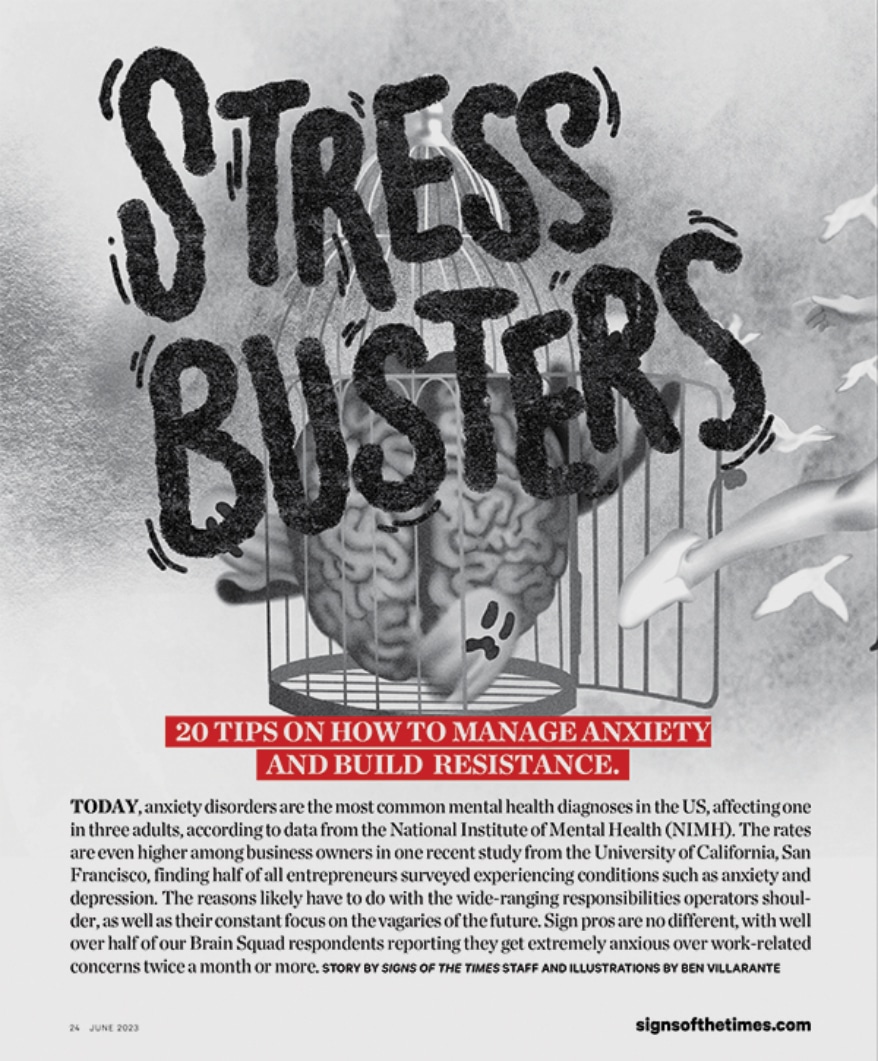 Joy and Praise
I enjoy reading your magazine whenever it arrives. Thank you for the effort! —

Nancy Wilde, Wilde Signs, Vernon, BC, Canada

Loved [June's] anxiety article! It spoke to me. —

Jennifer Jackson, Wrico Sign, Mobile, AL

We love your tips; our team finds them very helpful. —

David de Los Santos, D- Sign & Awnings Inc., Allentown, PA
---
SPONSORED VIDEO
Find it here! ISA Sign Expo 2023
Whether you're looking to grow your business or advance your career, ISA International Sign Expo® 2023 is the only place to find everything you need to be successful in the sign, graphics, print and visual communications industry.