Timeless Classics
Two shops show why neon remains the perfect way to power up new branding.
NEON NEVER DIES. The medium is one of the most enduring in signage, with retro restorations in high demand and a resurgence in glass bending as an artform. Despite the rise in more energy-efficient faux alternatives, there are more than 2,000 posts with the hashtag #realneon on Instagram. But traditional neon not only has lasting intrigue — it also really lasts.
"Neon's longevity appeals to my sense of resource management, especially at a time when many are ignoring the perils we create as a society of rabid consumers," said Nate Sheaffer, founder of Glas (Raleigh, NC) and Big Sexy Neon (New Orleans). "Buy one neon sign for your business, maintain it and enjoy it for 50-plus years — or — buy 10 or more LED or [lower-quality] signs during that same period with no hope for recycling diodes that have failed."
From forming reflections of mid-century icons along Route 66 to setting a modern mood for experiential dining, the following two projects show neon's appeal still applies at any scale.
📷:Ready to go on a visual bender? For more signs that embrace neon's everlasting allure, visit signsofthetimes.com/projects.
---
AMERICANA DREAMS
Nothing says neon quite like Route 66. So when Fossil Forge (Lee's Summit, MO) co-owners Dave Eames and Ben Wine saw a Facebook post about an ambitious neon mural for Uranus Fudge Factory (St. Robert, MO), which sits along the Main Street of America, it was a dream commission.
"We love old highways, vintage advertising and roadside America, so our antennae were up on the potential of this project," said the co-owners of the three-employee signshop. They pitched some concepts that included neon interpretations of roadside icons. After some back and forth with the de facto Mayor of Uranus on design elements, Fossil Forge landed the project, which would take about six months and include eight neon signs, all between 8 and 16 ft. tall.
The site was essentially a blank slate: a 50 x 25-ft. wall on the side of the building. Fossil Forge took a road trip to Uranus to take measurements and photos, then created the design in Illustrator, the renderings in Photoshop and a full-scale layout in Corel.
"We did not want to just create replica signs," Eames and Wine said. "Our goal was to capture the feel or environment of each iconic stop." That approach included weaving the desert landscape of Tucumcari, NM into a piece representing the classic Blue Swallow Motel, and the Mississippi River and St. Louis skyline into a sign of the famed Gateway Arch.
Other neon nods to the region include signs for the Blue Whale, Cadillac Ranch, Wigwam Motel and Roy's Motel — plus a huge Route 66 shield and a 16-ft.-tall Uranus rocket — all set against a painted map mural backdrop with a winding path of the historic route that connects each stop from Chicago to Santa Monica, CA. PVC letters add dimension while marking each key stop.
Advertisement
Fossil Forge tapped father-son duo Greg and Mike Garnett of Gama Neon (Kansas City, MO) to create clear and colored glass for all eight signs — more than 85 individual pieces of neon. "Choosing the colors was a crucial part of the project," Eames and Wine said. "We looked at the existing signs and photos of other references to find the best color combination, plus our neon bender had recently taken a road trip down old 66 and offered his guidance."
Wine and Fossil Forge's Remy Norton-Hood hand fabricated all the signs from aluminum using their router, brakes and slip rollers, then had each sign powdercoated a base color by Genesis Powder Coating (Grain Valley, MO). A mix of printed graphics and hand-painted designs brings the signs' faces to life.
Though the team said they're generally "purists" who prefer mechanical animators, this time they opted for small and easy-to-program digital devices — including spellers, chasers and flashers — to accommodate the scale and complexity of the project. After talking with the neon shop, Fossil Forge decided which parts of the signs to animate. The most complicated animation was the towering Uranus rocket, which has six letter-spellers with six individual transformers ranging from 5K to 15K volts.
Beyond making the signs, painting a mural and executing an installation of this magnitude were major endeavors (ones that required a 55-ft., two-person Versalift bucket truck). The signshop had to work around a rough stucco surface and leftover architectural elements, and consult a local electrician to make sure power needs were met with two new 20-amp circuits.
Plus, just getting the signage to the site — which is a three-and-a-half hour drive through the Ozarks from Fossil Forge's shop — was a challenge. The signs had to be installed in stages, both for efficiency and shop-space considerations. "We made a total of seven trips, from the initial site visit to the lighting ceremony, to complete the project," the co-owners recalled. "Luckily, we only broke three pieces of neon during the entire process … And, we spilled one bright red gallon of paint."
TRUE COLORS
After six years and 16 branding packages in neon and mixed-media, Glas (Raleigh, NC) received the project trifecta from longtime client Niall Hanley, owner of local bar and nightlife group Hibernian Hospitality. The request included signs for three different spaces, one on each floor of a modern three-story building in downtown Raleigh's Glenwood South entertainment district.
"Logos for all three [signs] came to us fully developed, but our stellar studio manager, graphic designer and pattern maker, Faith Lanfear, teamed up with 30-plus-year veteran tube bender Rich Marvill to modify and interpret the logos into a proper neon translation," Sheaffer said.
For the first-floor Botanical Lounge — which features an eclectic bar and indoor and outdoor breakout areas — Glas created three neon elements: an exterior cabinet and two interior signs. Fabricated and installed by McCorkle Sign Co. (Durham, NC), the UL-approved exterior box features a combination of 12mm FMS Turquoise, 10mm clear blue, and 10 and 12mm novial gold neon over a "tediously-weeded," high-performance vinyl. The neon is powered by Tech 22 8020 transformers using glass peanut housings for the high-voltage pass throughs. Sheaffer's team also selected Tech 22s for the two interior signs due to their range of dimming. Those pieces were crafted with 10mm clear blue and novial gold neon tubing, laid over opaque printing on 1/2-in. white PVC.
Advertisement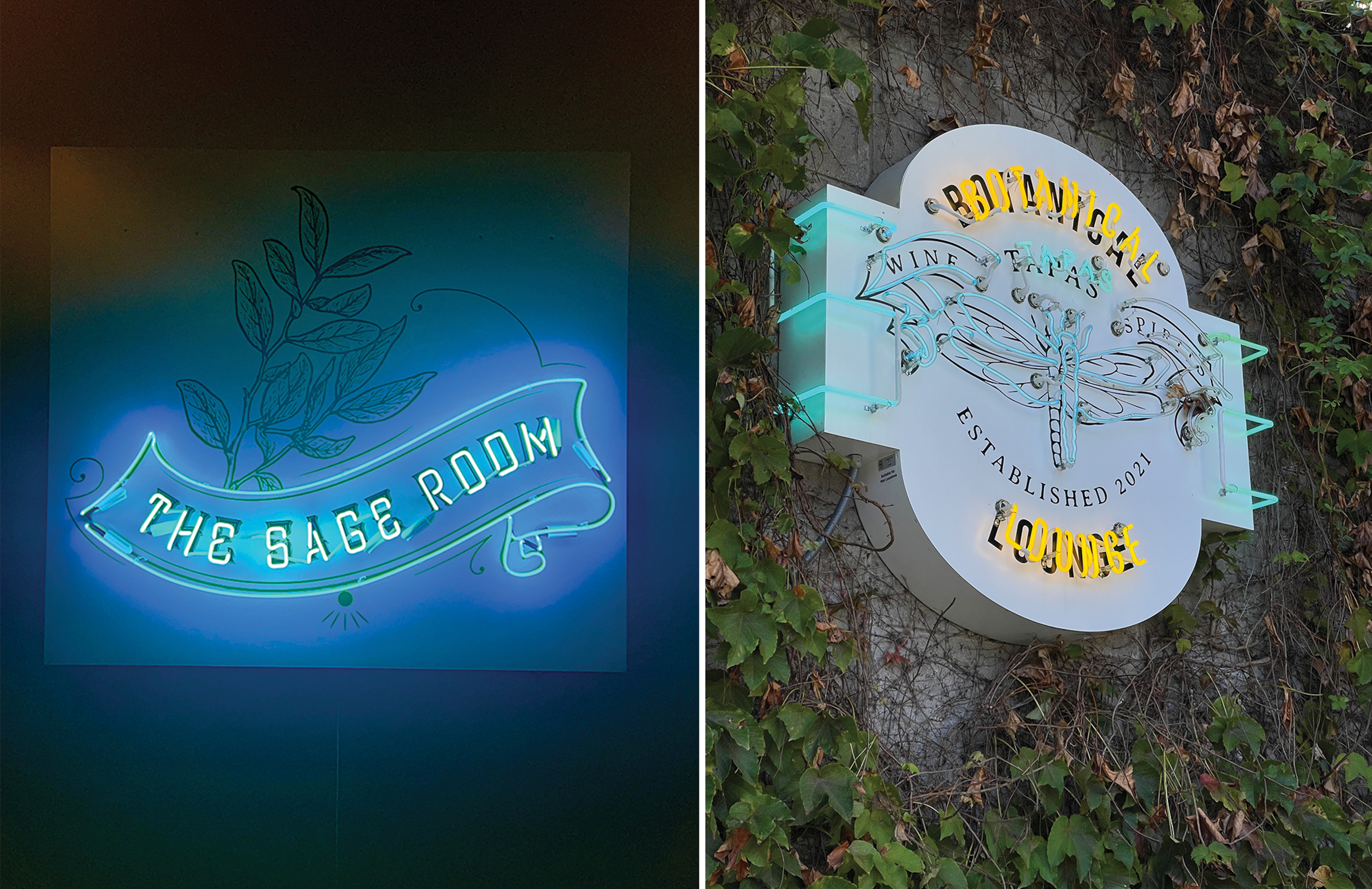 The Sage Room, a contemporary catering and private event space on the second floor, called for the simplest design of the three areas. Glas again used 10mm clear blue over direct-printed white PVC. A 9030 NeonPro transformer powers the window-hanging sign, while the interior, wall-hung version uses a Tech 22 8020 and 3000W dimmer control.
Meanwhile, one of the two signs for the top-floor High Garden bar and deck posed quite a challenge, as it had to be mounted under a railing edge against a set of clear glass panels. "The case was fabricated in-house by Zach Willis, whose skills include being a seasoned scientific glass blower," Sheaffer said. "Zach put a lot of effort into making the two signs look identical when mounted, with special detailing in the under rail-mounted version to shed water when any heavy rain rolls through."
The glass for this space's twin 50 x 96-in. signs consists of 10mm clear blue, novial gold and lavender mounted over printed shallow PVC-fabricated pans, and both pieces are powered by 8020 Tech 22s (with a dimmer on the interior sign).
"Neon remains my favorite medium," Sheaffer said. "Being a tube bender since late 1985, I appreciate how bending glass teaches me something every day — either about the material or about myself."
Clearly, he's not the only one.
PHOTO GALLERY
(31 IMAGES)
SPONSORED VIDEO
Epson SureColor Printers | Partnering for Success with SkinzWraps
"Everything we have here has an Epson label on it because it's just simply the best." Whether printing vehicle wraps, signage or commercial wallpaper, SkinzWraps trusts Epson SureColor printers to consistently deliver vibrant, professional-quality large-format prints with amazing depth and color.