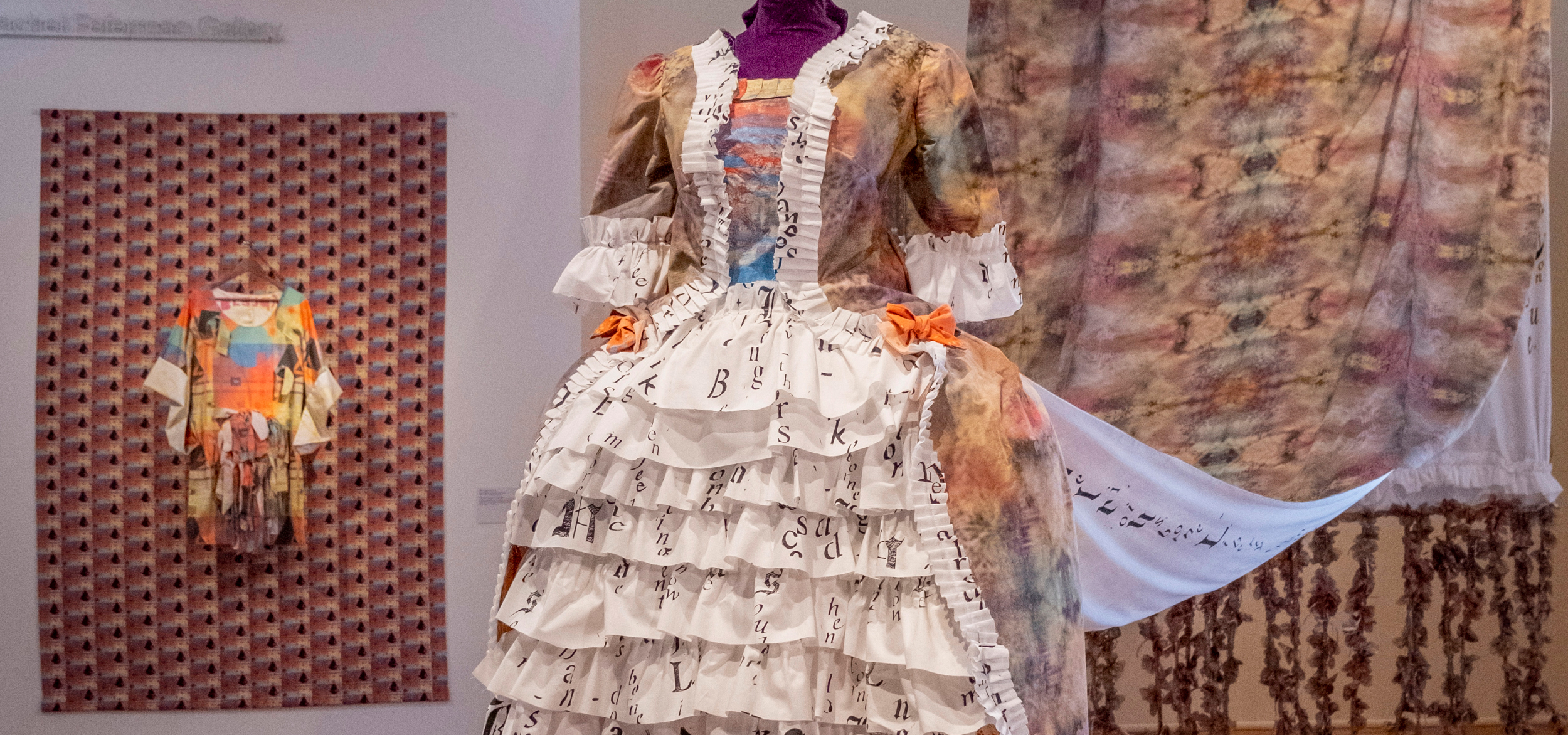 So Fab, So Fine!
Soft signage elevates the look and feel of its many applications.
AMONG THE MANY layers of fabric signs that customers find so pleasing when they use it to dress their surroundings is the material's ability to convey a high-end, luxurious feel. "Salons are very selective and discerning as to the images and image quality being displayed in their salons," says Tim Johnson, owner of ZōN Retail Environments (Long Lake, MN). "Fabric adds a very noticeable alternative to traditional signage substrates. It is a richer, more eye-grabbing look."
Whether in salons or other stores, museums or tradeshow exhibit halls, fabric signage is enjoying increasing popularity due also to its versatility, ease of use and shipping, and more.
BOUTIQUE BEAUTY
Zōn Retail Environments

LONG LAKE, MN
ZōN Retail Environments specializes in fabric, dye sublimation printed signs, wall graphics, banners and applications related to retail fixtures, which the company also manufactures and has done since its beginning. "Almost every fixture needs a graphic," Johnson says.
Given the company's Twin Cities proximity to the Mall of America in nearby Bloomington, several team members regularly walk the mall to fluff up new business. Recently, Dan Kurth, business development for ZōN, walked into the six-months-open Fabulous Diva Boutique, a women's specialty clothing store, and immediately recognized the need for interior graphics. "The store was a white box, a blank slate," Kurth says. He wasn't the only one who saw the need. The store's owner Martena Jones was also wondering what to do for her signs, he says.
Kurth asked probing questions of Jones and uncovered that she was looking for hanging banners, wayfinders (visible through the front window) and separators (to indicate different parts of the store). Even though the new boutique owner was on a modest budget, ZōN was able to accommodate her — and not only on price. She also needed help to determine placement of the signage.
"She provided the images of models wearing her clothing and the wording for the wayfinders," Kurth says. One of the signs, for the store's front window, is a double-sided image, so that its back side displays to the store's interior. ZōN uses a unique process for this, involving only one piece of fabric, not two sewn together. About this offering, which Johnson feels separates his company from all others, he only says that it has more to do with the registration process than with the blockout fabric.
Fabric signage for discerning salons and boutiques must look as good close up as it does far away, Johnson says, which is why high-resolution images are crucial to the success of fabric signs. "Getting quality images that can be reproduced through the dye sublimation process to look lifelike or have a high picture quality on fabric [is vital]," he says. "It is important to truly understand how the graphics will be used by the client to ascertain the optimal combination of inks, paper, fabric, transfer settings and finishing for best outcome."
Advertisement
Because the Fabulous Diva was new to the process, it took longer than anticipated to get photos with the proper resolution, Kurth says, "but after three tries we were able to make everything work." The team at ZōN uses Ergosoft and the Adobe Creative Suite of design tools to iron out the look of their signs.
The wayfinding signs were imaged using the company's Star Inc. Panthera S4-3.2m dye sublimation printer on Fisher Textiles Tri-Poplin and Soft-Knit fabric. The hanging banner for the front window was printed on a proprietary white-black-white double-sided fabric. ZōN installed the hanging wayfinding signs, as well as the front window hanging banner in two hours with two people, Kurth says. The silicone edge graphic (SEG) frames and prints took one person an additional hour to install.
ZōN hung the banners and wayfinders to work with the existing lighting, Kurth adds. "With fabric prints you don't get the glare from lights like you do with vinyl or paper, so it is easier to work with lighting as is." Johnson emphasizes the glare-resistance as a major selling point for fabric signs. His company recently replaced more traditional graphics at a Red Wing Shoes location that had invested in frames but had not anticipated an unacceptable glare from the lighting. "We recommended, and they chose to start updating company stores, with matte finish fabric soft signage that had no glare," Johnson says.
Fabric signage is easier to ship at lower cost than many traditional offerings (such as rigid prints) and SEG prints are easy to install by store personnel, adding to their appeal. However, like many material commodities in the sign industry, acquiring the fabric has recently become more challenging. "Two mills in China that I buy from are closed at the moment," Johnson said.
Within the growth of this market, Johnson says that a trend now very clearly upon us is the use of fabric made from recycled water bottles — for example, "reprieved thread" made into fabric by Fisher Textiles and which ZōN markets as Renew Fabrics. Two years ago, recycled products had been more expensive than other fabrics, Johnson says. "Now, the look, feel and price are all in line with regular fabrics." And as more major retailers such as Target, Best Buy and others demand more sustainable products, Kurth expects continued growth in this area.
One final piece of advice Johnson has for sign companies thinking about getting into dye sub fabric sign sales: "Use a current soft signage printer as you build your business … to establish a client base for your new offering, before investing heavily in the equipment, labor and learning curve necessary to have a successful fabric graphic business." ZōN provides wholesale services in this way, to enable sign companies to get the hang of it and the comfort level they need. When the proper fit and feel have been achieved, Johnson says, they'll happily part ways with any wholesale client ready to go it alone.
MUSEUM MARVEL
AlphaGraphics Seattle

SEATTLE
Testimony to the satisfaction that fabric signage has been bringing to its customers was recently on display — literally — at the Bainbridge Island Museum of Art in Bainbridge Island, WA, which is near Seattle. A repeat customer of AlphaGraphics Seattle for many years, according to Elden Goe, account manager for the sign company, "We have worked with [the museum] a long time so each side knows what to expect," he says. For the museum's exhibit and self-promotional displays, the museum provides the original art design file, and on certain images AlphaGraphics creates a tile of that art.
With the use of Adobe Illustrator, the design process could not have been quicker: "One proof and go to print," Goe says, chalking up the ease to the history of working with the museum. "Changes or color adjustments [from them] are rare." For substrates, the graphics printer chose a combination of Fisher Textiles' Poly Silk for the more translucent looking flags. "Two layers were used on the Molly Vaughan exhibit to achieve that dimensional color effect," Goe says. The backdrops were Fisher Textiles "triple white" fabric — three layers of white — for a heavier curtain look.
AlphaGraphics Seattle imaged the job on their EFI VUTEk FabriVU 340i dye sublimation printer, with a Klieverik GTC101-3500 heat transfer press. The graphics company produced the graphics in one week, with five team members on this project. "Dye sublimation fabric printing has both a shrinking and stretching that happens during the process, so files with lots of bleed are needed to achieve proper sizing of the finished product," Goe says.
He maintains that dealing with sizing is the most complex issue of dye sub fabric printing, due to the fabric both stretching and shrinking. "Banners with more approximate-size needs are fine," Goe says. "But fitting to frames and tradeshow hardware is a bit tricky. We always like to do a test fit if we can."
AlphaGraphics Seattle has noticed an increased use of fabric graphics, especially in the tradeshow world with an uptick in pillowcase-style backdrops and freestanding signs, Goe says. "They seem to have taken over this space since they are so much easier to deal with and faster to set up than the flat-panel-style booths." Also, they are seeing office décor signage with the SEG frames taking the place of framed prints or acrylic displays. "We expect this trend to continue," he adds.
Goe agrees with ZōN Retail Environments' Johnson that dye sub is a big investment, so he strongly suggests that sign companies test the waters with some of the fabrics suitable for the printers they already have (UV ink, aqueous, solvent, etc.). "Although they do not hold up well in tradeshow environments, you can do the SEG frames with them," he advises. "Then you can see if it warrants investing in more gear to expand your capabilities."
Advertisement
TRADESHOW TREASURE
Signarama Salt Lake City

SALT LAKE CITY
Industry expos were among the first applications for fabric signage, due to its differentiating high-end look, ease of shipping and especially its ability to avoid damage compared to rigid signage. Ric Anderson, co-owner of Signarama Salt Lake City (SLC), says, "We have certain customers that have reusable frames and we provide printed graphics that they can travel with for expos or new product launch events," he says. "The printed fabric displays offer a real soft look and one that allows for travel and easy set up."
When it comes to tradeshow booths, Anderson is seeing a little bit of demand, he says, usually from large-scale booth manufacturers. "We're seeing more growth in easily transportable and retractable banners," he observes, as are step-and-repeats and backdrops. The pandemic obviously put a wrinkle into this market of late, but exhibitors want that "something" representing their product to be more than a cheap banner on a pole, Anderson says.
For all of their high-end banner and canvas printing, Signarama SLC uses their Roland SOLJET Pro 4 XR-640 roll-to-roll and their Canon Solutions America Océ Arizona 1280 GT printers, which, it should be noted, are not dye-sublimation printers.
Anderson also works with "a very high-end jewelry business in Salt Lake City," who likes to have their retail window display changed out every couple of months. To facilitate this, Signarama SLC developed a non-SEG frame system using rubber gaskets that allows their team to easily change out the graphics. "This location likes to save the graphics and for special events reinstall an older graphic," Anderson says. "This would not be possible using other, vinyl-type graphics."
Signarama SLC subcontracts the jewelry business dye sublimation printing and often works with Orbus Exhibit & Display Group, "a great vendor, they know what they're doing," Anderson says. So when it comes to partnering with a soft signage print provider, "Don't go cheap," he counsels. "You really need a quality vendor to help. Cheap won't always get it done." Anderson warns, adding, "If someone is going to use a frame system over and over, they need the right vendor."
The framed soft sign for the SLC jewelry business is also backlit, another advantage enjoyed specifically by polyester signage. The frame is deep enough to allow for a Principal LED lighting system. Anderson's company is seeing illuminated frames and displays being used more often, he says. "For the customer, it's the right look" with its "perfect matte finish," not a glossy, shiny product. When a dye sub print is well printed and illuminated, it's a focal point, he says — a much better presentation than you would get from foam board. He noticed the trend starting locally about seven years ago when big brands started using illuminated polyester printing, Anderson reports.
Among other fabric sign products, 8 x 10-ft. backdrops for award ceremonies and the like are the easiest to produce. Customers like the quality of the image being provided, Anderson says. Signarama SLC recently sold The Nature Conservancy "a beautiful outdoor backdrop," he adds. The greatest challenge they face, both in house and when they outsource, is getting the graphic to fit when a customer creates a frame, Anderson says. Fabric has a stretch but each sign has to be exact. "Fit and finish are critical," he continues. "Everyone struggles with this, vendors included, on frame systems, even their own."
His shop can also sew and finish, "but it's not our favorite," he says. This thread of the business is not easy and you must have someone dedicated to do the sewing. The finishing aspect is the biggest downside to offering this service, Anderson says.
Soft signage has changed while it's grown over recent years. Whether you print in house or sub it out, the challenges are different. "To print in house, you need volume to keep a printer running and to source the custom extrusions," the Signarama SLC co-owner says. "Do you have the volume and the talent to finish the jobs? For most sign businesses, that's very difficult."
On the other hand, this segment of the business fits his company like a, well, you know. "It is a growing industry and we like it," Anderson says. "Our customers like it, too."
PHOTO GALLERY
(25 IMAGES)
📷: AlphaGraphics Seattle | Signarama Salt Lake City | Zon Retail Environments

Advertisement
SPONSORED VIDEO
Find it here! ISA Sign Expo 2023
Whether you're looking to grow your business or advance your career, ISA International Sign Expo® 2023 is the only place to find everything you need to be successful in the sign, graphics, print and visual communications industry.